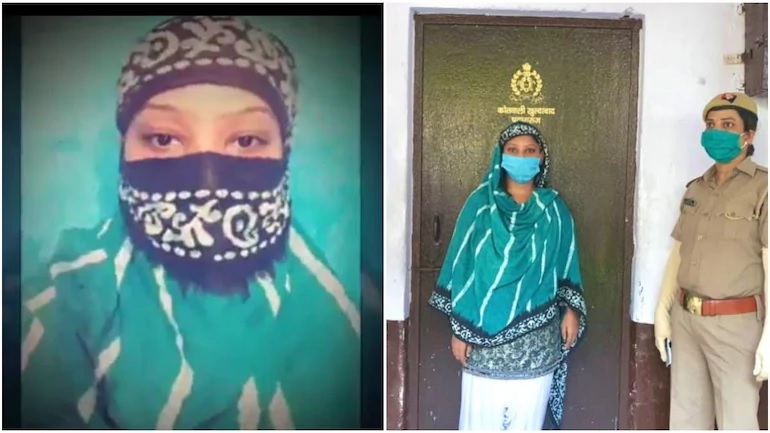 Heer Khan, alias Pari Khan, the woman allegedly behind an anti-Hindu video content, was arrested by Uttar Pradesh's Prayagraj police after the offensive and abusive video fuelled massive online outrage. The woman in the video, perhaps made in January this year, her face covered with a dupatta, was heard using abusive language and making extremely derogatory remarks against Hindu gods and goddesses. Soon enough, demands for her arrest trended on social media, her number identified, and an arrest was made by Prayagraj police on Tuesday. The police even shared a photo of the arrested accused in the custody of policewomen.
"सोशल मीडिया पर हिन्दू धर्म के देवी देवताओं के विरूद्ध आपत्तिजनक टिप्पणी से संबंधित वीडियो का संज्ञान लेकर थाना खुल्दाबाद में अभियोग पंजीकृत करके वीडियो को पोस्ट करने वाली अभियुक्ता सना उर्फ हीर को 24 घण्टे के अन्दर गिरफ्तार किया गया ।"@Uppolice @dgpup @ADGZonPrayagraj pic.twitter.com/jmdDH4XtZH

— PRAYAGRAJ POLICE (@prayagraj_pol) August 25, 2020
The hate video is no longer online, but has been shared, probably thousands of times, over social media and message apps. The YouTube channel named 'Black Day 5 August', to which the video was apparently first uploaded, is alive and thriving. The handful of amateurly created videos on it have raked up thousands of views each. The last one, was a day ago, but does not feature her, instead has a badly done voice over by a man. Heer Khan's other controversial videos are not as abusive, but are on the same lines; rants amateurly done, and seem to be just another attention seeking method used by extremist right wing followers of all religions.

The most vile one she uploaded on Tuesday, got her arrested soon after #ArrestHeerKhan started trending online. Yet it is strange that her YouTube channel continues to thrive. According to media reports a case was registered against Heer Khan at the Khuldabad police station in Prayagraj, and she was arrested under the IT Act on the same day.
प्रयागराज पुलिस ने #HeerKhan को गिरफ़्तार कर लिया है। ये अपने एक रिश्तेदार के घर छुपी हुई थी। https://t.co/sqrS5Rptd4

— Shalabh Mani Tripathi (@shalabhmani) August 25, 2020
News reports quote Prayagraj SSP Abhishek Dixit as saying, "A video was going viral on social media in which a woman could be seen using objectionable language against Hindu gods and goddesses. Taking note of the video, a case was filed under the relevant sections at the Khuldabad police station in Prayagraj. The woman has been arrested and an investigation will be carried out. I want to warn all such anti-social elements that whoever tries to hurt the sentiments of a community or tries to create enmity between two groups will be dealt with strictly."
The question that needs to be asked now is, how did someone as insignificant as this woman who claims her name is Heer Khan find the courage to even create such content. How did she do it at a time when such content is quick to spot and be reported. Who is supporting her? As she claims to be a Muslim, trolls also began targetting the entire community on cue.
She is the latest entrant into the community of online hate video creators such as the man who is known as Hindustani Bhau. He makes hate videos, often sitting in a car, threatening his 'targets' and urging his followers to disregard the law of the land. This Heer Khan, seems to be inspired by famous hate speech makers like him. He is yet to be arrested.
Free Press Journal reports that as calls her arrest became louder, social media users turned investigators and launched a search to find Khan. Many cited "proofs" revealed through various photos and images to make claims about the identity of Khan. Businessman Arun Pudur added that she was a resident of Allahabad in Uttar Pradesh. Payal Rohatgi, another online 'celebrity' known for her own rants, even live-streamed a video on YouTube, slamming the "Islamist YouTuber" for her "abusive comments", reported FPJ. Ignoring the trending hashtag, Rohtagi alleged that people were not calling for Heer Khan's arrest because she belonged to a "marginal community".
Sharing one of Khan's videos, BJP State Spokesperson Gaurav Goel also urged people to report the YouTube account. "Even if @YouTube doesn't delete it, then the @Uppolice shall take legal action against the platform itself," he wrote.
Meanwhile, as FPJ reported Vikas Phatak aka Hindustani Bhau has urged his followers to ignore the law and attack those they feel are "insulting Hindu gods". Phatak says, "System side mein, complaint side mein, ab inko bas marna hai (Keep the system and complaint aside, we just have to hit them)."
Comedian Kunal Kamra had on Tuesday urged Mumbai Police to take action against Hindustani Bhau's 'mob building and hate spreading' video which is still being shared on the internet. It is not known if Pathak has been charged, or arrested for this hate speech yet.
HM @AnilDeshmukhNCP & @MumbaiPolice,
Calling for open violence is a crime. This is a mob building & hate spreading excercise. This is deeply alarming. Could lead to violence & an artist not getting due process.
Remarks like "System side main"
are an insult to our constitution… pic.twitter.com/oeCfdGFRu5

— Kunal Kamra (@kunalkamra88) August 18, 2020
The language Pathak uses is the same as Heer Khan. In fact she seems to have used most of his script and added new names of gods she wants to abuse. Even though Hindustani Bhau Vikas Pathak's video was taken down by Instagram, he continued to have a verified profile on Facebook, before it was taken down, and has a massive following on Twitter.
But wait, it gets worse. As revealed by transparency activist Saket Gokhale, this account is handled by a firm called "Xovak Media", a Vadodara, Gujarat-based digital firm with an office in Mumbai.Gokhale's research revealed that Xovak Media was founded by Gujarat-based Raj Dangar and Manan Shah. Raj Dangar is a former ABVP leader from Gujarat, his brother Dr. Bharat Dangar is a senior BJP leader, a former Mayor of Vadodara & Director of Bank of Baroda.
Manan Shah, Gokhale revealed, " also has a company called "Avalance Global" which worked with Facebook & Modi govt which includes the Defence Ministry. Manan Shah was also a BJP IT cell coordinator in 2019."
Exclusive:

While Insta took 2 days to suspend the account of vile hate-speech peddler "Hindustani Bhau", he continues to have a profile on Facebook.

Turns out, the entire digital strategy & social media of "Hindustani Bhau" is handled by a firm of BJP workers.

Thread ?

— Saket Gokhale (@SaketGokhale) August 21, 2020
On Wednesday, social media was abuzz with calls for the arrest of an Instagram user Sushmita Sinha, who is alleged to have insulted the Hindu Festival of Haritalika Teej Vrat. She is seen in the video saying that she does not have any use for a booklet that tells the story of the festival, celebrated in some parts of north India. The controversy begins when she purposely says that she is 'thinking of using it as toilet paper," followed by a visual of the booklet near a roll of toilet paper. She is now being trolled for disrespecting the festival.
Retweet If You Want To See Her In Jail@Uppolice @smittal_ips#ArrestSushmitasinha pic.twitter.com/HjJ4fIhrfz

— Arun Yadav (@beingarun28) August 26, 2020
Meanwhile, another vile hate speech video maker, Upasna Arya, has also begun trending. Arya's abusive vidoes, often target Heer Khan, some uploaded January 2020 onwards, and use derogatory language for Islam. The unending cycle of online hate speech, and sporadic calls for arrests of trolls who make them continues. The small time trolls get arrested, the big names however, continue to thrive.
Related:
Hate Speech and Delhi Pogrom 2020
UP BJP Spokesperson calls consensual marriage 'love jihad'
Hate Hatao: Hindutva page on FB posts old videos to incite new hate
Hate content on social media: Corporate and individual responsibility
Blaming algorithms is denial of corporate responsibility: Former civil servants to
Facebook protects hate speech by 'regime favourites' of ruling BJP?
Multiple FIRs against BJP MLA Shiladitya Dev's Hate Speech: Assam