Help Aradhana Fulfill her Dream with Dignity and Understanding
Aradhana, who practised bare-foot without a coach on the cemented Allahabad-Varanasi highway, clocked a time of 3:28:10 in the 42 km marathon, which earned her a prize money of Rs 75000. "But winning a marathon does not fetch you a job. If I have to fulfil my dream of running and winning for the country, I need a proper diet, basic equipment and regular practise, which is possible only when I will have a stable source of income. It doesn't really matter if for this, I have I to clean garbage, which is after all thrown by people like you and I," Aradhana says. (Times of India)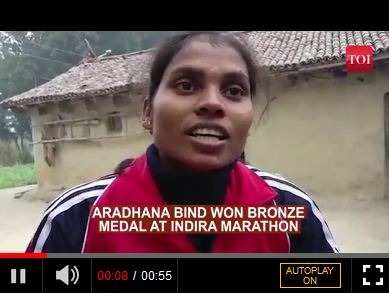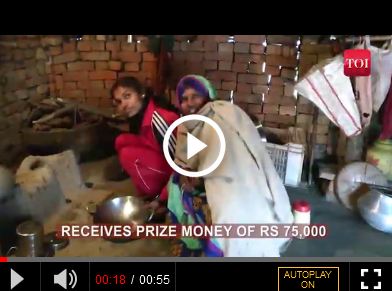 Photos from Times of India Video
The Times of India reports that Aradhana Bind is a gutsy long-distance runner. In November 2016, two months ago, without any training, she won the bronze medal at the prestigious Indira Marathon. On December 28 , however, she was among hundreds of aspirants sweeping the streets of Handia, a town 40km away from Allahabad, in a bid to qualify for the job of a sanitation worker. It's a job she says she desperately needs to be able to afford a proper diet, a pair of shoes, and kit to fulfil her dream of running in the Olympics.
Second youngest among five sisters and living with 14 others in a tiny, thatched roof house in Handia's Upardaha Rigdapur village, Aradhana says, "Had I not applied for the job, no one would have come to my village asking for me. Even my village head didn't come to congratulate me after I won the Indira Marathon this year." She says the sanitation worker's job will bring her a monthly salary of a little over 12,000, which will help sustain not just her dreams but also her siblings' education.
Aradhana, who practised bare-foot without a coach on the cemented Allahabad-Varanasi highway, clocked a time of 3:28:10 in the 42 km marathon, which earned her a prize money of Rs 75000. "But winning a marathon does not fetch you a job. If I have to fulfil my dream of running and winning for the country, I need a proper diet, basic equipment and regular practise, which is possible only when I will have a stable source of income. It doesn't really matter if for this, I have I to clean garbage, which is after all thrown by people like you and I," Aradhana says.
She adds with a heavy heart, "And yet, for the job of a 'safai karmi', being an achiever is no criterion. To attend the practicals for the job, we were even asked to bring our own brooms."
She says the government only focuses on a handful of people who either reside in cities or are influential. "I want to show to the world that girls of small villages are second to none. If I can win a marathon on a handful of channa, I will prove myself when I get a job and can afford a proper diet," she adds.
Aradhana's father Phool Chand Bind, who owns 3 bighas of land which doesn't generate enough to support the family of 15, says he feels bad about being unable to provide for his promising daughter. "I am unable to do anything for Aradhana because I have seven children and I have somehow managed to educate them till intermediate. From here, they have to carve their own paths," he says. For him, "a salary of Rs 10,000 would be like 10 lakh", as it would help his daughter pursue her dreams.
When contacted, district magistrate Sanjay Kumar said, "Her applying for the job of a sanitation worker is another issue, but we can assure her that she would be extended all help from the administration. Girls like her should be promoted so that their full potential is utilized and they makes their family, state and country proud."