Instead of playing with toys during her childhood, Rafia Mukhtar would cook for her family of eight, clean and take care of domestic animals. She spent six important years of her life away from her parents. When she turned 28, she wrote the book, a poetry collection, Her Castle of Dreams.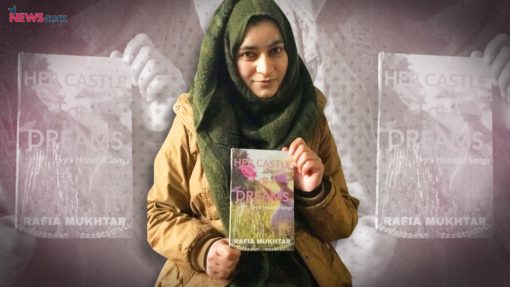 Her book speaks about the tumultuous journey of a girl until she becomes a woman. Her poems narrate how a society misplaces the worth of a girl's character, and judges her on the basis of prejudiced and lopsided views. Through her book, she intends to help young girls understand how they can shape their lives, and fulfill their dreams.
Born in a middle-class family in Vessu Qazigund, in Anantnag district, Rafia was admitted in a government girls' school, a few steps away from her ancestral house.
Every day, she would first help her mother in preparing breakfast, and would later go out to get bread from Kandur (bakery shop), and then leave for school. This was her daily routine.
By the time she was studying in grade V, Rafia's father Mukhtar Ahmad Ganaie was not able to work due to health issues. A year later, her family, including her father, mother Misra Akhtar, and elder brother decided to move to the Anantnag town to start a business.
All of them moved to Anantnag, except for Rafia, who was asked to stay back, and live with her uncle Nazir Ahmad Ganaie, a 60 years old retired transport officer. This left her very confused.
"I was thinking if everyone is leaving why I am not going with them. However, I could not do anything but listen to them," says Rafia.
With the passage of time, Rafia's responsibilities increased. Her morning would start with offering prayers. She would then cook breakfast and lunch for her uncle's family, clean the two-storeyed mud-brick house, feed the cattle, and then would quickly prepare herself for school.
Rafia would rush to the school, as she loved to study, but was not able to give much time due to the household responsibilities.
"I used to be surprised when my classmates would talk about their aims and dreams. I had no idea what these two words meant," recalls Rafia.
Once back from school, she would head straight to the cowshed, and feed the cattle. Next job was to wash the dishes. She would get barely half an hour with her books.
It continued for the next four years, and finally, when she was in standard X, her family asked Rafia to go, and live with them.
"I was upset with them. I didn't want to go back. They had abandoned me to live away from them, and without their love and guidance. No doubt my uncle loved me a lot, but they never helped me with my education," says Rafia.
Finally, she moved to Anantnag town where her family was living in a rented house, and her father was running a general store nearby.
Rafia was admitted to a new school, Rani Bagh Higher Secondary, where she studied for her standard X examination. Meanwhile, her mother's health started to deteriorate. Misra was diagnosed with diabetes among other issues. Rafia had to again shoulder a bunch of responsibilities.
She did what was required at home, took care of her mother, and also managed her studies. Rafia would have to skip school several times to take care of her mother.
Every day, her father would give her Rs 20, which she would save.
Spending time away from the family had changed Rafia completely. She would stay in her room alone after serving her family. Her education continued to suffer due to the financial crisis as well as due to the burden of domestic work.
In the meantime, the family bought a house in New Qazi Bagh, Anantnag.
Rafia continued her higher studies in the same school after standard X, opting for humanities. Her family and relatives would constantly try to prepare her as a girl who has to be more patient, as she has to eventually go to "paraya ghar (in-laws' house)". Rafia, however, remained reluctant.
She secured admission for Bachelors in Arts at Government Women's College, Anantnag. The financial condition of her family wasn't that good, but her savings came to her rescue.
Now she was a college student, she realised that she had become perceptive and observant. After spending time in college and with her family, she would rush to her room, and pen her thoughts and observations. Her quotes were more related to the state of women in her surroundings, nature, and of course about her struggle.
In 2014, when she finished her bachelor's degree, the first question that crossed her mind was 'what next'. "I was confused about what I should do. I had no aim, no dreams. My family had always taught me how to serve and live for others," says Rafia.
Her batchmates decided to go for B Ed, but the fees for the course were high. She turned to her father, who gave her half the required amount. Her maternal uncle gave some, and she added the rest from her savings. Finally, she took admission in Rehmat Aalam College in 2014. Along with her regular studies, she kept jotting her thoughts down.
She would keenly observe the treatment of women in society and how women suffer and struggle to keep their identity alive.
In 2016, Rafia finished her college, and decided to earn for her family and herself. Everyone in the family first objected to her decision, but she resisted, and got herself a teaching job. In the meantime, she joined the Indira Gandhi National Open University, and started studying economics.
She had many options, but she decided to teach in Himalayan Bells Preparatory School, which was located at her birthplace Qazigund, for a salary of Rs 6,000. She was an assistant to a "mother teacher". Most of what she earned was spent on needs at home.
"I chose this school because I was aware of the state of education system in a village, and quality teaching would help the students in the villages to build their perspective," says Rafia.
During the prolonged strikes and the curfew for six months in Kashmir after the killing of armed resistance movement outfit Hizbul Mujahedeen's Commander Burhan Wani in 2016, Rafia started taking tuitions free of cost for the students who lived near her home.
She started tuition with the aim of educating students in order to help them make a better future. Rafia taught with love and dedication, and guided each student, which was something she had lacked in her childhood.
Once life returned to normalcy in the valley, she joined the school again. Her dedication and work eventually got awarded in 2017. She was promoted to the post of mother teacher, and her salary was increased to Rs 7,000. However, in 2018 something else awaited her.
By this time, Rafia's family had started receiving marriage proposal for her, and they asked her to give it a serious thought.
"It was tiring for me to think about marriage. First, they kept me away from themselves during the most important stage of my life, and now this. I didn't accept it," said Rafia. She started getting nightmares about her marriage which would disturb her sleep. With these thoughts, she spent many sleepless months which she utilised writing fervently.
Finally, in May, one of Rafia's friends asked her to meet Professor Syeda Afshana at Kashmir University, and show her poems and quotes to her.
Syeda asked Rafia to give it a theme, as she had written about nature and women. She started working on her poems after school, almost through the night. She wrote everything in her diary, and in October, she was ready to show it to Syeda.
Syeda was impressed with her work, and asked her to format it for printing. However, she was confused about how to go about it. She remembered she was connected on Facebook with another female author Insha Khawaja, the author of Finding the Lost You.
Rafia texted Insha, who suggested that she write a preface and dedication of her book, type it and design it.
After Rafia wrote preface of her book, her new challenge was to type it as she had no laptop. Using her small android phone within three days, she typed and designed her complete book. She decided to title her book Her Castle of Dream and got it published on December 11, 2018.
Her book reflects the pain she witnessed, recalling how at the young age she learned cooking.
"How early my little hands can cook," she says in one of the poems.
And adds: "I was born to giggle and fun", "Don't force me to wear the meaningless crown".
She refers to how a girl is treated, and how she is only taught and prepared to settle in her in-laws' house. In her poem, I'm not a burden, she says, "I'm not a burden but a gift of nature", and "Nurture me well I'm not a stranger".
Her book ends with a poem "Fairy Ma'am" which was a gift to Rafia from grade II students on Teachers' Day. The poem says, "Early morning birds call us sweetly, Rafia ma'am teaches us nicely."
First published in Newsclick.