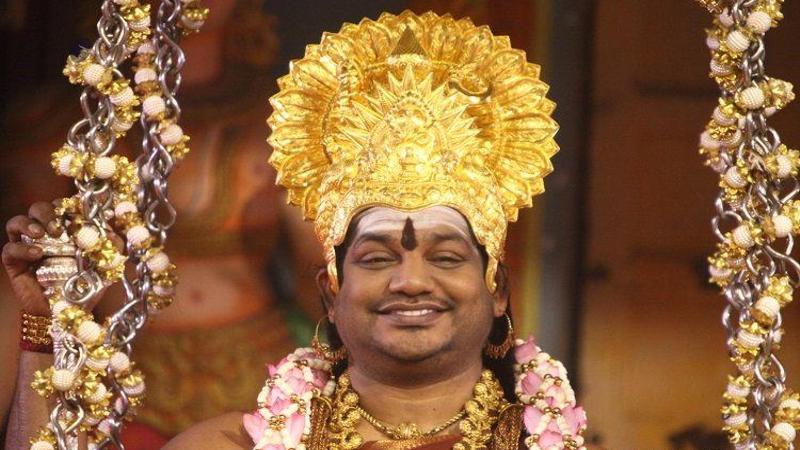 Nithyananda is absconding. Reports suggest that the rape-accused self-styled godman has fled the country via Nepal, The News Minute reported.
He has been booked for child abuse and kidnapping by the Gujarat police after three minor children (a boy and two girls) were rescued from his ashram on the outskirts of Ahmedabad. This is the second case against him, the first one being the rape case he was charged with in 2010, after which his passport had been impounded.
Who is Nithyananda?
Born A Rajasekaran in Thiruvannamalai, Tamil Nadu, Nithyananda is the founder of Nithyananda Dhyanapeetam, a religious organisation, reported The Indian Express.
According to a video available on his website, Nithyananda attained 'enlightenment' at the age of 12. The video introduces him as a spiritual leader of Hinduism and claims that he runs centres in 47 countries.

His organisation Nithyananda Dhyanapeetam offers yoga, meditation and fitness courses. It runs temples, gurukuls and ashrams across several countries and hosts cultural events in the U.S. In 2017, the ashram set a Guinness World Record for the largest rope yoga lesson.
Controversies surrounding Nithyananda
In 2010, a video of Nithyananda had surfaced on local news channels wherein he was purportedly shown engaging in sexual acts with a Tamil actress. He had defended himself at the time saying he was merely 'practising the shavasana' and that he was impotent.
Two years later, he landed in a soup again when a US-based woman claimed that Nithyananda had abused her for five years.
The survivors of sexual assaults in 'Swami' Nithyananda's ashram have spoken out about non-disclosure agreements and sex contracts. The chargesheet of the rape case against Nithyananda reveals that sexual exploitation was masked in the guise of a 'Learning from the Master' programme.
In 2008, a minor boy was rushed to BGS Hospital in Kengeri by Nithyananda's followers after he began vomiting. The doctors informed them that the boy had tried to kill himself. In her statement to the CID, Ma Nirantara, the boy's mother, had said that Nithyananda and his followers Sadananada, Gyananada, Pranananda and Amta Prabha had allegedly tried to mislead the police about the attempted suicide.
Nithyananda's followers, who were at the Bidadi ashram allegedly told Ma Nirantara that her son was admitted to the hospital due to "wheezing problems". However, when her husband spoke to the doctors, they learnt that her son had tried to kill himself.

Current Controversy
On November 2, a Tamil Nadu resident Janardhana Sharma approached the police and Gujarat State Commission for the Protection of Child Rights (GSCPCR) seeking custody of his four children who were staying in Nithyananda's ashram.
He succeeded in getting the custody of two of his kids, a 13-year-old boy and a 15-year-old girl who went to Nithyananda's Ahmedabad ashram from the Bengaluru one six months ago.
"We have registered an FIR at Vivekanandnagar police station under IPC sections 365 (abduction), 344 (wrongful confinement for over 10 days). 323 (voluntarily causing hurt) to some children, 504 (intentional insult with intent to provoke the breach of peace), 506 (2) (criminal intimidation) and 114 (abetment) against Nithyananda and his two aides, Pranpriya and Priyatattva", Ahmedabad rural SP, R V Asari told The Times of India.
Apart from these charges, they were also booked under the charges of Child Labour (Prohibition and Regulation) act because the kids were made to work at the ashram. The charges of causing hurt were added as the kids were allegedly beaten and verbally abused by the ashram workers.
However, there is another twist in the tale. Two of Sharma's daughters who refused to go with him claim that he has filed a false case against Nithyananda. Saying that it was a family matter and the media did not need to be dragged into it, they questioned why their father had asked the younger of the two daughters to file a rape case against Nithyananda.
Meanwhile, the girls have left the ashram and are living on their own. Nithyananda too, has disowned them and in his current live message said that he will not be able to accommodate them in any of his ashrams.

Clueless Ministry of External Affairs
The Ministry of External Affairs (MEA) has stated that it doesn't know of the whereabouts of Nithyananda. While some say he is in Trinidad and Tobago, some say he is in Ecuador, a country that doesn't have an extradition treaty with India. The MEA said, "We have not received any formal information, neither from the Gujarat police nor from the Ministry of Home Affairs (MHA). Also, for extradition request, we need to know the location and the nationality details of the person. We do not have such information about him yet."
All this while Nithyananda is delivering live sermons and uploading them on his website. Is the tech-savvy MEA too backward when it comes to the conviction of repeat offenders?

Related:
One More Godman, Alwar-based Falahari Maharaj accused of Rape, Victim Motivated by Ram Rahim case, Arrested
Who is Chinmayananda?
Asaram convicted, given life sentence for raping minor girl
Asaram Bapu's son Narayan Sai convicted for rape