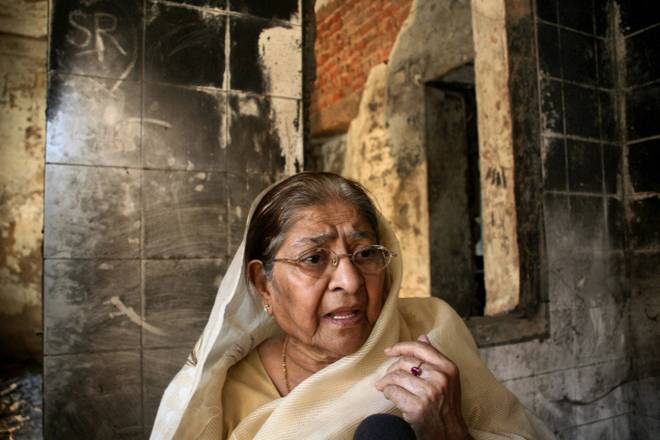 On November 23, petitioners in the Special Leave Petition (SLP) concerning the conspiracy behind 2002 Gujarat genocide, pointed out the role played by media in keeping up the communal tension, and the active role played by Hate speech and fake news in inciting violence. The Supreme Court Bench of Justices AM Khanwilkar, Dinesh Maheshwari and CT Ravikumar was hearing arguments by Senior Counsel Kapil Sibal who was appearing for Zakia Jafri and Citizens for Justice and Peace (CJP).
Sibal started with recapitulating from the last hearing, issues like police inaction, mobilisation of large groups of people, non-response of fire brigade, selective preventive arrests, delay in curfew, delay in deployment of army and so on. The petitioners emphasised before the bench that only "undisputed facts have been presented in order to avoid any conspiracy." Sibal reiterated, "There are two limbs of my arguments: first is undisputed facts and second is where ever there is clear suspicion of conspiracy but no investigation was done."
Sibal then went on to question why the members of NHRC, Concerned Citizen's Tribunal, Women's Parliamentary Committee, not questioned when their reports have corroborated all this material. "In the criminal offence, first thing you do is take statement of victim. Shocking that no statements were recorded," he pointed out, asking, "Will you call it oversight or turning a blind eye?"
The Bench will hear the submissions of the respondents, SIT, represented by Senior Counsel Mukul Rohatgi, on November 24.
Denial of access to the Army
The attention of the Bench was then brought to the memoir of Lt Gen. Zamir Uddin Shah who led the army's "Operation Aman" during the violence. In a Chapter from "The Life and Travails of a Soldier Educationist The Memoirs Of Lt Gen Zameer Uddin Shah" he says,
"I returned to the airfield to check out the arrival of the 60-odd flights of IL-76s and AN-32s. By 7 a.m. on 1 March 2002, we had about 3000 troops landed, but no transport, so they remained at the airfield. These were crucial hours lost. Out road columns reached us on 2 March and so did the requisitioned civil trucks, magistrates, police guides and maps."
He also gave his opinion on how the situation was managed during the riots,
"There are several reasons for the uncontrolled violence. The initial reaction of the civil administration was tardy. No civil officials could be contacted on the night of 28 February-1 March 2002. The Chief Secretary was abroad and the officiating incumbent was a non-performer. The initial reception, briefing and provisioning of suitable transport and maps were inadequate and delayed. It required the intervention of the RM to nudge the civil administration into action."
Sibal questioned why Lt Gen Zameer Uddin's statements were not recorded by the Special Investigation Team (SIT) to find out why the access to the army was delayed. The petitioners had attempted to get such information through Right to Information (RTI) applications, but hey were denied the same in "national interest".
"I daresay had they recorded his statements, he would have said the same things (as he did in his memoir) and it could have come on record," Sibal said.
Hate speech and its active role in violence
The petitioners have stated, "It is not a coincidence that the National Human Rights Commission, the Editors Guild of India and the State Intelligence Bureau, Gujarat's SIB Messages, ADGP (Int.) R.B. Sreekumar's reports and messages of several other SIB officials record the existence of incendiary pamphlets in their multiplicities all over the State of Gujarat in all probability even before the Godhra incident on February 27, 2002."
"Hate spews out naturally through the media, Magistrate does not deal with it. The government officials told government to take action, till date no action," submitted Sibal.
Ashok Narayan, ACS (Home) had told the SIT that the government was non-committal in taking action against hate speech. When questioned about letter to the DGP regarding the two pamphlets in circulations in large number in Gujarat for which action was proposed, Narayan had said that the issues were discussed with the DGP, however, "I don't recollect any action taken thereon. However, it may be added here that several such pamphlets were brought to the notice of DGP myself and Chief Secretary but in such cases the name of the printer/publisher had not been mentioned. Accordingly, we had impressed upon the police to trace out the culprits responsible for these pamphlets but unfortunately no material could be collected in this regard, with the result no action would be taken in this regard."
Editors' Guild Fact Finding Mission
This report released on May 3, 2002, found that there were pamphlets and handbills in circulation calling for economic boycott of Muslims which was admitted to Indian Express by Chinubhai Patel, the Gujarat Treasurer for the Vishwa Hindu Parishad (VHP). There was also a secret circular by the Rashtriya Swayamsevak Sangh (RSS) listing ways of killing or debilitating minorities. Gruesome colored photographs depicting the charred and mutilated remains of Sabarmati Express victims were reportedly circulated at meetings, accompanied by fiery speeches Hindustan Times had reported. The Guild team was officially given a set of such photographs with provocative captions at the VHP office.
Another publication titled Godhra and After produced by Vishwa Samvad Kendra was given to the Guild team at the VHP office which stated facts that gave reasons to believe that the Godhra carnage was a planned conspiracy. It was stated therein that travelers of a particular religion were asked to get down at the previous station; patients of a particular community were discharged from the Godhra civil hospital and not a single case from that community was registered that day and that most student or teacher of a particular community was present in Godhra schools on February 27. From this it was surmised that not only was the torching of Sabarmati Express a planned attack, but there was forewarning of something untoward likely to happen that fateful day. However, when the Guild team checked these facts with district officials, railway authorities and local journalists, there was no corroboration whatsoever.
The guild's report says, "The mysterious role of certain Gujarati newspapers cannot be glossed over. Some of them have been named for irresponsible and unethical journalism in the past but have regrettably learned nothing and forgotten nothing. Willful right fence meant to offense, propagation of hate and fueling disorder are criminal offences. We accordingly suggest that a high judicial officer be appointed by the government to examine the writings of those sections of the media that are primer Facey in flagrant violation of the law and recommend what action if any should be taken against them. It is learnt that the Police Commissioner, Vadodara, did in fact seek penal action against a leading Gujarati daily but his superiors did nothing."
The Guild also concurred with recommendation of the National Human Rights Commission (NHRC) that provocative statements made by media should be examined and acted upon. "Charlatan of every brand must know that they cannot misuse the media with impunity and get away with it," the report states.
"Not concerned with prosecuting individuals"
Sibal reiterated bigger concerns in bringing these issues before the court and for invoking the court's jurisdiction. "I am not concerned with prosecuting individuals. I deal with issues of polity, of how law deals with men who behaved like animals, when properties were burnt, when women were harassed," he said, asking, "I am looking at my Constitution. Can this be allowed under rule of law?"
"I would love to see where the High Court was dealt with this (issues), the Magistrate or even the SIT. The SIT, Magistrate and High Court were dealing with a few issues – 27th meeting, hate speech by the then CM, castigating Sanjeev Bhat. I am not dealing with any of those controversial issues," he submitted.
The petitioners have pointed out that the Magistrate order said that it cannot direct further investigation because the SC has not directed so. The High Court said the Magistrate is wrong, you can go back to Magistrate and ask for further investigation.
More examples of Hate Speech
The Concerned Citizen's Tribunal comprising retired Supreme Court Judges, Justice VR Krishna Iyer and Justice PB Sawant as well as retired Bombay High Court judge, Justice Hosbet Suresh and others, also documented Hate Speech. The report states, "From the news clippings perused and the testimonies collected by the Tribunal, it appears that the deliberate labelling of the miscreants responsible for the Godhra tragedy as 'anti-national Pakistanis' was the brainwave of Gujarat's home minister, Shri Gordhan Zadaphiya, who is also a senior VHP leader. The bogie-burning is a terrorist act similar to the attack on the American Centre in Kolkata. The culprits in both cases are the same, Shri Zadaphiya claimed, and issued a dire threat: We will teach a lesson to those who have done this. No one will be spared and we will make sure that the forces behind this act will never dare to repeat it."
Some instances of blatant hate speech and misinformation:
Sandesh report: "On March 1, a report titled, 'Call from the mosque: Slay the non-believers Islam is in trouble' told its readers: On February 27, at 11.30 a.m., a mosque located along the railway tracks incited a crowd with the call: Slay the non-believers Islam is in danger. Responding to the call, the crowd attacked the surviving Ram sevaks from the torched train compartments, who were sitting by the railway tracks. This, too, was a story without any basis."
On March 7, 2002 Sandesh carried a report with a damaging headline, suggesting that Indian Muslims returning from the Haj pilgrimage could be a potential terrorist threat to Hindus. Titled, "Hindus in danger! Possibility of attack with terrorists' support! Frightening scheme of attack by returning Hajis!" The report stated: Various government agencies have received frightening information that, after the Godhra incident, the fear of terrorist attacks is looming.
On March 16, 2002 a page 1 story in Gujarat Samachar titled, "Indiscriminate firing from Fatehganj Mosque" was a complete fabrication.
Sandesh headline on February 28, 2002:
"Avenge Blood with Blood"
"Around 10 young girls were pulled out from the railways carriage by a group of religious fanatics" (the news item in small print then refutes the headline and Gujarat Samachar said this report was false)
RB Sreekumar's statement
In another statement of Sreekumar dated July 14, 2009 to the SIT, he submitted that he had sent a report about communal incidents reported on April 21 and 22, 2002 to the Union Home Ministry however, no reply was received. He further states that he had specifically pointed out that reports indicating that extremists of VHP and Bajrang Dal were planning mass action against Muslims in their strongholds, and that the tactics of the assault would be generating fear psychosis in the Muslim population causing migration of minorities from right hit areas.
Also, in his first affidavit on July 15, 2002 he had pointed out that media had played a decisive role in keeping up the communal tension. He stated that he had reported the provocative role of media to the ADG (Int) through different reports in March, April and May 2002 however till he left no action had been taken against any of them by higher authorities.
Officers urging action against hate speech
Another officer whose statements and letters to the government brought to light the real picture of the situation during riots was Rahul Sharma, Police Superintendent, Bhavnagar. In a letter dated, March 9, 2002, he had written to DGP, Gujarat stating that Sandesh newspaper had "aggressively provoked their readers and urged the 'Hindu public' and 'Hindu organisations' to retaliate in a story published on March 1, 2002. He stated in his letter, "The peace and harmony of Bhavnagar City/District is in danger by this act of publication. So, under the provisions of the press council Act-1965, you are requested to approach the Govt. to take action against this sort of publication."
Even PB Upadhyay, DCP, Gujarat had written to Additional Chief Secretary (ACS), Home, Gujarat seeking permission to take necessary action as per Gujarat Police Manual against this abovementioned article published in Sandesh.
Relevant cases on hate speech
The petitioners cited Amish Devgan vs Union Of India 2021 1 SCC 1 where the Supreme Court quoted Benjamin Franklin, "It remains difficult in law to draw the outmost bounds of freedom of speech and expression, the limit beyond which the right would fall foul and can be subordinated to other democratic values and public law considerations, so as to constitute a criminal offence. The difficulty arises in ascertaining the legitimate countervailing public duty, and in proportionality and reasonableness of the restriction which criminalises written or spoken words. Further, criminalisation of speech is often demarcated and delineated by the past and recent significant events affecting the nation including explanation of their causes. Therefore, constitutional and statutory treatment of 'hate speech' depends on the values sought to be promoted, perceived harm involved and the importance of these harms. 57 Consequently, a universal definition of 'hate speech' remains difficult, except for one commonality that 'incitement to violence' is punishable."
It also cited Andre Sellars from his essay 'Defining Hate Speech' where he examined the concept of hate speech in different democratic jurisdictions and formulated common traits in defining 'hate speech'. He says:
· Hate speech targets a group, or an individual as a member of the group
· One should be able to objectively identify the speech as an insult or threat to the members of the targeted group, including stigmatising the targeted group by ascribing to it qualities widely disregarded as undesirable
· Speech should cause harm, which can be physical harm such as violence or incitement and true threats of violence
· Speech should have no redeeming purpose, which means that 'the speech primarily carries no meaning other than hatred towards a particular group'
Thereafter, the petitioners also cited State of Karnataka and anr vs. Dr Pravinbhai Togadia (2004) 4 SCC 684, where the Supreme Court held, "Communal harmony should not be made to suffer and be made dependent upon the will of an individual or a group of individuals whatever be their religion bit of a minority or that of the majority… the valuable and cherished right of freedom of expression and speech may at times have to be subjected to reasonable subordination to social interests needs and necessities to preserve the very core of democratic life preservation of public order and rule of law. At some such grave situation at least the decision as to the need and necessity to take private reactions must be left to the discretion of those entrusted with the duty of maintaining law and order and interposition of courts…"
Related:
Zakia Jafri SLP: More skeletons tumble out of the SIT's closet
Only SC can bring to life the cold print of the Constitution: Sibal in Zakia Jafri SLP
Zakia Jafri SLP: Were SIT's acts of omission deliberate?