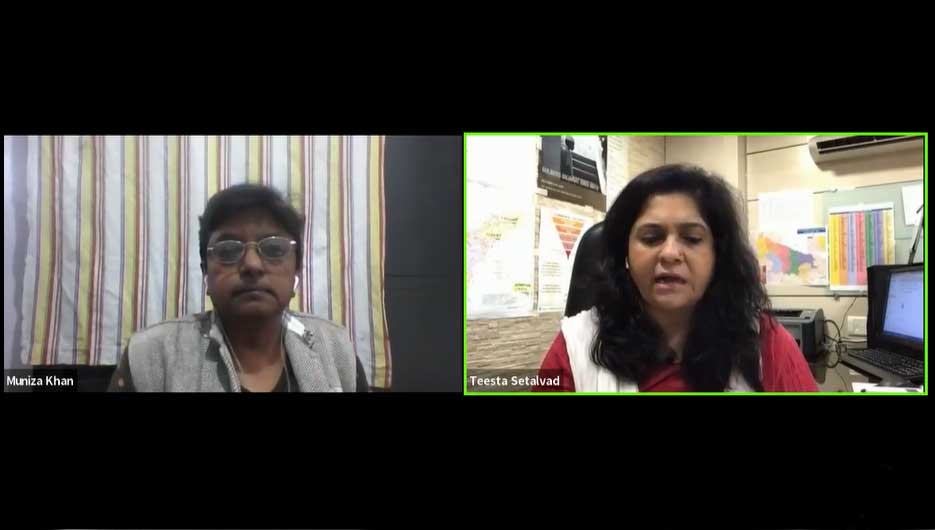 The hijab continues to drape news discussions, and the issue of hijab versus saffron debate has now fuelled communal acts of discrimination and confrontation in different states of India. As it evolves and seems to gain a life of its own, the issue needs to be examined minutely. Is the Hindutva right-wing in collusion with the Islamist right-wing? Is the discussion being fuelled by a united, conservative patriarchy across religions? Is any one asking the Muslim women what they want to wear? It is identity politics or body policing that is at play. While many news anchors and channels continue encouraging loud arguments from studio panels, students on ground continue losing precious study hours.
It is thus crucial to lower the volume and engage in a real conversation, to examine the issue, its evolution and impact. One such conversation was organised recently by Citizens for Justice and Peace (CJP) where co-founder, activist, educationist and journalist Teesta Setalvad and social scientist and activist Dr. Muniza Khan, discussed the issue in depth. While Setalvad has a long track record as a journalist and human rights activist, Dr. Khan's research and Ph.D in 1990s was on the Socio Legal Status of Muslim Women in the context of the Shah Bano Case and divorces in the Muslim community, thus giving them both a unique perspective.
"India is known and recognised as a secular State, but the governance by the ruling regime is moving towards majoritarianism. This is affecting the constitutional and state structures – may it be the Election Commission, Judiciary, Parliament thereby hollowing out the democracy, constitutionalism and secularism," Setalvad contextualised the discussion on the ongoing crisis, that is yet another example of the "downturn of secularism is clearly visible in the State because of the ongoing spreading of hatred by the communal forces". It is also concerning how various organisations recognising human rights or the rights of minority communities or the rights of women feel that the right of choice has been misinterpreted by the religious patriarchal system.
Responding to the lead question, "Do you feel that whatever is happening in Karnataka is an attack on Muslim way of life?" Dr. Khan said the hijab ban in Karnataka was a sample of "complete interference of the governing or the ruling parties which has increased from 2014 in order to control the minority community and their rights" as this will serve a "political agenda of inciting the feeling of hatred and communal violence as the way hatred is being spread." She recalled that this too was not new and that such incidents also took place during the time of the Shah Bano case, and recalled her research where she observed that members of the Muslim community were progressive, and many women didn't wear headscarfs or hijabs, however after the Shah Bano case in it became an issue of identity and terms like "Islam khatre mei hai" were heard on soon after the Babri Masjid- Ramjanambhoomi dispute put Ayodhya on the political map.
What has now begun from Karnataka, according to Khan, has been "intentionally raised at this time in order to polarise votes," and its ripple effect is also being seen in Uttar Pradesh especially in areas such as Jaunpur, Azamgarh, Gazipur, and Varanasi. "The intention of the right-wing was to polarise votes and take up these issues and to hide the major issues of concern such as employment, inflation etc," she stated as a resident of Uttar Pradesh who is aware of the on ground realities as Assembly elections are now underway in UP.
Setalvad also addressed the need to understand the concept of "naqab, burqa, hijab and parda" as the controversy began in the state run schools of Karnataka where many Muslims girls have in the past worn salwar kameez as the uniform and a scarf matching with colour of uniform and attended classes. However, an order was passed by the government disallowing the students to attend classes wearing hijab. It is crucial to note the timing and the requirement of such an order and that "uniformity is not equality inside the classrooms".
"Our Constitution itself recognises diversity and pluralism and if at all in a diverse country like India if uniformity is forced fully imposed than majority will bring status quo," said Setalvad, adding that there needs to be the concept of "positive secularism" at play indeed and that the "State is distinct from all religion but the society respects all the religions." She recalled a South African Judgement allowing a Hindu girl to wear a nose ring in school as cultural practice that was cited before Karnataka High Court.
According to Dr. Khan, when she was in school it was "mandatory for girl students to tie their hair in two plaits and come to school" those who disobeyed were made to stand outside the class. However those days the parents didn't raise any issues not were there feminist groups and this no nobody questioned the "rule". She recalled that in her college there were nuns who used to come in their own religious clothes and it was respected and was never made into a controversial issue. The same college rules didn't allow girls to wear jeans, only salwar kameez was allowed and on Saturday only sarees were allowed. "These were the things to maintain the discipline of the college," she recalled. However Dr. Khan said that today the issue is that of "a right and a choice the right wing group is inciting it otherwise these are not serious issues. They are able to do this because their people are in power." She also explained the negative impact it had had on Muslim women.
According to Dr Khan, the question of naqab, burqa or hijab was explained in the Quran sharif and she quoted, "Chapter 23 verse 30 instructs men to observe modesty say to the believing men that they restrain their eyes and guard their private parts, that is purer to them. Chapter 23 verse 31: and tell the believing women to lower their gaze and guard their chastity, and not to reveal their adornments except what normally appears."
She said that now only women are told "Hijab lo, cover karo, ghar se mat niklo," but men are not told anything. According to Dr Khan, when she read the Quran to learn about the rights of women in Islam, she found that most of the rights were already recognised in the holy book, but were not in practice and women were never informed about them. An example was found in "the 4th ayat which prohibits women in Islam to forgive or give up the right to meher (a sum set aside in case of a separation)". Dr. Khan then said that dowry, something that is not a part of Islamic culture, is practiced by manipulating tradition. She gave the example of Madanpur area of Varanasi, where a day prior to marriage the entire dowry is sent to the groom's house and next day the family claims they are conducting a "simple marriage ceremony". She also stated about the increasing incidents of dowry deaths and bride burning. She questioned why it was not questioned by Muslim scholars "kaha jata hai ki jalana mana hai vaha par bride burning shuru hai (Translation: They say it a sin to burn, but bride burning is still going on)" and put the onus on the conservative Muslim leadership, often make, who claim that "Islam is in danger" whenever a Muslim woman asserts her right and her freedoms. She called this out as a "patriarchal controversy" to push women back where fundamentalists both Hindutva and Islamists, talk the same way as they do not want women to progress.
It was also crucial to understand the basic concept of hijab which is a scarf that covers neck and head, a burqa is full body coverage so is naqab. Khan recalled meeting a women professor in Bangladesh who never wore a headscarf but when they met again after a decade later in Malaysia the professor was wearing a hijab, "When I asked she said it's her identity and it should be worn by me as well"
Setalvad recalled how the stay order which was passed by the High Court on February 11, 2022, on the hijab ban issue had its effected the fundamental rights of education of the Muslim girls, "The girls who wore hijabs were physically stopped from going to school, what can be worse in a secular state that on one hand provides the right to education, but on the other…". She asked, "What should be the attitude of the state here and the attitude of the higher judicial, high Court?" Karnataka's streets have witnessed a mobilisation from both sides, from the hijab wearing women as well as the right-wing. "There was a study conducted in 2019-2020 which showed that 61% of Indian women were reported covering their head, out of which Muslim women were 89 percent, Sikh women were 86 percent and Hindus are about 59 percent," Setalvad recalled an analyses published by Hindustan Times.
Dr. Khan added that the "court's decision was not entirely unbiased" at the moment, adding that there was also a sense of fear instilled in the people that they should not speak up against the judiciary lest they be held in contempt. She asked, "If we can speak against religion why can't we speak against judgments made on religious issues?" She also made an interesting observation how the hijab was in fact "a status symbol" as it was worn by upper caste/class Muslim women who could afford it. The women belonging to lower income groups or so called lower class would use a simple dupatta to cover their heads. In places like Malaysia she also saw the hijab become a fashion symbol.
She also stated the impact of women being told to wear a hijab that she saw in Mubarakpur when she asked a group of little girls to pose for a photo. "You are not allowed to take photos of us; it is sin. You take photos of boys who are playing in the ground," was the girls shocking reply. This was an example of how young minds are being embedded with restrictions from childhood by calling it a religious practice. The impact stays long after the girls grow up and even after they enter mainstream professions. "I feel the Quran sharif has given rights that are revolutionary but people do not know them, nor are they informed about them," said Dr. Khan.
Setalvad expressed concern about the challenges and difficulty for the organisations and people fighting for human rights, feminists, minority rights etc, as the current scenario was also an attack on rights and freedoms given by the Constitution of India. "The Islamophobia we are seeing, the vile hate on social media" are all examples of this, said Setalvad, citing the example of actor Shahrukh Khan being trolled when he attended the funeral of Lata Mangeshkar. "There is also a great responsibility on rights organisations to stand with the Muslim women asserting their right to education and identity so they can navigate this dual reality," said Setalvad. She recalled the case of Aroosa Parvaiz, who topped the Kashmir board exams but was trolled, for not wearing a hijab and for her liberal views by Islamists, the same way Hindutva trolls do. This showed the similarity of the mindset between these two groups.
Dr. Khan shared her personal experience from 1991 where she was criticised by a Maulvi for having short hair but she retorted that she did not need a certificate of being "Muslim enough" from those people. However, today if a young woman was to say that, Dr. Khan stated that it may be taken in a different way. "It is a matter of human rights of these young girls," and as many Muslim families were sending their girls to school the challenges were also rising said Khan. "It is a long process and will take time to bring in the change… there is the need of communicating with the girls themselves, fundamentalism and communalism is in both communities," concluded Dr. Khan.
The entire conversion may be viewed here : https://fb.watch/bf4TvD9wCk/
Related:
K'taka HC to consider mediation only if parties agree to it
Hate Buster: Times Now anchor questions Malala's silence on Burqa ban in Norway
Hijab ban: Multiple dimensions
Hijab controversies now hit schools!
How a College Committee make decision on 'public order': Petitioners at Hijab Ban hearing