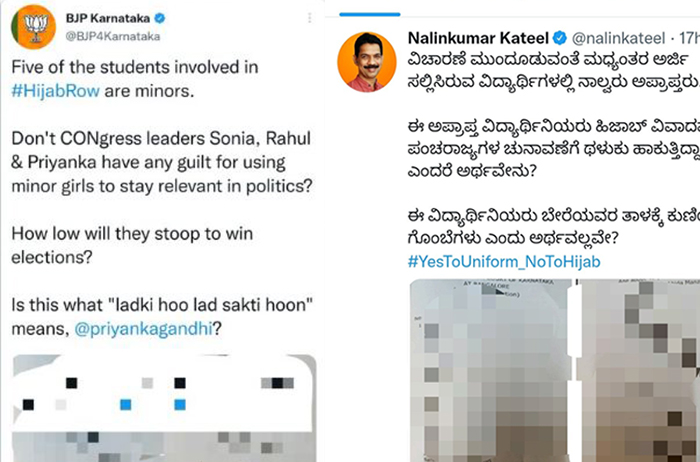 Karnataka Bharatiya Janata Party's (BJP) official twitter handle and that of its senior functionary Nalinkumar Kateel who is the president of BJP Karnataka and Member of Parliament from Dakshina Kannada constituency, shared private information of the Muslim girls from Udupi. This included the residential addresses, age, etc. of these minor girls who had approached the Karnataka High Court against the ban on wearing hijabs in classrooms. This has put them in real dangerous, even as scores of Muslim girl students continue to be targeted, and discriminated against at educational institution across the state.
The party had stated the students were "minors" and had tweeted, "Five of the students involved in #HijabRow are minors. Don't CONgress leaders Sonia, Rahul & Priyanka have any guilt for using minor girls to stay relevant in politics? How low will they stoop to win elections? Is this what "Ladki hoo lad sakti hoon" means, @priyankagandhi?"
Attached were the personal details of the girls from Udupi, who had filed petitions in the High Court. It is prohibited to divulge a minor's identity under Section 74 of the Juvenile Justice Act, 2015, Section 23 of the Protection of Children from Sexual Offences (POCSO) Act, 2012, and Section 288A of the Indian Penal Code (IPC). Luckily both tweets were flagged by concerned citizens and activists and taken down, but screengrabs (with vital data censored) showcase how things could have gone badly had the tweets not been deleted.
https://twitter.com/nalinkateel/status/1493261833603485698
https://twitter.com/BJP4Karnataka/status/1493467234353954817
Social media users quickly responded to the threat of sharing such sensitive private information, its possible consequences and reported the handles to Twitter. So viral was the reporting that the two main offenders who had allegedly divulged that information quickly deleted the tweets they had made public in English as well as Kannada. However, the damage may have been done. Shiv Sena MP Priyanka Chaturvedi has demanded that the National Commission for Protection of Child Rights (NCPCR) take the issue up.
I demand @ncpcr also to take this up immediately. This is a criminal act to share names and addresses of minors. This is unacceptable https://t.co/Vj0NRcWvFb

— Priyanka Chaturvedi?? (@priyankac19) February 15, 2022
While it is not yet known if he has responded to the alert sounded by many, one cannot ignore how NCPCR chairperson Priyank Kanungo had told the media that the 'Darul Uloom Deoband' was responsible for forcing young Muslim women to wear hijab. On January 15, NCPCR sent a notice to the Islamic seminary over the content on their website earlier. Kanungo was quoted by the Deccan Herald, saying, "One of their fatwas say that Muslim girls should be pulled out from schools where the hijab is not allowed. Another says that girls should not be allowed in classes after a certain age if the teacher is male. There is no doubt that Darul Uloom Deoband is orchestrating these hijab protests."
The Karnataka High Court bench led by Chief Justice Ritu Raj Awasthi continued to hear the petitions against the hijab ban in educational institutions. At the previous hearing, on February 10, the bench had refused to pass an interim order granting permission to the student to wear hijab or headscarf in class. The Supreme Court as well refused to interfere with the High Court's order saying that it will come in at the appropriate time and that it was very much aware of what was happening in the court and the state.
At the hearing on February 14, Senior Advocate Devadatt Kamat made submissions on behalf of petitioners against the Government Order (GO) dated February 5. He states that the GO says two things:
1. Wearing of head scarf is not protected by Article 25. Specific declaration made by State Govt
2. We leave it to CDC to decide whether headscarf can be allowed.
Kamat submitted that the first declaration is erroneous and the delegation to the CDC is also illegal. He argued, "The only aid to the State to restrict Article 25 is public order. Now "public order" is a state responsibility. Can a College Development Committee, consisting of MLA and subordinates, decide if this exercise of right is permissible?" He further argued that public order is not a mere law and order disturbance and submitted that "public order" was an essential State function and hence the CDC cannot be delegated to determine if hijab will violate public order.
Related:
Hijab ban: Multiple Dimensions
How can a College Committee make decision on 'public order': Petitioners at Hijab Ban hearing