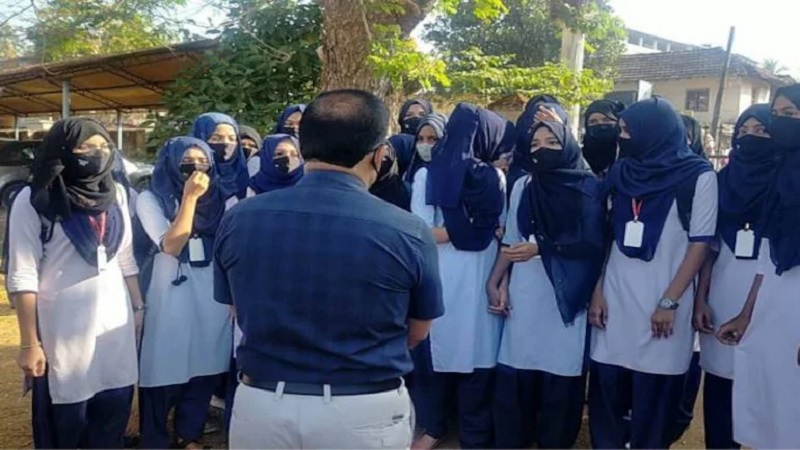 Image Courtesy:moneycontrol.com
All schools and colleges in Karnataka will be shut for the next three days as the unrest over hijab being worn by students escalates. Chief Minister Basavaraj S Bommai tweeted that he has ordered all high schools and colleges to remain shut "to maintain peace and harmony".
ಪ್ರೌಢಶಾಲೆ ಹಾಗೂ ಕಾಲೇಜುಗಳಿಗೆ ಮೂರುದಿನಗಳ ರಜೆ ಘೋಷಿಸಿಲಾಗಿದೆ.

— Basavaraj S Bommai (@BSBommai) February 8, 2022
The Karnataka High Court began hearing a petition by five girls on the restriction against the hijab, which protesting students say is part of their right to practice their religion. It will continue to hear the case on Wednesday February 9. The HC has also asked students and the public at large to maintain peace "This court has full faith in the wisdom and virtue of the public at large and it hopes that the same would be put to practice," Justice Dixit Krishna Shripad was quoted as saying by various media outlets.
The CM had already taken the official position that "All should follow the state's order (on uniform) until the court decides." What started nearly a month ago, when Muslim girls of the PU college in Udupi district alleged that they had been barred from classes for wearing headscarf, has now escalated into a crisis. Right-wing groups in Udupi and Chikkamagaluru are reportedly behind the 'saffron scarves' protest against the Muslim women seeking the right to wear hijabs to school / pre university colleges.
The right-wing groups, pitting young citizens of Karnataka against each other and dividing these school students on the basis of religion and clothes, are yet to be reigned in even as the situation on ground seems to escalate each day. On Tuesday, a video from the PES college in Mandya showed how a girl wearing a hijab was heckled by scores of male students wearing saffron shawls and chanting "Jai Sri Ram" as they approached her. The young woman raised her hand and shouted Allahu Akbar back at the crazed crowd, before the college staff stepped in.
A more expanded and clean feed of the above episode. #KarnatakaHijabRow pic.twitter.com/TIieUQJUWN

— Imran Khan (@KeypadGuerilla) February 8, 2022
The videos, and others like it, bear witness to the dangerous turn the 'hijab controversy' has taken in Karnataka. Another video showing a stand-off between hijab-wearing girl students and saffron shawl-wearing male students at Shivamogga has also gone viral. Girls wearing hijab had to be escorted to and from classes in a college, it was their teacher and fellow students who escorted them safely. All this when many students are preparing for their final exams. According to a report in NDTV, in Hassan, some members of Bajrang Dal distributed saffron shawls outside the pre university.
Scenes of students at MGM college #Udupi collecting their #saffronturbans allegedly distributed by right wing organisation after their standoff with pro #hijab students today is going viral. #KarnatakaHijabRow #Karnataka pic.twitter.com/4k9awSgSqd

— Imran Khan (@KeypadGuerilla) February 8, 2022
Here too when Hijab wearing students refused to remove their head scarf before entering the class, the Principal and teaching staff had to intervene. It is fellow students who have been standing in solidarity with their hijab wearing friends. "They have been wearing hijab from the time they joined college… " is the refrain, and for those who have recently taken a liking to saffron scarves/ shawls, the hijab wearing girls say they do not mind what the young men wear.
"I support my friends who've been wearing Hijab from the time they joined college" #KarnatakaHijabRow pic.twitter.com/vWSN8ucXEi

— Mohammed Zubair (@zoo_bear) February 8, 2022
Teacher and classmates escorted Muslim students safely out of the college. #KarnatakaHijabRow pic.twitter.com/aNKp3AzkKF

— Mohammed Zubair (@zoo_bear) February 8, 2022
According to a report in NDTV a member of the Hindu Jagrana Vedike was confronted by journalist when he was spotted persuading students of the SV College in Kundapur taluk to carry the saffron scarves in their bags Naveen Gangolli, the group's Taluk Secretary, said, "This is Bharat… students must follow Hindu culture". He did not reveal if it was his group, or some other right-wing goons who were behind the face-off between students outside a college in Udupi. There, according to news reports "students wearing saffron scarves and headgears were allowed to enter the college as young women in the hijab stayed outside the gates, protesting what they alleged was discrimination."
The saffron scarves wearing groups have also been seen on college campuses in Chikkaballapura, Bagalkote, Belagavi, Hassan and Mandya in Karnataka, stated news reports adding "two men have been arrested for allegedly brandishing knives during a protest by Muslim students."
A group reportedly replaced the National flag with a 'Saffron flag' at Shimoga.
#KarnatakaHijabRow @INCKarnataka president @DKShivakumar has tweeted saying replacing National flag with Saffron flag at #Shimoga is a breakdown of law and order.And the college should be closed for a week. pic.twitter.com/0Rr3RL4cyn

— Imran Khan (@KeypadGuerilla) February 8, 2022
The situation in some Karnataka educational institutions has gone so out of hand that in one case the National flag was replaced by a saffron flag. I think the affected institutions should be closed for a week to restore law and order. Teaching can continue online.

— DK Shivakumar (@DKShivakumar) February 8, 2022
Related:
No Hijab in class: Will Puducherry be able to nip the controversy in the bud?
Karnataka govt's ominous silence at the communal mobilisation of students
To wear or not to wear the Hijab is not the point!
Hate as a State project is not a new phenomenon: Survivors