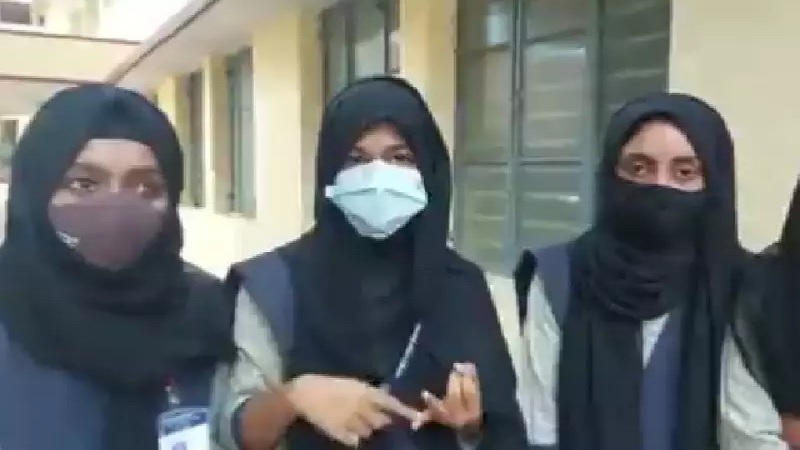 Image Courtesy:news9live.com
Nearly a week has passed since Udupi's Muslim women students began their physical protests outside the Government Women's PU college to assert their right to wear a hijab inside classrooms.
In December 2021, the teenagers were banned from entering classrooms because of their hijabs by their teacher. In the new year, the women again tried to enter their classes having checked college rules that did not ban hijabs. However, they were once again prevented from entering the room.The situation has garnered much attention in the state since groups of right-wing students at various college institutions put on saffron scarves and protested against Muslim womens' wearing of the garb.
Speaking to Times Now, Udupi College Development Committee President and BJP MLA Raghupati Bhat said, "Only six students are unnecessarily through provocation doing it [protesting] otherwise in Udupi we are all in communal harmony… We will not allow hijab in the class… From '85 we have a tradition of uniform. If you don't want it then cancel the uniform," he said.
However, the statement has been less than appreciated by the women holding placards that assert their right to wear a hijab, enshrined in their fundamental rights.
Further, even the People's Union for Civil Liberties (PUCL) Karnataka Chapter has taken issue with the college for violating Article 12 of the Constitution. In a press release, PUCL Karnataka President Professor Rajendra Y. J. said that the Government PU college is duty-bound to ensure that the concerned students' rights to education, equal treatment, expression of religious faith and right to dignity are not violated.
"As interpreted by the Supreme Court Article 21 guarantees the right to live with dignity and the prohibition of the use of the hijab violates the right to dignity of the Muslim women students as the dress is an intrinsic part of the expression of their identity as Muslim women," said the PUCL.
It cited the inputs of the Sachar committee report regarding hijab that indicated how Muslim women in corporate offices found it increasingly difficult to find a job due to the garb. Similarly, burqa wearing women reported impolite treatment in the market, hospitals, schools and public facilities like public transport.
"Today by prohibiting Muslim students from accessing their right to education, a more far-reaching attack on the rights of Muslim women has been launched. It has to be resisted," said the PUCL.
It called upon the Human Rights Commission and minority commission to register a complaint against the principle and the management of the college for violating fundamental rights of the concerned students.
Earlier, similar issues broke out in Chikkamagaluru and Mangaluru districts. In the former institution, authorities resolved to ban religious garbs like hijab and saffron scarves altogether. However, in all these regions the minority students group said they had a right to wear the hijab.
Related:
Hijabs and saffron scarves a no-no in this Karnataka college
'S**li Deals' a form of Hate Speech: UN Special Rapporteur