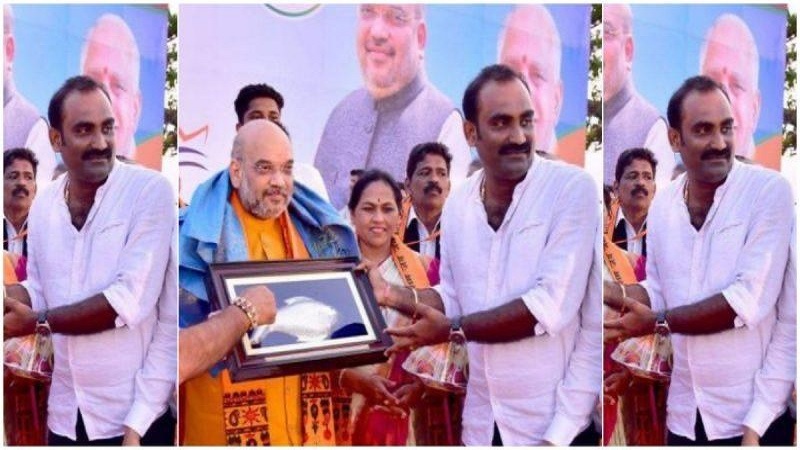 Image Courtesy:thewire.in
Karnataka girl-students wearing and fighting for their right to a hijab inside classrooms faced fresh horror as senior Bharatiya Janata Party (BJP) leader and Vice President of Pre-University College Development Committee Yashpal Survarna accused the six students of belonging to terrorist organisations, reported Deccan Herald.
On March 15, the Karnataka High Court ruled that wearing of hijab is not essential to the practice of the Islamic faith. The decision sparked considerable anger amongst Muslim girls who continued to boycott and protest the hijab ban. The six girls from Udupi are continuing their legal battle, promising to challenge the decision in the Supreme Court. Shortly after the verdict, the girls had held a press conference wherein they lamented not getting justice from the High Court.
"We thought HC will uphold constitutional values. We won't go to college without a hijab. If Ambedkar was alive he would be crying," said one of the girls in Kannada.
*We didn't get justice by the high court judgement. We thought HC will upheld constitutional values. We won't go to college without #hijab. If #Ambedkar was alive he would be crying* says six girl student petitioners from #Udupi #Karnataka #KarnatakaHighCourt #KarnatakaHijabrow pic.twitter.com/hFjoKO0D54

— Imran Khan (@KeypadGuerilla) March 15, 2022
Strangely, their grievances were met with singular accusation from Survarna on March 16 when he claimed that the girls were "anti-nationals" and "members of a terrorist organisations". He went on to say that the six youths have brought disrepute to the judiciary by their statements and have no right to live in India.
Responding to their press conference statements, the BJP OBC Morcha General Secretary said, "Let these girls go to a country where they can practise their religion. Religion has no place in front of the Constitution and the judiciary. The verdict was issued within the framework of Ambedkar's constitution."
Those 6 students belong 2 #terrorist orgn.They have brought disrepute to judiciary by their statements.Vhave demanded inquiry against those 6 students who are members of #terrorist orgn.They have no right to live here:Yashpal Suvarna VP #Udupi girls college CDC & NS BJP morcha. pic.twitter.com/uPiodK37pM

— Imran Khan (@KeypadGuerilla) March 16, 2022
Alleging that these girls cannot be expected to serve the country, he called their actions politically-motivated. Meanwhile, hundreds of other Muslim girls continue protests despite fast-approaching exams. Students from rural Bengaluru and Hassan districts refuse to give up their right to hijab for their right to education.
More than 15 students protested in #Hassan #Karnataka demanding they be allowed inside campuses wearing #Hijab. The protestors said- they want education with hijab and not without it. And they wont go to college without hijab. pic.twitter.com/q9TKkU1EGf

— Imran Khan (@KeypadGuerilla) March 16, 2022
#Hijab wearing students were stopped at the gates by Govt girls college authorities at Vijayapura town, Devanahalli, #Bengaluru rural.They were told that due to HC order.They will not be allowed inside with hijab. Students didn't relent to write their exams without hijab. pic.twitter.com/PvU8NIZkwb

— Imran Khan (@KeypadGuerilla) March 17, 2022
Related:
Hijab Ban: Identity politics or body policing?
BREAKING: Wearing of Hijab not essential religious practice: Karnataka HC
Walkouts, objections, after Karnataka HC verdict on Hijab, but BJP netas hail it
Karnataka: Two Private Pre-University colleges allow students to wear Hijab
Hijab ban: News media loses interest but student protests continue