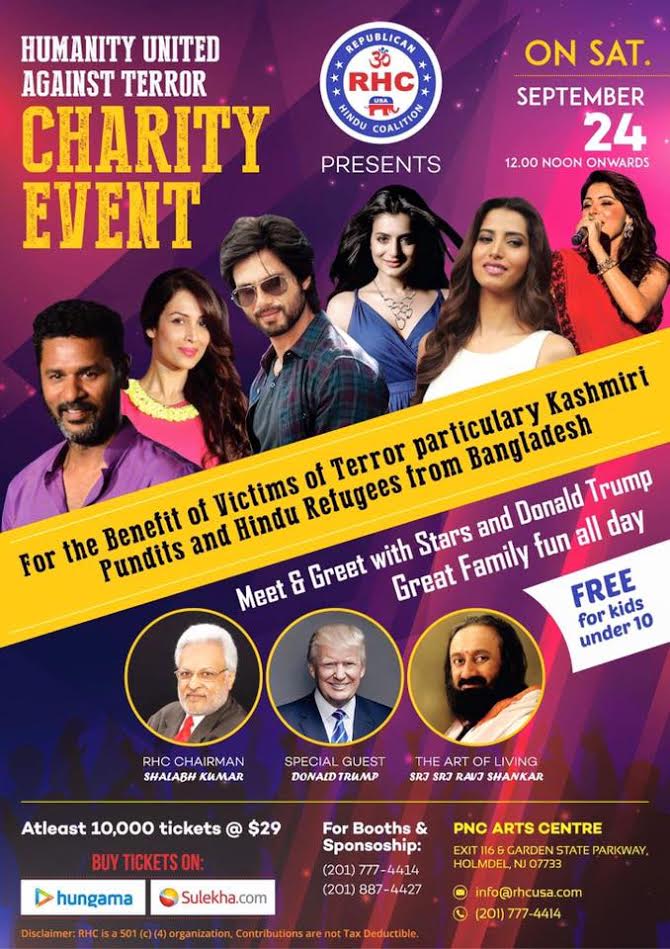 Republican presidential nominee Donald Trump, chastised even by Republican supporters for his extreme, some even call them racist views, has agreed to deliver remarks at a charity event next month hosted by the Republican Hindu Coalition, sending a clear message he's looking to expand outreach to 'minority' voting blocs.

"It's Trump being Trump," said Indian-American business person and co-founder of the RHC, Shalli Kumar. "He's just misunderstood. He is just as color, religion, race-blind as anyone could be. He's a business person."

Shalli Kumar Indian born Indian American industrialist Shalabh "Shalli" Kumar donated a whopping $898,800 for the campaign of the Republican Presidential candidate Donald Trump. Shalli Kumar has also been an unashamed supporter of Narendra Modi, dubbed one of Modi's most influential supporters there. He was the one organised the high-profile March visit to Gujarat by three US lawmakers, and the videoconference between Modi and former speaker and one-time presidential hopeful Newt Gingrich,
Kumar made his more than significant contribution at the Republican National Convention held in Cleveland, where Donald Trump was announced the presidential candidate of the Republican Party through his wife's account, as he reached the ceiling of the maximum amount transferable by a person – $449,400, reported The Hill.
Taking into account Trump's association with Republican Hindu Coalition (RHC), a not-for-profit organization founded by Kumar, he thinks that the common perception about Trump as a racist is wrong. Kumar is the head of RHC, which also supports Donald Trump.
Here are some of Trump's most controversial statements that have earned him criticism across the board; he has not spared Indians from his peculiarly virulent brand of hate speech:
Donald Trump: I hate Indians, Muslims, will throw H-1B visa workers into detention camps
Donald Trump: ban all Muslims entering US
Donald Trump's tirade on Mexico's 'drugs and rapists' outrages US Latinos
Trump campaign: 'Nothing wrong' with banning Muslims from entering US
Donald Trump says 'I. Don't. Care' about hate speech: tell the world #WeDoCare
However, for Shalli Kumar, Trump remains a misunderstood politician. "The goal is to unite Hindu-American community with conservative values together and expand the RHC and at the time same time help the victims of terror throughout the world."

The event, hosted by Hindtuvawaadi organisations this weekend, that will take place , titled "Humanity United Against Terror," will take place in Holmdel, N.J. and was personally chosen by Trump, Kumar said. It will take place just two days before the GOP presidential hopeful will meet Democratic presidential nominee Hillary Clinton on the debate stage in nearby Hempstead, N.Y. Kumar says the funds raised through ticket sales will go to victims of terror around the globe, like the Kashmiri Pundits, and not the Trump campaign.

Trump will meet with members of his campaign's Indian American Advisory Board at the event. Bollywood stars and major 'Hindu spiritual leaders' –also businessmen like Ramdev– are also scheduled to attend. Kumar believes the four hour spectacle will attract 25,000 to 30,000 people, featuring surprises he does not want to disclose yet. The event is just one part of the effort the GOP is making to appeal to America's most affluent and educated ethnic minority.

"When the Republican party leaders launched the Republican Hindu Coalition, they had a purpose to expand Republican outreach to India, Indian-Americans in particular along the lines of Jewish Americans," said Kumar.

Former House Speaker Newt Gingrich serves as the group's honorary chair and continues to be Trump's top ally and adviser. Gingrich has been on record for a number of years encouraging his fellow members of the GOP to reach out to Indian-American voters through matters such as national security.

When asked if this event and the 'Hindu Republican' Coalition's effort overall would be considered divisive or anti-Muslim, Kumar reflected that "some of [his] best friends are not only Muslim, Indian Muslims, but Pakistani Muslims. There is nothing against Muslims. This is not anti-Muslim. Just proud to be Hindu. That's all."

For Shalli Kumar, clearly Trump is the United State of America's Modi Moment!