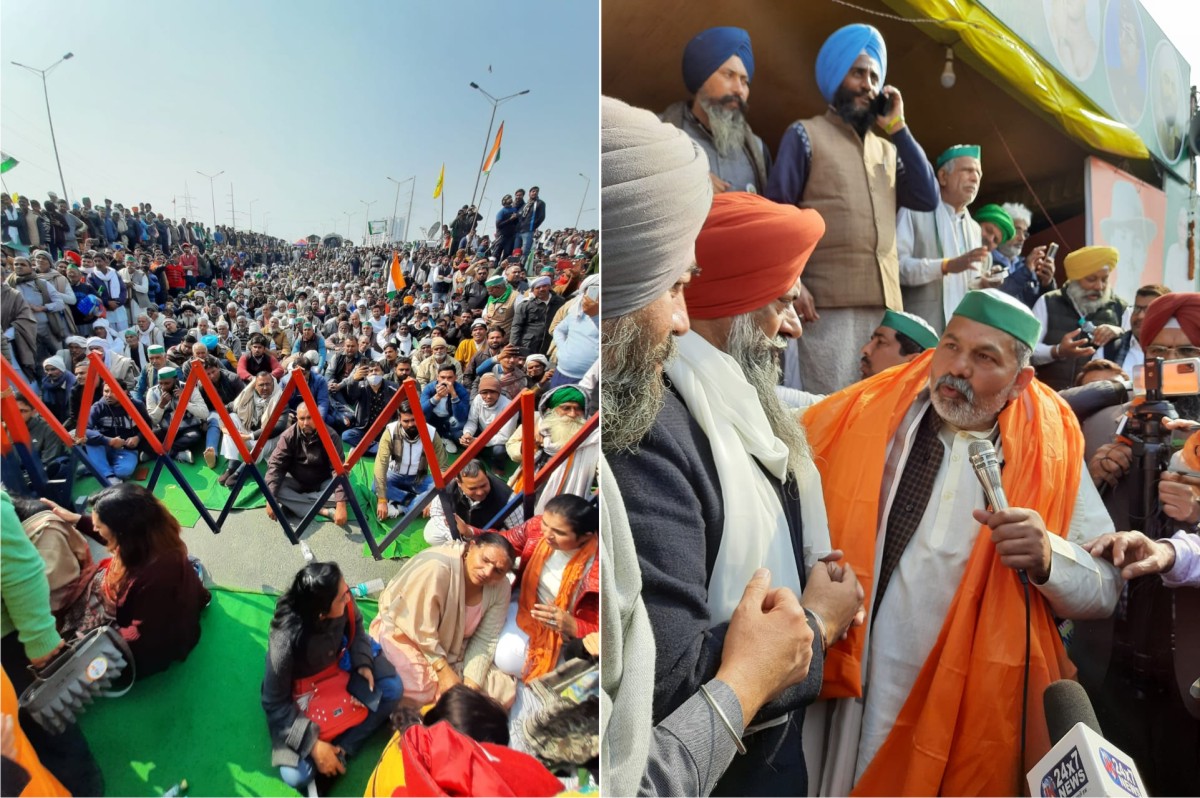 Image: Karuna John / SabrangIndia

"I saw the BJP MLA [allegedly identified by the farmers as Loni MLA Nand Kishore Gurjar] who had come here to attack our elders, my sardar brothers. I could not let that happen, they have all come here on my call, I am responsible for them. This is wrong, the people have chosen them, the people cannot be harmed. I had told the government that I would surrender, but it is my responsibility to make sure all these farmers are safe. I knew what could happen if the police took them if they left from here on their tractors trolleys. I knew when they reached Hapur and beyond, BJP and RSS workers would begin pelting stones on them. I cannot let that happen. The farmer was never scared, the farmer will never be scared. Those who incited violence on (January 260 must be investigated by the government. Tell people the truth," Rakesh Tikait's voice was hoarse from talking almost night, when he stood vigil with his supporters. He refused to drink water his supporters offered after the supply to the Ghazipur protest site had been cut off allegedly by the administration. "I will drink water when the farmers send it from their homes," he had declared in an emotional video that went viral across Uttar Pradesh and amongst the Jaat community Khap Panchayats, and community WhatsApp groups long before it was telecast on television around midnight.
Hundreds packed food and water, and set off by road, in thick fog, to reach Delhi by dawn. Many brought their children along, they all broke their fast after Tikait sipped water they had brought. This has continued since dawn on January 29. On the eve of January 30, Martyrs' Day, Tikait's followers made sure their 'chowdhary saab' , their community leader, was protected, fed, and assured him of their complete support. Emergency meetings were being held across the community bastions in Uttar Pradesh, Haryana, Rajasthan etc, and a Mahapanchayat sat in discussion all day on January 29. The decision is to provide unanimous support to the farmers movement in general, and add strength to the Ghazipur protests site in particular. Even as the security deployment continued to build up as evening approached, and more barricades were put up, so were more tents for the farmers. While the forces with their tear gas and riot control equipment remained on high alert, so did the farmers manning the langars, and the doctors volunteering at the medical camps. The most alert were thousands of supporters, keeping an eye, recording events unfold, and most of all shouting slogans of 'kisan ekta zindabad, mazdoor extra zindabad'. Tikaits tears have refuelled the revolution. The farmers are back in full force, after a day of reflection and a volatile night of potential conflict and high stress.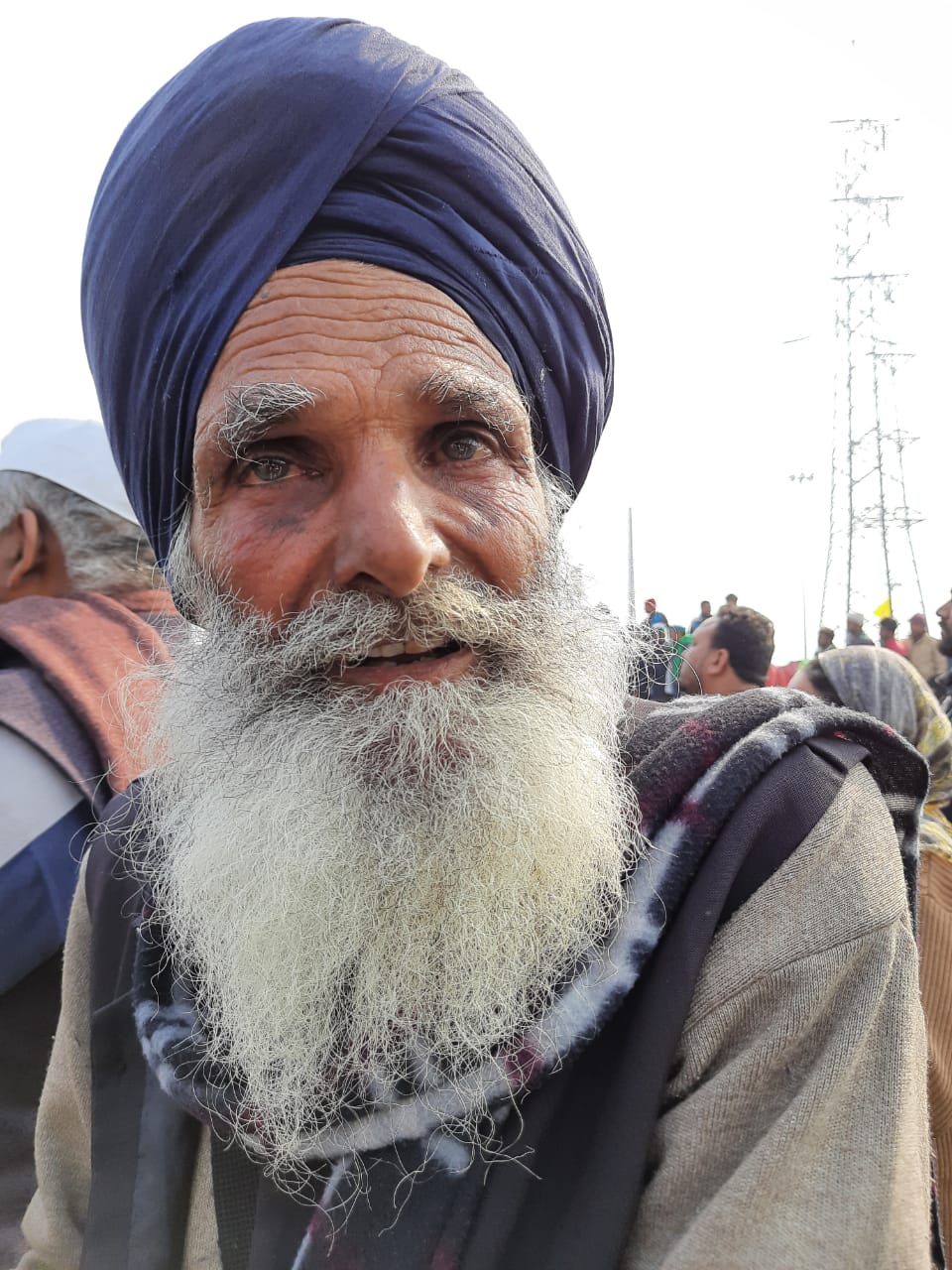 Emotions still high at Ghazipur. Hes been there since two months. Slept on the road to keep guard last night. In his late 70s (Image Karuna John)
---
Tikait himself is now protected by a sea of humanity. Women, men, young children say they are not going back now till the farm laws are taken back. There is no sense of fear after the events of the night of January 28, and the possibility of a repeat in the future. Most people here are alleging that the entire state machinery was put in play to somehow clear Ghazipur border protest site overnight, but it was the farmers faith in their leader that averted a catastrophe. "This was the government's plan, if we are not agreeing to their conditions will they start defaming farmers? Will they start defaming the Sikh community? I will not let that happen," Rakesh Tikait told SabrangIndia, his eyes welling over as Sikh elders presented him with a saropa, ceremonial scarf, as a mark of honour. "Were were conned by the police [on January 26] they told us one thing and then gave us wrong maps [routes] and then put up barricading on those routes?" he asked, adding that none of the "his farmers" were involved in the violence, that he alleged "was done by outsiders" and demanded an investigation. "We are still talking to the government. This border will be emptied a day after the solution is found and a decision made. But I cannot tolerate it if BJP people come with lathis to hit kisans with? They can charge me with [sedition], i don't have a notice yet, but will appear in court when asked, lawyers will reply, if guilty I will undergo punishment. But no one can malign a community, the conspiracy will be exposed, but no one will touch the sadar's turban," he said, the crowd, which has more non-Sikhs in attendance roars with chants of 'Jo Bole So Nihal… Sat Sri Akal'.
Tikait remains firmly on the 'leader's' chair as it were. Only there is no chair here, he has had to remain on the stage for most part of the day, and thousands have come to meet him, offer that sip of 'water from the farms back home' and to see for themselves that he is safe. "I have come from Meerut district. We had a panchayat meeting in the morning. More tractors are coming, thousands of people are coming here. We say our chowdhary saab crying, we cannot tolerate that. We want out lands secured," said a woman farmer who had come with her elderly mother, the menfolk are on their way.
According to the farmers, "lakhs will come from Western Uttar Pradesh," Muzaffarnagar, is where the Tikait clan hails from. Naresh Tikait, president of BKU and Rakesh Tikait's elder brother had already called an emergency meeting at midnight asking farmers to reach Ghazipur by dawn. The Muzaffarnagar mahapanchayat later announced this as their official call to the community.
"All I want from you is to stay peaceful. I demand that the government give us water today, else we will sink submersible pumps on the ground here and get water for our people," said Tikait. His throat is parched, his voice hoarse, but for his followers it is their responsibility to quench his thirst.
"Tikait daddu march on, we are with you," little Govind Singh of Shahpur is shouting as loud as he can "I saw Tikait daddu crying last night and told papa to bring us here." The young family got jaggery, paratha, pickle and water for Tikait, which he accepted. "This law should be taken back before something happens to him [Tikait]," said Govind's father, himself on the verge of tears, "farmers grow food for everyone. This black law will be enforced over my and my children's dead body."
The emotions are running high, even as the area remains sensitive, crying, I prayed and stated up all night on this road," said an eldery man his eyes red from sleep deprivation and emotion, "but tonight I will sleep in the tent, see so many people have come back home."
"The people have won," said Veer Singh, a Navy verteran who visited the site dressed in a full length robe with the Tricolour and multi-faith symbols, "the farmers have already won yesterday. The revolution will go on."
Traffic however is still stopped on the Ghazipur border and the Delhi-Meerut highway [NH 24/ NH 9], now additional barricades are in place well into the Delhi side as well as on top of the elevated road that leads to the protest. On January 28, security personnel had conducted a flag march at the Ghazipur border, 24 hours later they remained on high alert.
Related:
Armed forces retract as protests soar at Ghazipur; Delhi police mulls UAPA
Farmers protest sites remain on high alert on Delhi borders
We stand unwaveringly with the farmers' struggle: AIKSCC
SKM asserts farmers unity remains intact!
Why did Delhi Police mislead us, not stop the outsiders who initially broke the
Attempt to vilify the farmers protests will create unhealthy atmosphere
Kisan Ganatantra Parade: How the mainstream media ignored ground realities
Deep Sidhu defends himself! Claims Red Fort was a result of public anguish
Amit Shah chairs high-level meeting, directs additional security