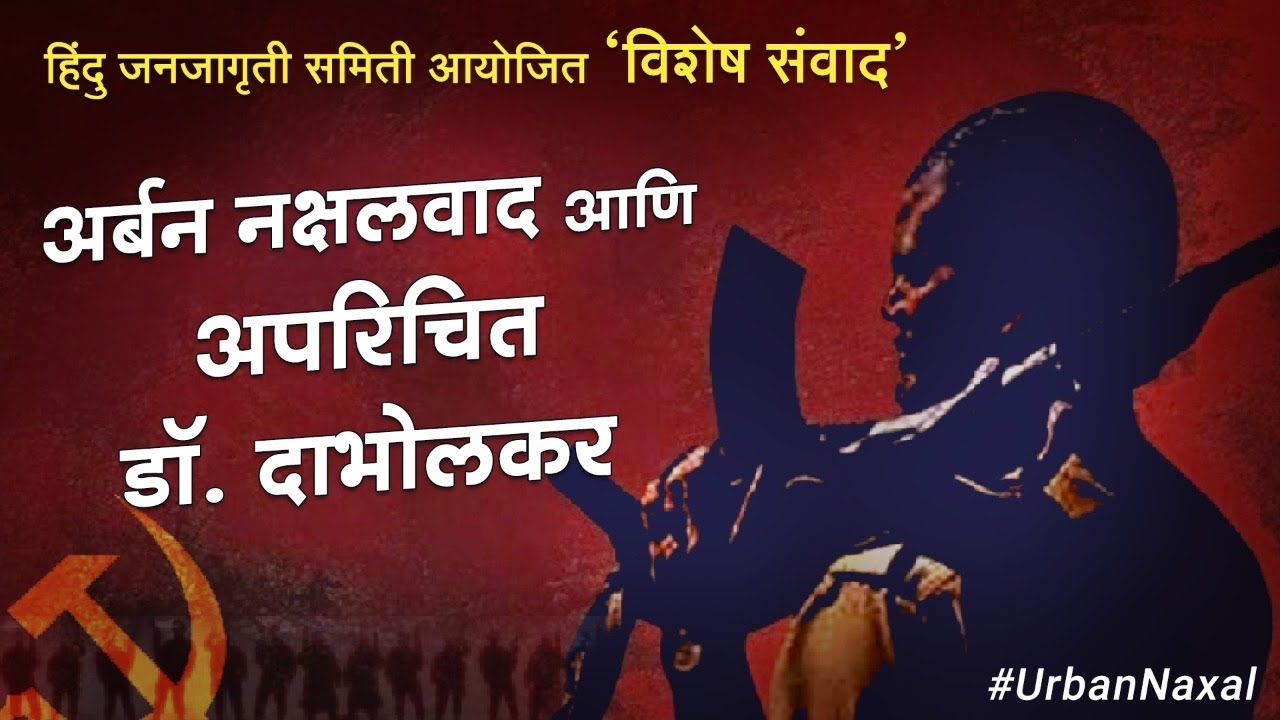 In a shocking video of an online seminar, Narendra Dabholkar, the late anti-superstition activist and social reformer, was dubbed an 'Urban Naxal' by the Hindu Janjagruti Samiti (HJS). The Vishesh Samvad or special conversation in Marathi was hosted by the group on its Youtube and Facebook pages and was titled 'Urban Naxalwad ani aparichit Dr. Dabholkar' that can be translated as Urban Naxalism and the unknown Dr. Dabholkar.
The HJS has over 65,000 subscribers on Youtube, and Hindu Adhiveshan, the Facebook page of the HJS affiliate that hosted the live video has over 1.4 million followers. On Twitter the handle @hindujagrutiorg has over 44,000 followers.
The online seminar was hosted by HJS's Satish Kochrekar and had speakers like Sumit Sagvekar from the organisation's youth wing, Hindu Vidhigya Parishad spokesperson Virendra Ichalkaranjikar, and Sanatan Sanstha national spokesperson Chetan Rajhans, and also a video where senior journalist Bhau Torsekar compares Urban Naxalism to the coronavirus and calls it the enemy within India's body.
The video then goes on to name activist Sudha Bharadwaj, poet Varavara Rao and even writer Arundhuti Roy as Naxal sympathisers. Rajhans in fact goes on to suggest that Urban Naxalism was a communist conspiracy by China and spread right from the time of independence. He says that Urban Naxalism is spread by brainwashing city people who are dissatisfied with their life or circumstances. Curiously, he also claims it is a part of an Islamic conspiracy to turn India into an Islamic state!
As if this wasn't trippy enough, Rajhans then goes on to target intellectuals, journalists and even the film industry for spreading Naxalist and communist ideas! He drags another slain rationalist Gauri Lankesh and claims she was working against the nation because she regarded Kanhaiya Kumar and Umar Khalid as her sons.
This is when, a good forty minutes into the seminar, Dr. Narendra Dabholkar and his anti-superstition organisation the Maharashtra Andhashraddha Nirmoolan Samiti (MANS) are mentioned for the first time. He is accused by Kocharekar of being a Naxal sympathiser who distributed pro-Naxal literature via 'press notes'. What follows is a series of wild allegations linking Dabholkar and his organisation to Naxals and accusing them for furthering a Naxalite agenda.
Rajhans also accuses Dabholkar and his family of using the Parivartan Foundation to get foreign funding to further the Naxal agenda in India. He then goes on to make a series of bizarre claims against Dabholkar alleging tax evasion and even money laundering, asking why he was involved in peasants' rights. This showcases the right-wing's complete inability to look at social ills from the intersectional lens.
Rajhans then goes on to allege that Dabholkar's social work aimed to discredit Hinduism in order to promote atheism as a part of an agenda that was not only anti-Hindu, but also anti-national.
The video of HJS's Vishesh Samvad may be viewed here. Viewer discretion is strongly advised.
It is noteworthy that Narendra Dabholkar was a rationalist and a vocal opponent of blind-faith. He was a thorn in the side of right-wing extremists and was gunned down in cold blood on August 20, 2013 allegedly by Sharad Kalaskar and Sachin Andure, two men who allegedly owe allegiance to right-wing extremist groups themselves.
Interestingly, Amol Kale, a former convener of the Hindu Jangruti Samiti was allegedly the person who hired Parshuram Waghmare, the alleged shooter in the assassination of journalist Gauri Lankesh. The cold-blooded killings of Dabholkar, MM Kalburgi, Govind Pansare and Gauri Lankesh had sent shockwaves across India and were seen as signs of how far right-wing groups would go to silence rationalists, truth-speakers and dissenters.
Therefore, it is not surprising that the group is attempting to besmirch Dabholkar's reputation even after his death. But there appears to be an even more nefarious motive to their latest actions. It appears that by dubbing Dabholkar as an 'Urban Naxal', a term originally coined by filmmaker Vivek Agnihotri, the group is furthering the Sangh Parivar's agenda of deligitimising all his goodwill.
It is important to remember that in October 2018, Rashtriya Swayamsevak Sangh (RSS) chief Mohan Bhagwat had launched a booklet titled 'Kaun Hain Urban Naxal?' at a glittering ceremony held in Nagaur, Rajasthan. Published by Jaipur based Vishwa Samvad Kendra and sold for Rs 20/- a piece, the booklet comprises 15 essays authored by the usual suspects; Makarand Paranjpe, Vivek Agnihotri, Dr Neelam Mahendra, and others. It appears these essays have been published previously on different platforms and just been compiled into this booklet. The booklet is an out and out smear campaign against some of India's most respected intellectuals and human rights activists. However, this sinister agenda is driven by a rather banal set of stories.
Related:
6 Years After Narendra Dhabolkar's Assassination, Masterminds Remain Free
Gunman in Kalburgi murder case also Gauri Lankesh murder accused?