New Delhi: The Home Ministry has appointed three Bharatiya Janata Party (BJP) workers to handle to handle its social media accounts.
The Ministry of Home Affairs (MHA) will pay the trio – Navrang SB, Ravi Ranjan and Shishir Tripathi – a monthly salary of Rs 70,000 each.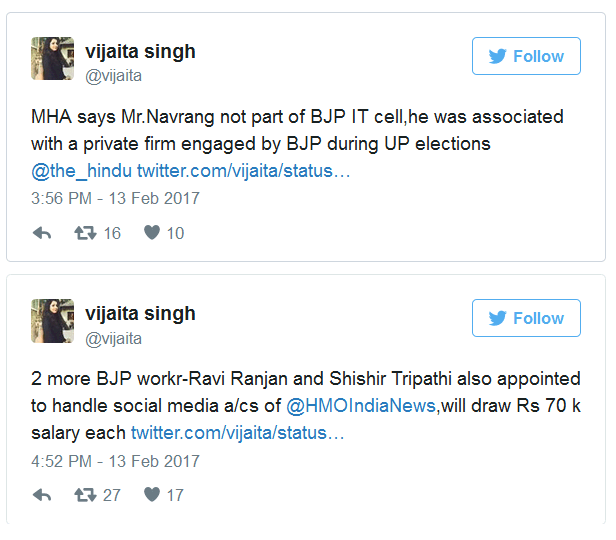 Navrang was in-charge of the BJP IT Cell during 2014 Lok Sabha elections. At that time he was based in Lucknow and handling BJP's Internet TV channel Yuva TV accounts.
He has also been the part of BJP's office modernisation committee.
Notably, the ministry already has a full fledged team to project its work in social media. The MHA's existing social media team includes officials from Press Information Bureau (PIB) and members of the personal team of Rajnath Singh.
Meanwhile, the MHA has said Mr Navrang was not part of BJP IT cell, and he was associated with a private firm engaged by the BJP in Uttar Pradesh during the elections.
But contrary to the MHA's claim, Narang's LinkedIn profile says he has been a BJP volunteer since 2003, Member Mission 272 since 2010 and part of Yuva TV.
Courtesy: Janta Ka Reporter