Benaras Hindu University (BHU) is in the news again. Even if the news does not make it to television newshour debates like the discrimination issues in Aligarh Muslim University does. A 'homosexual' student was asked to leave the hostel and her parents summoned and directed to "treat her for the disease", last week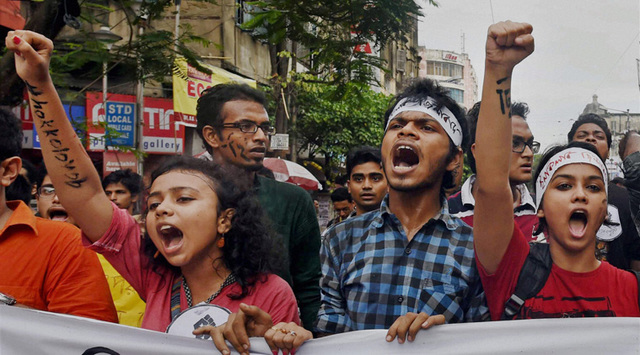 This time, it is an undergraduate student of the Mahila Maha Vidhyalaya, affiliated to the Banaras Hindu University (BHU), who was reportedly asked to leave a girls' hostel just last week, as she showed "tendencies" of homosexuality and indiscipline, reports The Indian Express. Reports indicate that he she has, however, not been asked to leave the college. There is a disctepancy in versions: while college authorities have maintained that the student was suspended from the hostel because she had been harassing her fellow boarders, a professor — a member of the institute's disciplinary committee — claimed on condition of anonymity that the first-year BA Honours student was "showing tendencies of being homosexual" and had to be suspended to maintain peace and discipline.
Fellow students have a different take on the matter. They point out that she was differently abled, traumatised and needed counselling. Instead the BHU has taken the easy way out and simply suspended her. A fellow student, on conditions of anonymity told the newspaper that: "The student was blind in one eye. She was disabled. The college authorities should have been extra attentive towards her. Instead, they suspended her without an inquiry or counselling. How is she going to face her class now? She has to study with the same women students." "The girls and her parents, who are from rural Uttar Pradesh, are traumatised," the student added.
It is assistant professor and chief coordinator of the five hostels in the college, Neelam Atri — who took disciplinary action against the student. She reportedly said: "Around 16 boarders had given me in writing that the student was harassing them and scaring them with her activities and indiscipline. The student was also threatening fellow boarders with suicide if they did not yield to her demands."
Atri, however, refused to comment on "charges of homosexuality" against the student. "There is nothing like this… students alleging this want to bring the university a bad name. This is an internal matter," she said. Last week, the student's parents were called to the college and asked to get her treated for the "disease".
"The student used to threaten to harm herself if her fellow boarders did not help her out with her homework or other such things… She is not well. She has been depressed and had tried to harm herself. So, we asked her family to show her to a good doctor… We told them that if she recuperates, she can return to the hostel."
When contacted, a professor, said: "The tendencies she was showing were at a nascent stage. We cannot really pin-point if it is really homosexuality. But we had to suspend her to maintain peace and discipline in the hostel." "Students submitted written complaints to us saying that her behaviour was making them uncomfortable. We asked the students to adjust but when the complaints kept coming over the last few weeks, we had to take action," the professor added.
Background
The BHU administration, like so many central universities under the Modi regime have been at the centre of serious controversies and agitations by students.
In May 2017, agitating students of the Banaras Hindu University (BHU) scored a major victory yesterday when the Supreme Court's three judge bench revoked suspension orders against them and stayed criminal cases lodged against them for agitating simple issues like 24 X & library facilities. A bench headed by Justice Dipak Misra directed the university to make special arrangements for eight students to conduct their semester exams till July 30. This issue will now be heard in detail shortly.
This was seen as a big victory over an administration headed by Girish Tripathi an aggressive member of the Rashtriya Swayamsevak Sangh (RSS) For over three long and grisly years now, young students of the BHU have been protesting an administration trying to quell dissent, differences in political ideas and gender equality.

The court passed the order on a petition filed by the suspended students, through lawyers Prashant Bhushan and Neha Rathi, who had claimed that the action was taken by the varsity to supress their demands that the cyber library in the campus be opened 24X7, especially during examination time.

The students had staged a hunger-strike for their demand and due to that, the university administration had suspended them leading to a situation in which they missed their examinations and were evicted from their hostels in May 2016. The apex court had earlier issued notice to university registrar.
2016
After the series of controversies around the Banaras Hindu University –reported extensively by Sabrangindia over the past months the Vice Chancellor has unashamedly made this claim. BHU joined over a dozen premier institutions being targeted by the Modi Regime's Ministry of Human Resources Development (MHRD) even as #SaveBHUfromRSS started trending on social media.
BHU VC Girish Tripathi has the ignominious record of summarily and illegally expelling Sandeep Pandey, winner of the Ramon Magsaysay award and renowned social activist. When objections surfaced as to his use of the university as an RSS unit, he openly said that there was nothing wrong in establishing an RSS shakha in BHU, since the Indian government itself belonged to the RSS."Girls who study at night are immoral", is one of the infamous statements of the Banaras Hindu University VC Girish Tripathi
The university that houses about 40,000 students making it one of the largest residential campuses in India, is facing accusations of rampant sexism by its students. reports suggest that with the appointment of Girish Chandra Tripathi as the Vice Chancellor, the democratic representation of students, teachers and another staff has taken a back seat. Tripathi has been accused of openly endorsing the RSS ideology. Happenings at the bHU have received surprisingly lukewarm coverage in the 'national' (read commercial media) raising queries and eyebrows related to whether this soft glove treatment is on account of this university being in prime minister Narendra Modi's constituency.