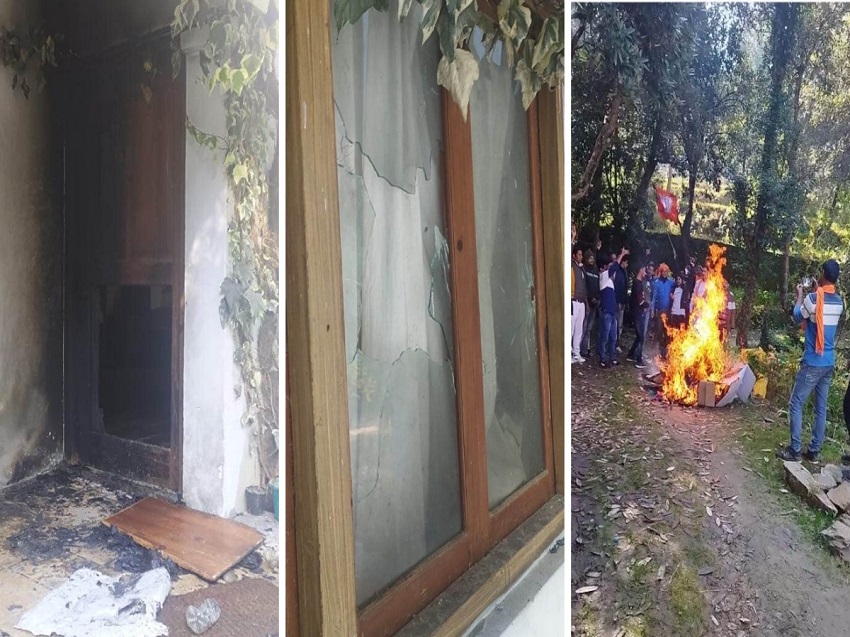 "You can judge who did this. They were carrying flags and posters. In the book, I had said that such thoughts and beliefs are wrong, even more wrong if it misuses religion. On one hand there are the Hindutva groups, and globally there are Boko Haram and ISIS who do this," Salman Khurshid told Times Now. He was referring to how the attack on his Nainital home proves what he wrote in his recently launched book Sunrise Over Ayodhya: Nationhood in Our Times, where he draws a parallel between extremists from different religions.
The attack was carried out, allegedly by a right wing mob just days after Khurshid's book was released. He had been at the centre of right wing trolling from those who are offended that Hindutva groups and the politics it fuels has been criticised in his latest book. It is another matter that the trolls may not have even read the recently released book.
The recent attack is an on ground representation of the online attacks he has faced. "Such things can be done only by these elements — ISIS, Boko Haram or Hindutva. Now, tell me who among them have done this," said Salman Khurshid addressing the media after his Nainital residence was vandalised. The Senior Congress leader shared visuals of the damage done to his Nainital home on Monday, November 15, on his Facebook page. Shattered window panes, charred door panels etc are visible. Khurshid wrote, "I hoped to open these doors to my friends who have left this calling card. Am I still wrong to say this cannot be Hinduism?" He added, "Such is the debate now. Shame is too ineffective a word. Besides I still hope that we can reason together one day and agree to disagree if not more."
It is one paragraph of Sunrise Over Ayodhya: Nationhood in Our Times, which has fuelled the ongoing controversy. News reports cited the passage that reads, "Sanatan Dharma and classical Hinduism known to sages and saints were being pushed aside by a robust version of Hindutva, by all standards a political version similar to the jihadist Islam of groups like ISIS and Boko Haram of recent years."
For this, affiliates of the Bharatiya Janata Party (BJP), hit out at Khurshid for hurting sentiments of Hindus, and accused the Congress "communal politics" to woo Muslim votes.
However this attack follows a similar one in Delhi. The official residence of Asaduddin Owaisi, All India Majlis-e-Ittehadul Muslimeen (AIMIM) president and Hyderabad MP was attacked, allegedly by right wing affiliated vandals in the heart of New Delhi. He condemned the attack on Khurshid's home and called it a "clear case of radicalisation".
Absolutely condemnable. Clear case of radicalisation https://t.co/lAER2Cnpvw

— Asaduddin Owaisi (@asadowaisi) November 15, 2021
According to news reports, DIG (Kumaon) Neelesh Anand said a case has been registered against 21 people in connection with the incident, and suspects "Rakesh Kapil and 20 others have been booked. Strict action will be taken against perpetrators."
Congress leader and MP Shashi Tharoor called the incident "disgraceful" adding that "the mounting levels of intolerance in our politics should be denounced by those in power." Party leader Digvijaya Singh, said that the vandals were "illiterate" and "don't even know what is in the Book".
Interstingly, Khurshid had also faced some criticism from from party colleague Ghulam Nabi Azad who reportedly said this "Hindutva" parallel was an "exaggeration" adding, "We may not agree with Hindutva as a political ideology but comparing it with ISIS and Jihadist Islam is factually wrong and exaggeration."
Earlier, when Congress leader Rahul Gandhi had attempted to illustrate the difference between "Hinduism" and "Hindutva", the BJP accused him of having a "pathological hatred" of Hinduism. Sambit Patra said that Rahul Gandhi and the Congress have a "pathological hatred" of Hinduism, adding, "It is in the character of the Congress and the Gandhi family to attack Hinduism at every opportunity… What they say is not a coincidence but an experiment. And the headmaster of this experimental lab is Rahul Gandhi."
Now, the right wing response to the recent attack on Khurshid's residence is on expected lines. Some have accused him of 'orchestrating' the attack himself. Others have called for a ban on the book.
इसको कहते हैं,
उंगुली कटा कर शहीद होना।

और सलमान खुर्शीद तो खुद के सड़े दरवाजे में आग लगाकर हीरो बनने चला है।

— नरेन्द्र ??Narendra Shivaji Patel ?? நரேந்திர (@nsp2106) November 15, 2021
Request Hon'ble Home Minister Sri @AmitShah Ji to take immediate action on banning @salman7khurshid's book 'Sunrise over Ayodha-Nationhood in our times'. for hurting religious sentiments of Hindu's. pic.twitter.com/QKAmdGcIe2

— Raja Singh (@TigerRajaSingh) November 15, 2021
As reported by SabrangIndia earner, most right wing vandals target and assault poor Muslims, and every now and then choose 'VIP targets' for greater visibility.
Related:
Not fringe, but main elements of the Hindutva brigade: Assaduddin Owaisi on attack
Wasim Rizvi releases book full of Islamophobic diatribe
Gujarat Minister likens non-veg food vendors to land grabbers
Yati Narsinghanand and his 'ecosystem of hate': CJP moves NCM