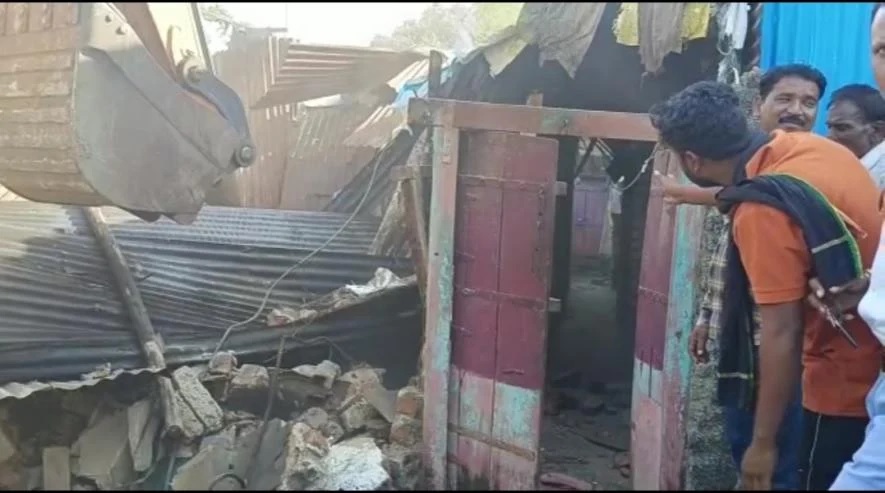 The houses of five Muslim men accused of murdering a 30-year-old man in Dewas, Madhya Pradesh, on Diwali night being demolished.
Bhopal: The Madhya Pradesh government demolished a roadside eatery and homes of five Muslim men accused of murdering a 30-year-old man on Diwali night.
According to Dewas Police, Jojan Singh Rajput was at a fuel station in Jaitpura locality, on the Bhopal-Dewas Highway, to refill his bike when five youths identified as Sameer Khan, Faizan Qurashi, Firoz Shah, Zafar Khan and Irshad Khan arrived there on motorcycles. Faizan and Firoz are residents of Pathankuan locality of Dewas city while Sameer and Zafar hail from Mohsinpura.
When one of the accused lit a cigarette, a fuel station employee identified as Rahul Singh Rajput objected. When Jojan supported Rahul, the five men abused the two, attacked them with a knife and fled. The fuel station staff rushed the two men to Indore but Jojan succumbed while Rahul is in critical condition.
On Rahul's complaint, the Dewas Police initially lodged an FIR at BNP Police Station under Sections 302, 307, 294, 323 and 34 of the Indian Penal Code (IPC) and rounded up all the accused in a few hours. A murder charge was added when Jojan died.
MP: पेट्रोल पंप पर सिगरेट पीने के विवाद में जोजन सिंह (30) की मौत और राहुल घायल हो गए।

देवास पुलिस ने मामल दर्ज़ कर फैजान, फारुख, जफर, इरशाद और समीर को गिरफ़्तार किया।

SDM प्रदीप सोनी ने बताया की बिल्डिंग परमिशन नहीं होने से 1 आरोपी का ढाबा, 5 का मकान तोड़ा।
+ pic.twitter.com/lRBsjyJPbs

— काश/if Kakvi (@KashifKakvi) October 26, 2022
"A scuffle over smoking at a fuel station took an ugly turn with one Jojan Singh dead and another injured," Dewas ASP Manjit Singh told Newsclick. "All the accused are habitual offenders and have been rounded up."
Angered over Jojan's death, locals blocked the state highway on Tuesday morning and demanded stern action against the accused. Members of the ruling Bharatiya Janata Party (BJP) and the Opposition also supported the protestors, who dispersed after senior officials of Dewas district administration assured of action.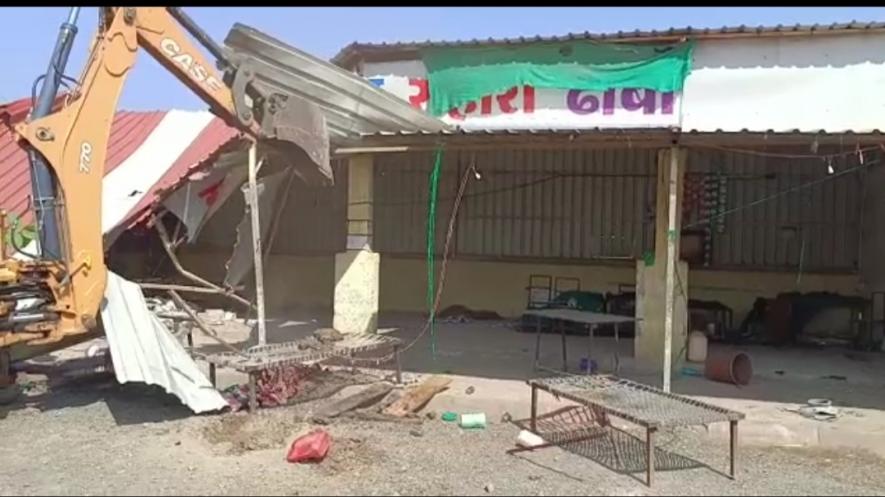 An illegal eatery belonging to one of the five murder accused Sameer Khan alongside the Bhopal-Dewas Highway being demolished.
Hours later, a team from the municipal corporation demolished an illegal eatery belonging to Sameer and the houses of all the accused. "An illegal Dhaba owned by Sameer Khan alongside the Bhopal-Dewas Highway was demolished," Dewas subdivisional magistrate Pradeep Soni told Newsclick. "Houses of all five accused were also razed for not having building permission."
When asked whether any notices were served before the demolition, Soni said, "They were served notices in the past for illegal construction. They were orally informed hours before the demolition."
Courtesy: Newsclick