Concerns raised over Kashmir crisis, RSS's Hindu 'Nationalism'

Image Courtesy: National Herald
Houston City Council, a meeting of the elected representatives and citizens of Houston, saw minorities protesting against Indian Prime Minister Modi with signs such as "Go Back Modi", "Save Kashmir" and "Stand with Kashmir".
Peter Friedrich, a South Asian Affairs analyst called out the Americans who were "complicit in Modi's crimes against humanity."
Friedrich also spoke about the Rashtriya Swayamsevak Sangh (RSS), the parent organistaion of the party in power, Bharatiya Janata Party (BJP) and the human rights violations on minorities since the time Modi government came to power.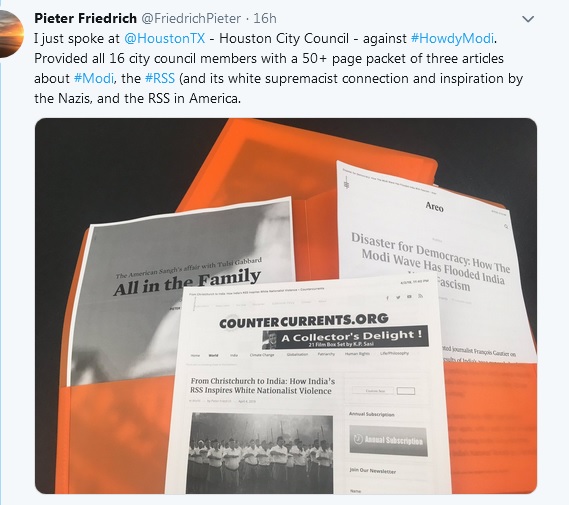 He provided all 16 council members with a folder comprising of three well researched articles about the RSS, White Supremacists and Nazis, in order to support his claims.
An article about Tulsi Gabbard played an important role in showing how she was perceived as an appreciator of Indian Prime Minister Narendra Modi and his activities.
The same event saw a Kashmiri woman being ousted from the council for raising her voice against the communications blockade in Kashmir by asking that Modi be questioned about the whereabouts of her father with whom she hadn't spoken for over 40 days because of the blackout. Some Kashmiris brought the case of the minor Kathua girl who was raped, to the notice of the council.
Friedrich also added that El Paso shootings were carried out by a boy whose actions were inspired from the New Zealand mosque shootings, which were in turn inspired by the 2011 shootings of Norway.
In Norway, terrorist Anders Breivik had left a letter in which he said he drew inspiration from other nationalist wings in countries, such as RSS in India, saying that he admired "Hindu nationalism" and praised the RSS for its majoritarian supremacist ideologies.
While speaking about the RSS Pieter went on to say, "Modi's hands are stained with blood. Those who shake his hand in welcome cannot wash their hands of complicity in his crimes." He added that instead of saying 'Howdy Modi', people should say 'Adios Modi'.
On the other hand, just a few days earlier, the Houston based web portal Houston Chronicle wrote about the PM's visit, "While a sold-out crowd of about 50,000 Indian-Americans is expected to greet India Prime Minister Narendra Modi when he visits Houston on Sept. 22, several thousand protesters representing India's religious minorities plan to decry his alleged violence and discrimination against non-Hindus."
The Houston daily reported that for the first time minority Sikhs from Punjab and Muslims from Kashmir who now call Houston home, united and protesters held a "dress-rehearsal" rally on Saturday, driving tractor-trailer trucks decorated with flags and protest signs from the Sikh National Center in North-Western Houston to the NRG Center, where the "Howdy, Modi" event is scheduled to be held in a week.
Modi is visiting Houston before traveling to New York to speak at the United Nations General Assembly. He plans to meet with everyone from Houston energy leaders to President Donald Trump, who is reportedly considering coming to Houston for the event.
Modi's visit to the Bayou City comes even as more than seven million people in the Kashmir valley are close to fifty days of a total communication and information blockade among reports of torture and violence. Kashmir has essentially been on lockdown with mandatory curfews and military crackdowns on protests since early August when Modi controversially decided to rescind the region's special political status for greater autonomy.
Chairman of the Sikh National Center in Houston, Hardam Singh Azad said, "Our really simple theme is it's a protest rally for freedom. Please leave our rights alone."It's not just the Sikhs and Muslims whom are discriminated against in India, he said, it's the Buddhists, Christians and Jains as well.
Ghazala Habib, chairwoman of the Friends of Kashmir International, came from Dallas for the truck rally and to prepare for next weekend's protest. She said at least 25 buses from Dallas and about five from Austin will carry down additional protesters next week.
"He's trying to commit a complete genocide in Kashmir," Habib said. "He's saying in India only Hindu people can live."
India, the second-most populous country in the world, is Houston's fourth-biggest trading partner after Mexico, China and Brazil. While Modi is in the United States, he plans to finalize trade agreements and to strengthen India's ties with American oil and gas companies as India increasingly imports more U.S. energy, including liquefied natural gas and other products.
Related Articles:
1. US Congressman Ro Khanna rejects Hindutva, speaks for Equal Rights of all Indians