The dargah (shrine) of Hazrat Khwaja Moinuddin Chishti is a revered shrine amongst Muslims and Hindus alike. It is said that barren wombs sprout life and stubborn ailments disappear, if the faithful prays at the shrine.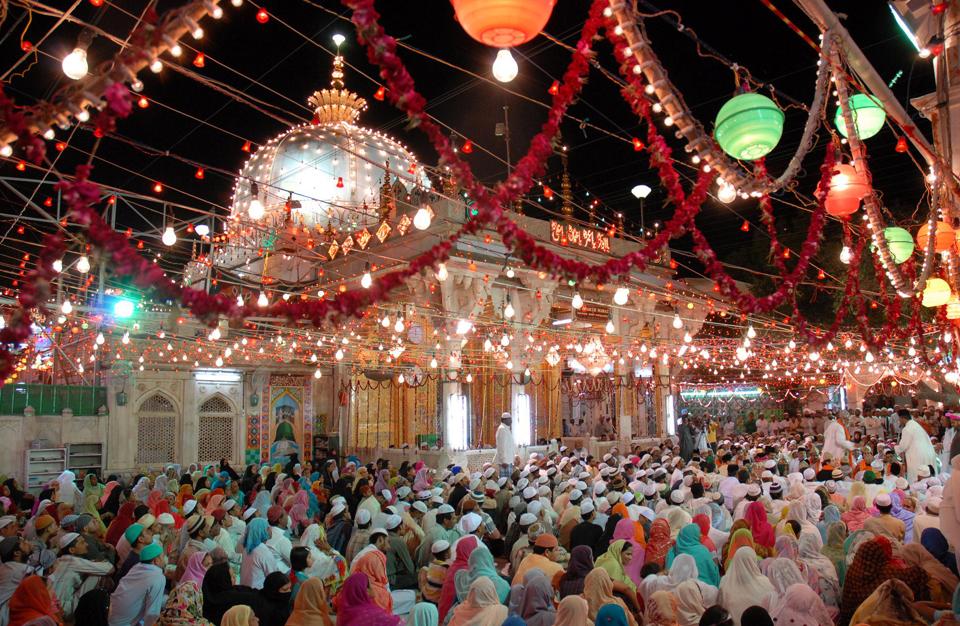 But it wasn't this aspect that overwhelmed me about the shrine during the last Ramzan. It was that the iftari (material for breaking fast) that was not only prepared but even shared by the Hindu brethren living in the area. Accompanying me was Malini Khatri, a senior English teacher of Modern School who had come to Ajmer with her students for participating at a debate at Mayo College.
It was indeed touching the way I noted Sunil Dutt of Dilli Durbar Guest House at Ajmer distributing the usual khajur (date palm), pakodis (snacks), kachalu (mixed fruit) and food at the shrine to all. Assisting him was Kamal Tilvani, another Sindhi hotel owner from Ajmer. At the time of iftar, some white skull capped Muslims, turbaned non-Muslim Rajasthanis and also Sikhs sat at the shrine's dastarkhwan (feast). In fact it was India at her best!
Mukhtar Abbas Naqvi, Minister of Ministry of Minorities, states that since time immemorial, Hindus and Muslims have gelled well in all walks of life in India under the different regimes and adds that this is the beauty of India that in Ramzan, we have "Ram" while in Diwali, we have, "Ali"!
"Fasting the whole day is truly a challenge, I get tired a lot faster and the days seem to be longer. Having no relations with my wife throughout the day is a bit difficult," stated Abdul Karim Umar, an Ajmer born academician who has been fasting for 21 years and married for 6 years. He considers it a boon to come to India and fast at his hometown!
Similarly Sheikh Musa Ahmed, a top-notch graduate from Al-Azhar, the Islamic University in Cairo, Egypt, received his degree in Shari'a. He is also a hafiz (one who remembers the holy Quran by heart) and accomplished this milestone before reaching the age of 12. Sheikh Ahmad then furthered his education by receiving a Master's degree in Law from Wayne State University.
The month of Ramzan brings multiplied blessings for those who do good. Most deeds are multiplied by 700 during this holy month, as opposed to the factor of 10 that usually applies. On the reverse side, it brings multiplied sins for those who do bad. Muslims believe the devils are shackled during this Holy month, which frees us from their influence to do other than what is good. Giving to the poor during this month is obligatory–Zakatul fitr.
The Prophet (pbuh) told Muaz Bin Jabal (one of his companions), "I love you Muaz. Can I show you the gate of goodness?" Muaz answered, "Yes." The Prophet then said, "The first category is fasting, which is a shield from hellfire. The second category is giving charity for the sake of Allah, which extinguishes sins as water extinguishes fire. The third category is standing in prayer throughout the last part of the night." Then the Prophet recited the following verse from the Holy Quran: "They forsake their beds supplicating their lord in fear of Allah and hope for what they want." (Chapetr: 32, Verse: 16).
In fact the true spirit of Islam as well as that of Ramzan is brought about at the holy shrine of Ajmer. Those who fast know that His boundless blessings will always work for their highest good, no matter how difficult it may seem at that time. Whenever they would need God's help, He would come for them and oblige them. Every time this faith has been proven true; as time passes this faith matures into conviction. They hope that this conviction will translate in terms of action into the rest of their life and in every month.
(The author is a commentator on social, educational and religious issues )