Post November 8, 2016, many of those who had hailed the drastic move of the government that declared the Rs. 1000 and Rs. 500 notes 'invalid'from the stroke of a midnight, have found themselves at their wits end when their hard-earned monies got 'frozen' following the RBI's sudden decision to restrict the operations of the Co-operative Bank, Punjab and Maharashtra Co-operative (PMC) on Tuesday.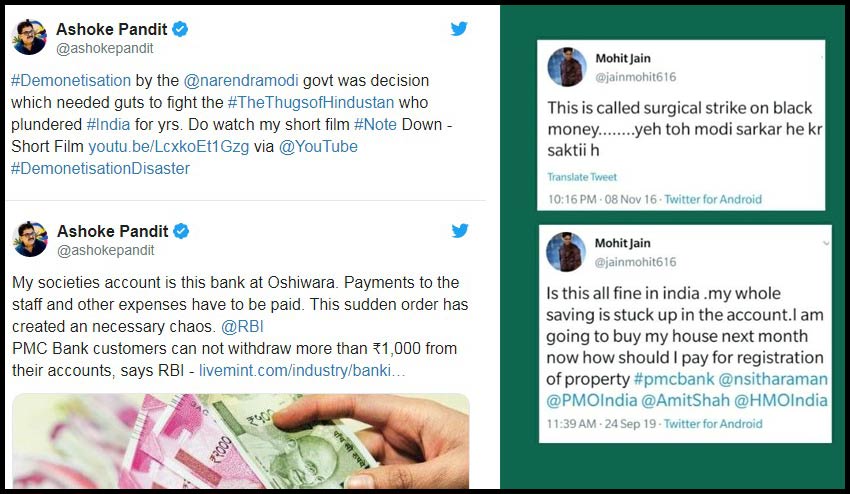 Chief General Manager of the RBI, Yogesh Dayal said that it was following RBI's (sudden) directions, that depositors could not withdraw more than Rs 1,000 of the total balance in their savings/current/other deposit accounts.
The bank has been barred from granting, renewing and loans and advances, make any investments, accept fresh deposits, etc. without the prior written approval from RBI.This hascaused distress to a lot of common people, who had their life's savings in the banks. Several reports highlighted the sense of shock and panic that prevailed among the citizens.
Many called the move similar to demonetization, which was executed without proper planning or information and had caused widespread chaos. Moreover the move had exposed the fault-lines in Indian economy. That time, BJP supporters had hailed the move saying that it will bring 'black money' back to the country. However, RBI's yesterday's move has left some of these supporters flustered.
Ashoke Pandit, the co-producer of the film The Accidental Prime Minister, a supposed biopic on former PM Manmohan Singh, who also likes to call himself a 'social activist' and 'conservationist' said, "..this sudden order has created unnecessary chaos".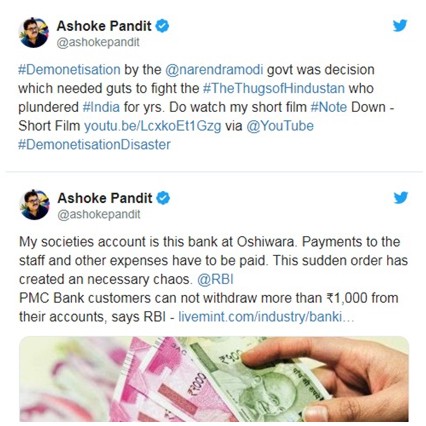 Some of these 2019 skeptics had even called demonetization as "surgical strike"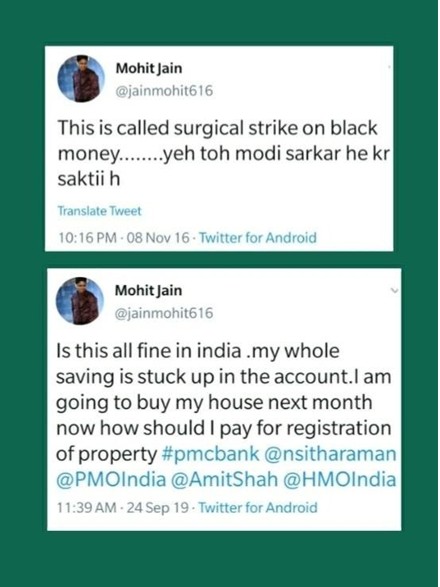 Demonetisation of high-value currency notes — Rs 500 and Rs 1,000 notes — that constituted 86.4 per cent of the money in circulation in November 2016 was justified by saying that it is a step taken to bring back money that was out of the banking system. The government initially expected currency only worth Rs 10 lakh crore to be returned to banks. However, the government and the RBI faced criticism because most of the currency in circulation was recovered, and only 1.04 per cent was not returned. The total value of invalidated Rs 500 and Rs 1,000 notes at the time of demonetisation was Rs 15.44 lakh crore, out of which only Rs 16,000 crore was not returned to the RBI.
Some users also said that first the government asks people not to keep cash, but then it stops the operations of banks and restricts online transactions. So what was one supposed to do?
"And what should the account holder do on receiving this http://message.Rs 1k is all that we can withdraw over 6 months. We stopped keeping cash at home because you encouraged online transaction and now we can't even withdraw our own hard earned money.

Related Articles:
1.RBI data reveals demonetization was a failure, 99% of banned cash recovered
2. RBI directors raised objections but "rubber-stamped" demonetisation anyway