Destitute, orphaned and abused, girls and boys in shelter homes across India speak about what they have endured in the name of rehabilitation. They have been forced to abort fetuses that were a result of rape by shelter staff, forced to urinate in bottles and bear physical and mental scars of torture meted out to them.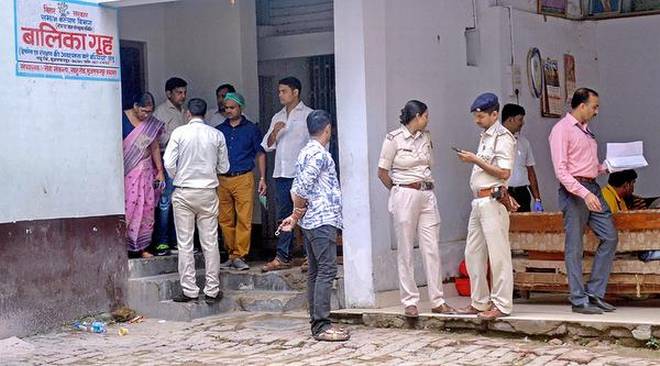 More skeletons are tumbling out of the closet as Central Bureau of Investigation (CBI) moves forward in investigating the Muzzafarpur shelter home abuse case.

The complicity of state social welfare ministers and aides has revealed how dangerous the shelter home structures are in the country. Social audits in India have revealed disturbing truths as only 54 institutions 2,874 children's homes surveyed could be given positive reviews.

A damning report by Tata Institute of Social Sciences (TISS, Mumbai) in May sent shockwaves around the country when it was found that Bihar shelter homes meant to safeguard and rehabilitate destitute and orphan girls were committing heinous sex crimes.

After the survey came out, 41 girls from a Bihar shelter home were medically examined after an FIR was filed. It was found that 34 girls were drugged, tortured and repeatedly raped over several months. After which Brajesh Thakur, who ran the social welfare department sponsored NGO Sewa Sankalp Evam Vikas Samiti, where the girls were tortured, was arrested.

"On August 2, the court had taken suo motu cognizance of the incident after it received a letter from a Patna resident highlighting the developments in the shelter home. The bench had also issued notice to the Bihar government and the Union Ministry of Women and Child Development. Following the TISS report publicity, a Special Investigation Team (SIT) was formed to probe the complaints. Amid uproar, the Nitish Kumar government handed over the investigation to CBI," reported Indian Express

Recently, The SC stayed a Patna HC order that allowed the CBI special director to make a fresh SIT for the case. It ordered for the probe to continue by the original team.

State welfare ministers complicit
On September 26, CBI arrested Social Welfare Department Assistant Director Rosy Rani and three other associates of main accused Brajesh Thakur.

"While being taken on remand on Friday, Rani protested against her arrest and threatened to spill the beans against big people. 'I was called for interrogation. Now they [CBI] are arresting me. If I open my mouth, many big people will have to run for cover', she said, in a state of agony while she was presented in a POCSO court in Muzaffarpur," reported India Today.

"Posted at Muzaffarpur from 2015 to 2017, Rani not only allegedly shielded Brajesh Thakur but also recommended extension of his contract with the social welfare department. During her tenure at Muzaffarpur, she is believed to have sent 11 okay inspection reports about the government-sponsored short stay home run by Brajesh Thakur. Many of the victim girls are believed to have apprised Rosy about the ordeal they suffered, but she apparently did nothing. The CBI may charge Rani for abetment of crime," the report said.

Investigations suggest that girls were shifted from the shelter home where they were being abused just months before the TISS came out with the report. It is said that social welfare ministers, aware of the state sanction given for shelter home survey, helped Brajesh Thakur by tipping him off.

"The CBI's status report submitted in the Supreme Court also hints at the alleged complicity of the social welfare department with Thakur. The investigation agency has reasons to believe that Bihar social welfare department or some officials working therein had prior knowledge of certain unsavoury activities happening in the shelter home," the report said.

"Former social welfare minister Manju Verma had to resign on August 8 after call records corroborated that her husband Chandreshwar Verma was in regular touch with Brajesh Thakur. Investigators say the two had as many as 17 conversations of varying duration, between January 17 and the day Thakur was finally arrested on June 3. Earlier, Shiba Singh, the wife of Ravi Kumar Roshan, the district child protection officer who's been arrested in the case, had alleged that Manju Verma's husband was a frequent visitor at the girl child shelter at Muzaffarpur," the report added.

Speaking to The Hindu over phone the TISS team leader Mohd Tarique said that "the findings have clearly brought out administrative and procedural gaps affecting the functioning of the institutions…the overall functioning of these institutions found to be far from satisfactory". However, Raj Kumar, director of the social welfare department told The Hindu, "we're taking strong measures to fill these gaps at all homes…for the department every shelter home is important".

CBI will be questioning more social welfare ministers in the ongoing investigation.

Other shelters equally bad
TISS team had conducted a social audit of 110 shelter and short-stay homes from nine divisions and 35 districts of Bihar after being commissioned by the state.

"The 100-page social audit report under the caption "grave concerns — institutions requiring immediate attention" has made explicit details of how girls, boys and adults have been subjected to "dreadful details of physical violence, sexual abuse and mental harassment" at 14 other shelter and short stay homes. "We found plastic bottles with urine in it and upon enquiry, learnt that boys were forced to urinate in bottles once the ward was locked for the night…this pattern was observed across Homes", said the report at one place in an article by The Hindu.

"At Boys Children Home in Motihari run by NGO "Nirdesh", one of the staff members was reported to be involved in severe physical violence wherein he hit the children with a "thick pipe". Similarly, at Boy's children home in Munger run by NGO "Panaah" the children were found living in a "barrack like infrastructure". "The boys reported being forced to work for the superintendent whose residential quarter was in the same premises…they were made to cook and clean for him and one of the older boys, suffering from hearing and speech impairment who was supposedly a good cook, showed us a three inch long scar across his chest as he was hit by the superintendent when he refused to cook for him", said the report. At Boy's children home in Gaya run by the NGO "DORD", the boys apprised the TISS team how some of the female staff members were forcing them to write "lewd messages on paper and passing them to another female staff member who had joined recently," the article said quoting the TISS report.

"At the Government run Observation Home in Araria district, a boy showed the TISS members "a mark that went across his entire chest and looked like a compression of muscle tissues in the area and swelling around it". He blamed a Bihar police security guard for hitting him with a metal rod. "Is jagah ka naam sudhar grih se badal kar bigaad grih kar dena chahiye (this place should be called destruction home instead of correction home), said the boys to the social audit team of TISS. The report further said that a short-stay home in Patna run by "IKARD" was being managed in a "severely custodial and violent manner that unable to cope with the violent atmosphere one girl had committed suicide about a year ago while another had lost her mental balance from the trauma she suffered there". The girls reported that they got no clothes, medicines, toiletries etc," the report said.

"In the short-stay home in Motihari run by the NGO "Sakhi", the girls were found suffering from "mental illness". The Home looked more like a Hindu temple rather than a short-stay home with images of God and Goddesses everywhere, said the report. 'A Muslim girl informed us that the counselor had beaten her up for practice her faith and had torn her Quran into pieces. She was frequently beaten and ridiculed for praying according to her faith,' said the social audit report. No sanitary pads were provided to them, it said further. At the short-stay home in Kaimur district run by "Gram Swaraj Sewa Sansthan", the guard was reported to be "sexually abusive". The women / girls reported that he often passed lewd comments and attempted to touch their private parts," said the report.

"Similar disturbing instances and patterns of physical violence and sexual abuse were also revealed by the residents of Sewa Kutir at Muzaffarpur run by the NGO "Om Sai Foundation". "People had bruises and broken bones..they reported being sexually assaulted by the caretakers and receiving severe beatings if they protested", said the report. "There were no ceiling fans or lights in the rooms…and the residents had no access to drinking water…they were forced to drink from the toilets", the report said further.

National survey's disturbing findings
On May 5, The Supreme Court ordered a nationwide audit of shelter homes when the TISS report came out with its findings. The National Commission for the Protection of Child Rights (NCPCR) is carrying out an audit of childcare institutions and other bodies such as children homes, open shelters, observation homes, special homes, places of safety, specialised adoption agencies and fit facilities under the Juvenile Justice (Care and Protection of Children) Act, 2015, and Model Rules.

In its preliminary report, NCPCR found that only 54 out of 2,874 children's homes surveyed in India could be given positive reviews.
"Out of 185 shelter homes audited across the country, only 19 had "all the records of a child that they are supposed to maintain." Of the 203 special adoption agencies, only eight deserved positive reviews. Similarly, only 16% of the 172 observation homes audited till July 31, 2018, had all the required records of the children, like case histories and who are residing there. Out of 80 special homes/place of safety only 13% have the complete set of record," The Hindu reported on the findings.

The court said that if authorities had done their jobs, incidents like Muzaffarpur shelter home abuse would not have happened. "It is very clear from this (NCPCR) report that nobody is interested. The court is helpless. If we do something, then it will be said that it is judicial activism," SC Justice Lokur said.

The NCPCR audit is scheduled to be concluded by October 2018.

Frightening status of other state shelter homes
Six people were arrested last Friday in Bhopal, Madhya Pradesh when a shelter home inmate complained that she was raped and made to undergo an abortion by the staff.

The director of the shelter home and his wife were among those arrested. The 24-year-old survivor also said that the staff burned the fetus to destroy evidence.

Another 70-year-old retired army jawan and director of a shelter home for speech and hearing impaired was arrested for alleged rape, sodomy and forced labour in Bhopal among other people.

A month ago, another director of a shelter home for speech and hearing impaired in Bhopal was arrested after allegations of rape. Similar incidents have also been noticed in shelter homes in Gwalior, MP.

NCPCR sent a four-member team to Deoria, Uttar Pradesh's in August where it found that 26 girls were subjected to physical and sexual abuse at an illegally run shelter home and were rescued. Some 18 girls are still missing and the shelter home has been sealed.

Another man was arrested in Jharkhand for forcibly converting up to 30 children to Christianity and holding them hostage in an illegal shelter home in Ludhiana. "The middleman used to get tribal children to the shelter home in Ludhiana after luring their parents with the promise of their proper education and upbringing," said a report. 20 of the 30 'missing' children were found back with their families after an investigation.

There were reports of sexual abuse is Chennai's shelter homes too when 26 children were sent for medical examination for sexual abuse when four of them complained to judicial magistrates attending an event at their shelter home.

"Local authorities here discovered rampant sexual abuse at a private shelter for children. The shocking matter came to light after four girls, inmates of the care home and students of a government school were attending a legal awareness drive at their school where two judicial magistrates were the chief guest. Magistrates Anitha Ananth and B Soundarya launched an inquiry into the matter. Investigating officers were shocked to discover that a lot more than four inmates had been sexually assaulted by trustee C Jacob, Warden Babu Samuel, and maintenance staff members R Baskar and R Muthu," a report said.

The situation is equally bad in Maharashtra where shelter homes in Mumbai, Thane, Aurangabad and more are notorious for sexual and physical abuse of children and no proper audit has been conducted since 2011.

It took four years to award life imprisonment to a peon of a Mankhurd shelter home in Maharashtra after he had raped a 12-year-old mentally challenged girl in 2014.
"In Mumbai, a social audit has not been conducted for at least last three years. "I don't remember when the last audit happened," a senior WCD department official said. In 2010, one home in Thane and in 2011, two homes in Panvel and Aurangabad were shut down after cases of sexual abuse emerged. But Mumbai shelter homes not only witnessed threats of sexual abuse to both boys and girls, they were also reeling under the burden of huge staff crunch, lack of trained employees, poor education support and physical abuse of children," said a report by The Indian Express.

"Following the death of five mentally challenged children due to malnourishment at a Thane home, in 2011 the Bombay High Court took suo motu cognizance and appointed a five-member Maharashtra State Co-ordination Committee for Child Protection to submit a report on condition of shelter homes for mentally deficient children (MDC). In its report, TISS found that these homes were grounds for sexual abuse and neglect, and no regular inspections were being conducted there. "It is clear that the grant in aid provided to the NGOs does not reach the children for whom it is meant. The children are being forced to live like animals, not given proper food and medical aid, education, and often subjected to physical and sexual exploitation," the report said.

"Maharashtra has 23 MDC homes. Following the TISS survey, 35 children were rescued from Thane and Panvel homes, where they had been subjected to sexual abuse. One home in New Panvel — where 19 girls were sexually abused — did not provide undergarments, educational or vocational training to children. On top of that, the children used to be physically and sexually abused," it reported.

"Nothing much has changed since that report came out seven years ago," said Asha Bajpai, chairperson of committee that submitted the report to Bombay High Court in 2011 in the report.

"From 2013 till 2016 I have written several letters to Bihar and UP's chief secretary about children and minor girls being transported from there to Mumbai for sex trade. We have requested them so many times to coordinate, but got no response," said A N Tripathi, former secretary of Maharashtra State Commission for Protection of Child Rights in the report.

Sexual abuse is rampant in shelter homes across the country. With so many minor girls pushed into the sex trade, boys abused and displaced, are these homes for rehabilitation or destruction? Are shelter homes a business model meant to be exploited, government aid to be misused for personal gains? What do shelter homes have to gain from mistreating its inmates, selling them, abusing them, and not using govt funds meant for children? The truth of shelter homes in India confirms India's global rank when it comes safety of women and children.
Expert speak
Bharti Ali, Co-Director at HAQ: Centre for Child Rights and Amicus Curie in a court case against a boys shelter home said that we should not paint every situation with the same stroke.
Speaking to Sabrang India, she said, "Section 3 (xii) of the Juvenile Justice (Care and Protection of Children) Act, 2015 lays down the Principle of institutionalization as a measure of last resort to say 'A child shall be placed in institutional care as a step of last resort after making a reasonable inquiry.'
"Unfortunately the non-institutional care measures like adoption and foster care are equally dangerous for children in the absence of follow-ups as also the manner in which children are procured. You must have read stories of children being trafficked for adoption. Sponsorship, which is yet another measure of non-institutional care and can be used extensively for preventing children from falling out of the family's protective net and strengthening families to take care of their child's care, development and protection needs, is yet to take off in a big way. It requires state governments to establish clear guidelines and administrative measures for sponsorship and follow-up to ensure that the money given is actually utilised for the child. As a result, most children inevitably land up in institutional care for short term or long term," she said.

She said that while social audit was a tool available in Section 36 of the earlier Juvenile Justice Act of 2000 and Rule 30 of the JJ Central Model Rules of 2001, neither the Centre nor the State had ever used it.

"After 15 years, when the law was amended, Social Audit was replaced with Evaluation and Monitoring by NCPCR and SCPCRs and academic institutions. Meanwhile, in 2015, due to a case in the Supreme Court, the Central Government was forced to hold some discussions on social audit and evolve some formats to be used for it. Social audit is something that cannot be restricted to survey formats, it has to involve focused groups discussions with children, their families and community and capture their voices through public hearings and such other activities, and it must be an ongoing process rather than a one-time activity. However, the government never understood it at such or wanted to avoid such elaborate exercises and hence changed the term social audit to Monitoring and Evaluation in the 2015 law," she said.

NCPCR and SCPCRs have a mandate to monitor implementation of all child rights laws. So even if the earlier JJ Act did not give them that mandate, they got it from the Commission for Protection of Child Rights Act, 2005. "Yet they did not do much. A few members would off and on make visits to the states and inspect institutions, but those reports remained confined to the Commissions files and never became public. Moreover, often these bodies are not full Commissions and selection of members is also political to ensure they will stay in tune with the ruling government. The very objective of being an independent body gets lost in this," she said.

"Now there are several problems with institutional care services. These relate to overcrowding (beyond an institution's capacity), poor provisioning, inadequate qualifications and training of staff, closed nature of institutions (most institutions do not have a visitors board whereas even jails have them), poor monitoring and review and of course corruption of all kinds including the worst that came out from Muzaffarpur," she said.

"While the Muzaffarpur case is the worst side of the problem, I will say this too needs to be looked at with different lenses. Making any generalisation based on this case would be wrong. All institutions do not subject their children to prostitution and sexual exploitation. We need to be fair to those who work diligently and with care and caution to give children the best. Having said that, since the state government had got the social audit done for Muzaffarpur home as well as others in the state, it would not be logical to suspect the state's intention. My assumption is that with a political patronage and influence, the owner of the institution must have managed to create an image that kept the administration away from taking any action against him despite reports of abuse of girls residing therein. Unfortunately, it takes time for most authorities to pin down someone and sometimes it requires a strategic move," she said when speaking to Sabrang India.

Another big problem that she hears from most child care institutions is regarding delayed grants. NGOs who run such institutions are expected to survive and keep taking in children on orders of the Child Welfare Committees even when their grants are delayed by years on end. "At HAQ we have a very strong view on the role of NGOs being restricted to providing technical assistance in running institutions instead of allowing them to replace what is essentially meant to be a service to be provided by the government. By giving institutional care to NGOs, the Governments happily wash their hand off all responsibility. We need a model where the institutions are managed by the government and NGOs are brought on Board for planning and conducting day-to-day activities, where they bring in teachers and instructors, engage children in sports, art and craft and such other activities, provide career guidance, set up health camps, facilitate children's participation and development through various activities ranging from self-care to life skills," she said.

Positive disciplining is yet another area requiring some work. "Our caregivers do not understand this at all. Even our parents do not understand this and resorting to beatings in the name of disciplining children is common in our country. A lot of work is required on introducing positive disciplining to the families, schools and institutions housing children," she said.
Related articles:
Muzafarpur Shame Exposes Governments dependence on NGOs for Welfare Responsibilities
Shelter homes abuse: SC ends ban on reporting from Bihar on the subject