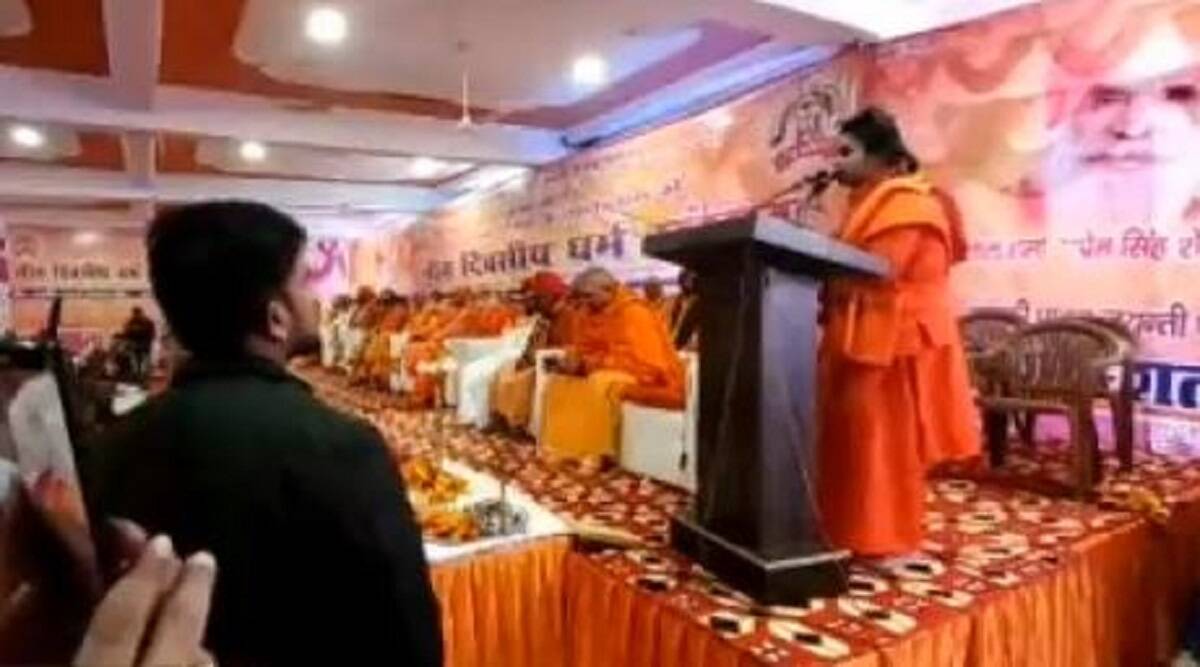 Questions need to be asked of the Bharatiya Janata Party (BJP) led Uttarakhand government headed by Cheif Minister Pushakr Dhami, on how a Hindutva conclave held in Haridwar between December 17 and 19, was not shut down as hate speech after hate speech made by religious leaders, right-wing activists, hardline fundamentalist speakers where several of those who spoke and were present, called for a genocide. Persistent questions need to be asked about what action has been taken by the state police against the Hindutva organisations and their leaders, who for days held the 'Dharma Sansad' or 'Religious Parliament' at Haridwar. Videos of the "event" have now gone viral. The three-day event was a platform for hate speech, that repeatedly called for violence, especially against-Muslims, a sentiment also expressed by Hindutva flag bearers including Chief Minister Pushakr Dhami's party colleague Ashwini Upadhyay. Upadhyay reportedly also attended the event as did the BJP Mahila Morcha leader, Udita Tyagi.
This open patronage by BJP politicians perhaps gave confidence to the 'Dharma Sansad' organiser not only to allow hate speech, but rather encourage it. Media silence over the event is also telling. Once peace activists began sharing the video clips of the hate speech, independent news portals The Wire and Scroll reported on this. The following videos are full of hate, and will upset any sane citizen who believes in democratic values and uphold the Constitution.
"मोबाइल 5000 वाला चल सकता है पर घर में शस्त्र एक लाख वाला होना चाहिए"
ये कोई स्वामी सागर सिंधु महाराज है जो हिंसा की वकालत कर रहा है।
इस पर अब तक FIR क्यों नहीं हुई @pushkardhami @narendramodi ? pic.twitter.com/BvgZo4LSrw

— Vinod Kapri (@vinodkapri) December 22, 2021
Here are those who spewed hate against fellow citizens, and what they said:
Swami Prabodhanand Giri, president of Uttarakhand Hindu Raksha Sena: "No more delay. Be ready to kill, ready to die. Start preparations, do not delay. Like in Myanmar, politicians, government, army, police and Hindu citizens will have to, the police here, the politicians here, the army and every Hindu will have to start this 'cleansing campaign' to pick up weapons and we will have to conduct this cleanliness drive (safai abhiyan). There is no solution apart from this. I say this upfront, before you get distracted elsewhere." He is reportedly said to be close to the BJP, proudly sharing his photos with Uttar Pradesh chief minister Adityanath and former Uttarakhand CM Tirath Singh Rawat:
Day 3, 19 December:
BJP leader Ashwini Upadhyay presents "Bhagwa Constitution" to his "Gurudev" Yati Narsinghanand Saraswati. Earlier when he was accused in Jantar Mantar Hate Speech case, he distanced himself from those disciples of Narsinghanand who raised slogans. pic.twitter.com/cwUm3Skvc4

— Kaushik Raj (@kaushikrj6) December 22, 2021
Yati Narsinghanand: "No community will survive without taking up arms. They have good money power, good weapons. You need better weapons than them, forget swords, they look good only on stages. You need to update your weapons. Have more children, get better weapons. We are standing with you. Fight your own fight, save your own women and children. Speakers should not downplay the need for weapons."
Thread on a 3 day "Dharm Sansad" organised in Haridwar by Hindutva groups where explicit calls were given for Hindus to pick up arms against Muslims.#HaridwarGenocidalMeet

Day 1, 17 Dec: Yati Narsinghanand said, "swords won't be enough to kill Muslims. We need beater weapons." pic.twitter.com/MTL8u1H7F3

— Kaushik Raj (@kaushikrj6) December 22, 2021
Ashwini Upadhyay of the BJP unveiled a "Hindutva" Constitution: I got a "Bhagwa Samvidhan (Saffron Constitution) in Hindi and want "Gurudev" Yati Narsinghanand Saraswati [to launch it] to come in the front, this is his fight. Come here Wasim Ji… Tyagi ji you also, take photos everyone. It is a shame that a special [edition] of this [Saffron Constitution] had to be made in Hindi. It [Constitution] should always be in Hindi.
Day 2, 18 December:
Swami Premanand Maharaj stresses on the need for Hindus to purchase weapons to defend religion.#HaridwarGenocidalMeet pic.twitter.com/0uIQ9Bg5Qr

— Kaushik Raj (@kaushikrj6) December 22, 2021
Sadhvi Annapurna aka Pooja Shakun Pandey, general secretary Hindu Mahasabha: "Nothing is possible without weapons. If you want to eliminate their population then kill them. Be ready to kill and be ready to go to jail. Even if 100 of us are ready to kill 20 lakhs of them (Muslims), then we will be victorious, and go to jail… Like [Nathuram] Godse, I am ready to be maligned, but I will pick up arms to defend my Hindutva from every demon who is a threat to my religion. I will raise swords, to save my Hindu dharma, and rip them with my tigress like nails. If we give a call, it will not be Islamic Bharat, Hindu rashtra will be declared"
"If you want to finish them off, then ki| them… We need 100 soldiers who can ki|l 20 lakh of them to win this."
Annapurna Maa, Mahamandleshwar of Niranjini Akhada and General secretary of Hindu Mahasabha. #HaridwarHateAssembly pic.twitter.com/9CES82OWEX

— Mohammed Zubair (@zoo_bear) December 22, 2021
Swami Anandswaroop who in January 2021 had told Muslims to stop offering Namaz: "The decision of this Dharma Sansad would be a word of God and the government will have to listen to it. Else we will wage a war that would be more gruesome than the revolt of 1857. The street in which I live, every morning I used to spot a Mullah [slur used by right wing to refer to Muslims] with a big beard and nowadays they keep a saffron beard. This is Haridwar, Maharaj. There is no Muslim buyer here, so throw him out".
Swami Sagar Sindhu Maharaj from Roorkee: Babur came with a cannon and we did not have any arms to combat it. I say you must keep lathis, and weapons worth at least least Rs. 1 lakh. So if anyone [Muslim] comes they should not return alive.
Day 1, 17th December:
Swami Sagar Sindhu Maharaj from Roorkee appeals Hindus to "at least keep swords" and asks them to purchase weapons of at least Rs. 1 lakh.#HaridwarGenocidalMeet pic.twitter.com/jePjTbWoc2

— Kaushik Raj (@kaushikrj6) December 22, 2021
Dharam Das Maharaj from Patna: Half of India is Islamic… There are 500 Pakistans in India. If I was present in the Parliament when PM Manmohan Singh said that minorities have first right over national resources, I would've become Nathuram [Godse'. I'd have shot him six times in the chest with a revolver inside Parliament. But I am a fakir.
"हाथ में रिवॉल्वर होता तो मैं नाथूराम गोडसे हो जाता और छह की छह गोलियाँ मनमोहन सिंह को मार देता"

खुलेआम पूर्व प्रधानमंत्री की हत्या की बात करने वाली ये भगवा आतंकी स्वामी धर्म दास कब गिरफ़्तार होगा @narendramodi @pushkardhami ? pic.twitter.com/i56gw9CYEY

— Vinod Kapri (@vinodkapri) December 22, 2021
Not the only Hindutva show!
At another event Suresh Chavhanke, of Sudarshan News led an 'oath ceremony' that threatened the very idea of India. He said, "We take an oath and make a resolution that till our last breath, we shall fight, die for and if need be, kill, to make this country a Hindu rashtra…"The lions and lionesses of Hindu Yuva Vahini taking an oath for Hindu Rashtra," he added. According to reports social media users pointed out that Uttar Pradesh minister Rajeshwar Singh was also present at this event. The Facebook page of the Delhi unit of the Hindu Yuva Vahini Claims it "is a Hindu Nationalist youth organisation, founded by Shri Yogi Adityanath ji, intended successor of the Gorakhpur Mutt temple in Gorakhpur and Chief Minister of Uttar Pradesh, India."
मेरे साथ हिंदू राष्ट्र की शपथ लेते हुए हिंदू युवा वाहिनी के शेर और शेरनियां #HinduRashtra @myogiadityanath pic.twitter.com/AVt1QqHb1x

— Suresh Chavhanke "Sudarshan News" (@SureshChavhanke) December 19, 2021
As multiple videos of these Hindutva group members, 'journalists' and members of the Bharatiya Janata Party calling for anti-Muslin genicide went viral on social media on Wednesday night, the state and central government were yet to respond. A day after the meeting concluded BJP Member of Parliament Tejasvi Surya arrived and was engaging in multiple programmes in the state, last seen hosting "social media influencers who are working dedicatedly to promote the nationalist cause." He even did a road show with CM Dhami.
Hosted a few young social media influencers who are working dedicatedly to promote the nationalist cause.

Was enriching to hear out their ideas on promoting good quality content on the internet. pic.twitter.com/jMEqVz2fVV

— Tejasvi Surya (@Tejasvi_Surya) December 22, 2021
राजनीति में युवा जोश की भागीदारी लोकतंत्र को सुदृढ़ बनाने के लिए सकारात्मक पहल है। मेरा मानना है कि युवाओं का नेतृत्व नई दिशा नई राह के लिए बहुत जरूरी है।@Tejasvi_Surya pic.twitter.com/X5MdozcSEX

— Pushkar Singh Dhami (@pushkardhami) December 22, 2021
It is also pertinent to note that it will be poll season soon in Uttarakhand in 2022. Clearly a government and its affiliates plan to use the corrosive power of hate and violence to garner votes, little as they have to show in terms of either empowerment or 'development.'
Related
Hate Watch: Did VHP head call Indian Muslims "4th stage cancer"?
Carry swords to protect cows: Sadhvi Saraswati
Segregated burial grounds, a violation of the Constitution: Madras High Court