The violence against workers from Bihar, UP and MP has also hit industries in the state, leaving hundreds of workers in the lurch with no salaries and no jobs.
Devendra Kumar, a 28-year man, is waiting for the train to Jabalpur at the Kalupur railway station, Ahmedabad, which is swarming with migrant workers, all of them fleeing Gujarat for the safety of their lives. Kumar, who hails from Jhansi, Uttar Pradesh, works in in Sanand and had been in Gujarat for the past seven months only. With others, Kumar was hired on the campus of Industrial Training Institute, Jhansi, from where he studied motor mechanics.

Devendra Kumar fleeing from Sanand GIDC
"A viral video showing some migrant worker being stripped and thrashed has got everyone scared at Sanand. Goons are beating up people who are stepping out for going on work. Twenty people beat up one person in the GIDC, Sanand (Gujarat Industrial development Corporation). It's a dangerous place for us now. I managed to reach Ahmedabad somehow. Even local autorickshaw drivers in Sanand are threatening migrants trying to flee. Goons are stopping buses and beating up migrant workers," says Kumar.
"What happens to my job now? We will not be able to return anytime soon. Who is going to pay our salary when this absence has been forced on us," tells Kumar, whose brother and cousin are still stuck in Sanand, an industrial area that houses the biggest multinationals like Coca-Cola, Nestle, Porsche, Posco, Hitachi among others.
Wary of coming back to Gujarat, Kumar says, "My cousin has been living in Gujarat for 35 years now. He has three children. How will he feed them now? We are Indians, how can they throw us out? Let Uttar Pradesh government give us job, none of us will come to Gujarat."
The BJP government in Gujarat may have appealed to the migrants not to flee, but the police doesn't seem to be in sync with the administration.
"We couldn't even step out of our home for buying food for two days for the fear of getting thrashed. Police is also asking us to leave and instead of providing protection," said a migrant labourer who managed to flee from the Mehsana GIDC area.
Venting anger against the entire migrant population for the crime committed by one has shaken up the entire industrial belt.
"Punish the accused in whatever way fit, but why are we being attacked? All of us are being forced to flee leaving our source of income. We don't know how long till we will be able to secure a job again. Uncertainty looms over our heads now," says a baffled labourer from Bihar.
What Led to the Violence
On September 28, this year, a 14-month-old girl was raped by a migrant worker in a village near Himmatnagar, Sabarkantha district. The Sabarkantha police arrested one Ravindra Sahu, a migrant worker from Bihar, on the same day. However, since the 14-month-old victim belonged to Thakor community, Gujarat Kshatriya Thakor Sena, an organisation lead by Congress MLA Alpesh Thakor began demanding that workers from other states should not be given jobs in Gujarat. On October 2, a mob of about a hundred, led by local leaders of Kashtriya Thakor Sena, ransacked a factory near Vadnagar, Mehsana district and attacked migrant workers, injuring two of them.
Following this, more than 20 people of the Thakor Sena were arrested for the attack. However, similar incidents followed in industrial areas of Gandhinagar, Mehsana, Patan, Aravalli, Sabarkantha and Ahmedabad.
On October 4, a demonstration in Ahmedabad to protest the incident of rape took an ugly turn when protesters began targeting migrants. In one case, a migrant autorickshaw driver from UP was attacked by about 25 people.
"They began shouting that 'outsiders' should leave the state and Gujaratis should be saved. They ransacked vegetable vendors standing in the area. When I tried to flee they broke the windshield of my autorickshaw and thrashed me with sticks. I have suffered a fracture in my shoulder and finger," said 23-year-old Kedarnath in the FIR that was registered subsequently.
In another incident in Ahmedabad on the same day, a migrant woman was followed, gheraoed and abused by four men who threatened her and asked her to leave the state.
Police Gives the 'Festival' Angle
"In the last week, 42 cases of violence against migrant labourers and workers have been reported in more than five districts. Two cases have been registered for spreading rumours on social media, and 342 people have been arrested so far in the matter. In Ahmedabad alone, 73 people have been arrested in city and 36 from rural Ahmedabad," said Shivanand Jha, Director General of Police (DGP) Gujarat in a press conference on October 7.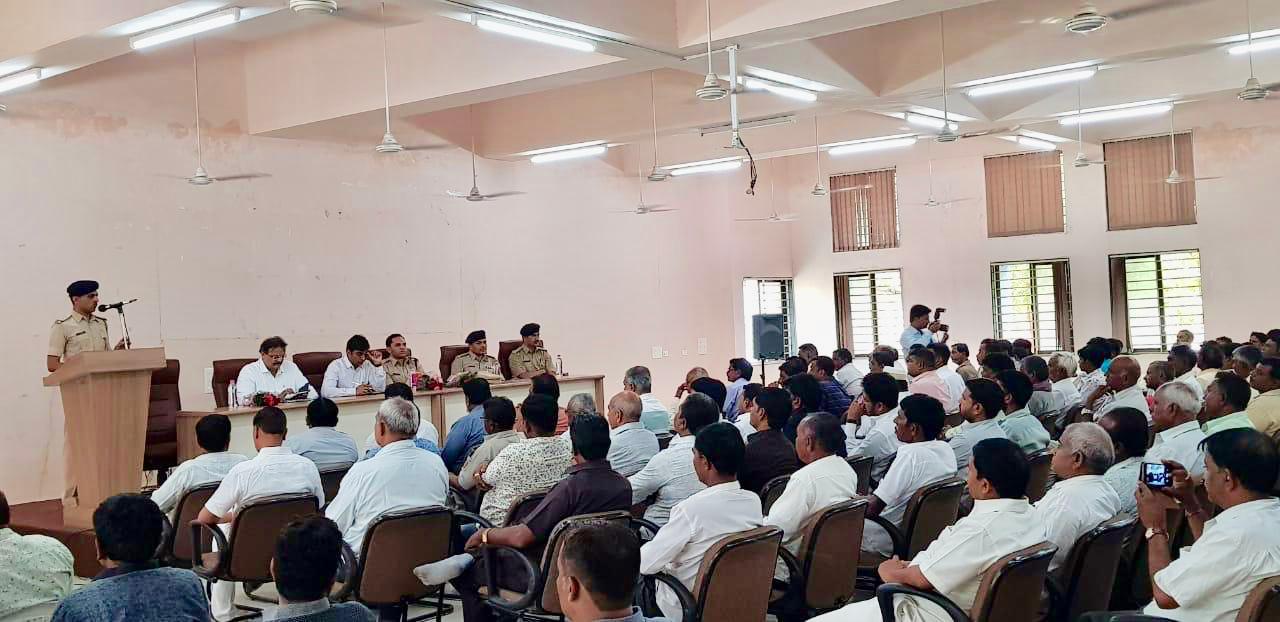 Collector of Ahmedabad meeting with Sarpanch and other leaders of prominent organizations of GIDC areas.
"Such incidents of violence are happening between shift change at around 7 pm. State police has beefed up patrolling, intelligence and technical surveillance along with deployment of 17 companies of State Reserve Police (SRP) to curb the situation," added Jha.
The DGP also stated that the workers might also be leaving because of upcoming festivals.
However, organisations working with migrants, refute the police's claims.
"A few labourers go home for Diwali, most of them visit home during Chhat, considered the prime festival of Bihar and UP region. Both the festivals are due next month. People are leaving for their lives, not for festivities," Shyamsingh Thakur, President of Uttar Bharat Vikas Parishad, an umbrella organisation that looks after migrants in the state, told Newsclick.
The attack on migrant labourers continue despite police deployment. In the most recent attack in Waghodia, Vadodara on October 7 where mob attacked migrant labourers at Campus Fastener and Param Engineers. Ten workers suffered serious injuries and were admitted to SSG hospital, Vadodara, as per Vadodara police.
Vadodara police has arrested 17 people in the matter same day. As per police the labourers, who lived there without family, were attacked with stones and wooden sticks.
"About 60,000 to 70,000 migrant workers and labourers have been forced to flee since the violence erupted," said Thakur, a native of Uttar Pradesh whose family settled in Gujarat three generations back.
"These people had come to Gujarat in dire need of jobs. Many of them might even come back for sake of employment, but the fear is going to remain for a very long time," he added.
Industry Owners Hit, Workers Left in Lurch
Meanwhile, a delegation of about 70 representatives of Sabarkantha Ceramic Industries Association, led by Manibhai Patel, president of the organisation, met Chief Minister Vijay Rupani and Deputy Chief Minister Nitin Patel over the matter.
About 100 ceramic factories in Sabarkantha, Aravalli and Mehsana in North Gujarat have been provided with heavy security following the attack. Despite the security, most labourers have either left or confined to their residences.
The association claimed that exodus of workers had affected the functioning of more of the factories. More than six units have had to be completely shut with no worker reporting to work.
Cotton mills and chemical factories have also been affected due to the exodus of migrant labourers. However, many migrant labourers have claimed that their employers have left them to fend for themselves in the situation.
"The factory owner asked us to go home. We were not even paid our salary and told that we should come back and collect it," claimed Bhagwan Yadav, a 19-year-old migrant labourer from Jhansi, Uttar Pradesh.

Bhagwan Yadav, a migrant worker waiting for train at Kalupur Railway Station
"We were paid half our salary and asked to leave for safety," said another migrant worker who works in a fertiliser company in Gandhinagar.
Noticeably, following the rape of the 14-month-old girls in Sabarkantha, Alpesh Thakor, Congress MLA from Radhanpur and President of Gujarat Kshatriya Thakor Sena, led a protest in the district. Thakor is also the in-charge Secretary of the Congress for Bihar.
In his speech, he demanded that the accused should be awarded the most severe punishment and should be hanged. Thakor went on to say, "Migrant workers should get a no-objection certificate from police and the state government should give preference to locals when it comes to jobs."
Reportedly his speech raked up members of Thakor Sena who unleashed violence on non-Gujarati migrant workers in some districts of the state.
Later, after members of the organisation were arrested, Thakor called a press conference at his Ahmedabad residence on October 7 where he rubbished any involvement of Gujarat Kshatriya Thakor Sena, and claimed that it was all a "political conspiracy" to malign him.
"All Indian are safe in Gujarat," said the MLA demanding the immediate release of his men.
Adding that his men were being "witch-hunted" by the authorities, he said, "25 FIRs have been registered in five districts in which more than 400 of our men have been named or arrested. This is a conspiracy to harm Gujarat Kshatriya Thakor Sena."
Thakor said that he would sit on an indefinite 'sadbhavna fast' from October 11 until all false case against men of Gujarat Kshatriya Thakor Sena are withdrawn.
While BJP blamed Thakor's 'hate speech' for igniting the violence, Gujarat Congress President Amit Chavda condemned the attacks on migrants and blamed the Gujarat government for the situation.
"Such incidents of attacks against the Migrants also exposes the rising lawlessness and sheer failure of Gujarat Govt in upholding the rule of law in the state, and instead of doing its job, Government is trying to escape it's responsibility by baselessly blaming opposition," he tweeted.
Incidentally, recently BJP leader and Gujarat Chief Minister Vijay Rupani had said that his government would bring in a law to ensure that 80% jobs in the state are provided to Gujaratis.
"Those who set up business in Gujarat, including the service sector, will have to ensure that 80 per cent of the jobs are given to Gujaratis. The state government is in the process of making such a law," he was quoted as saying in a report by the Indian Express.
Courtesy: Newsclick.in