Life has never been easy for Roshanara Jawwad Sheikh, daughter of a vegetable vendor in Mumbai. Until August 11, 2008, Roshanara, then a promising student, had to endure economic hardships if she wanted to achieve her dream of becoming a doctor. However, on that day, her life changed for much worse: a train accident left both her legs amputated. But then, Roshanara was never going to give up and a decade after her accident, she has not only completed her MBBS but also on course to finish her MD in Pathology, even though she has had to fight at every level.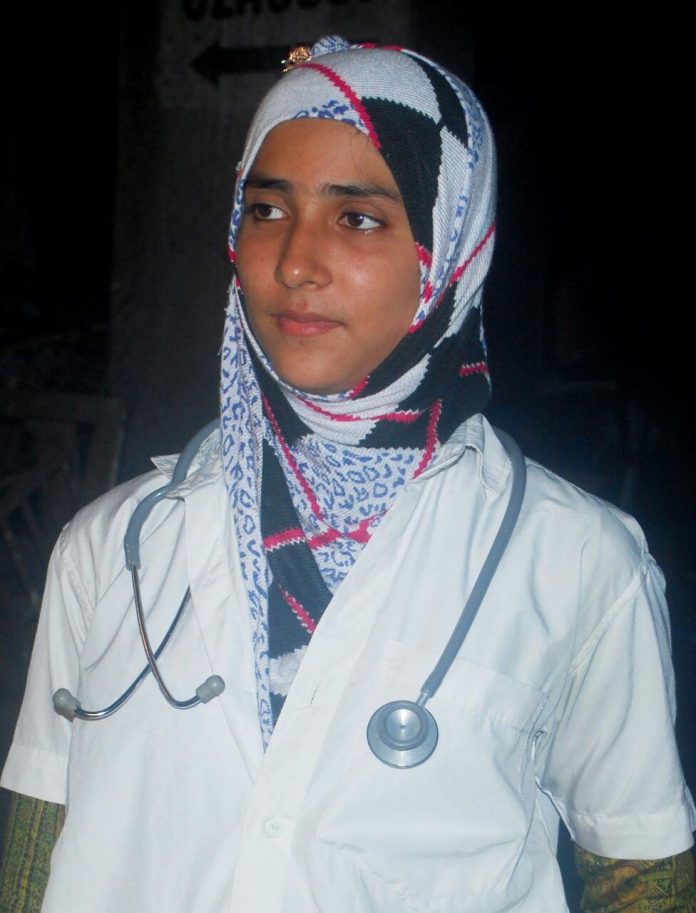 Dr.Roshanara Sheikh
After her accident, she was left bedridden for over three months but dropping out of school never occurred to her or her parents. Her mother started taking her to school to attend important practical classes and examinations on a wheelchair and by the next year, she had completed her Class 12 with impressive marks. She also achieved a stellar rank of 3 in the handicapped category for the state medical exams, but a legal technicality almost stopped her from enrolling. "The existing law allowed only students with "up to 70% handicap" to study medicine but I was 90% handicapped post the accident, so I was not allowed to take admission," Roshanara told TwoCircles.net during a conversation. Following the advice of Orthopaedic surgeon Dr Sanjay Kotharia, she knocked the door of the Bombay High court with help of advocate PB Patil in 2011 and won the case and took admission in KEM (King Edward Memorial) Medical College, Mumbai.
Advocate Patil, who fought the case of Roshanara without charging a single rupee, informed Twocirlces.net that as per the Disability Act 1995, Roshanara was denied admission. "But during case proceedings, I gave two examples of people who were more than 90% disabled and yet achieved astonishing things. Arunima Sinha, a disabled lady who climbed Mount Everest and athlete Oscar Pistorius, who took part in London Olympics with artificial legs. I tried to convince the court that 90% disable Roshanara is also fully fit to become a medical practitioner. I showed the court that she could travel for court proceedings every time from Jogeshwari on a train. The honourable court served her physical activities and considered her disability at 70% and gave the decision in her favour," he said.
Speaking with Twocircles.net, Roshanara said, "We stay in a rented 10×10 feet home. Our financial condition was in a bad shape as my father was a vegetable vendor. But Allah helped us in his own ways. When I met with an accident and news came out in media, many good people and NGOs came forward and helped us in meeting the hospital expenditures and prosthetic limbs which cost Rs 6 lakh 10 years ago. When media highlighted court case around my MBBS admission, Congress MLA Amin Patel came to visit my house and promised to pay my medical course expenses. Finally after the court order when I got admission in MBBS, Amin Patel kept his words and fulfilled all my education expenses during the course duration and continues to sponsor my MD education.
"I must also thank Member of Parliament Kirit Somayya because again there were some hurdles for joining my PG course. But Somaiya took special efforts and within two days, a 20-year-old law was amended for my PG admission. Minister of Health and Family Welfare J P Nadda himself called and gave this welcome news," she added.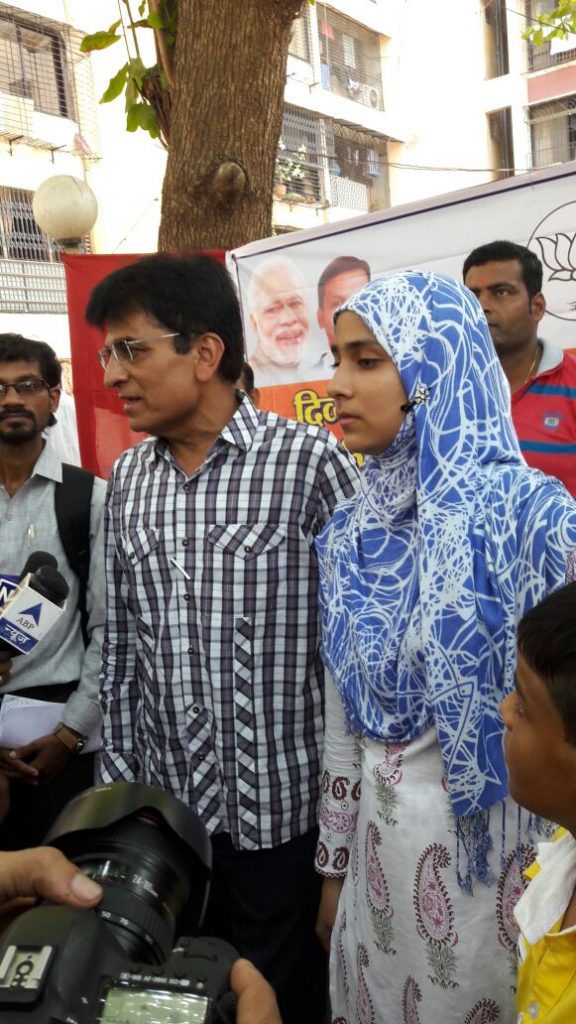 Dr Roshanara with MP Kirit Somayya
But Roshanara pointed out, getting admission was just one of the many hurdles she had cleared. "During the medical course, I faced some difficulties due to my disabilities. Practical lessons are conducted in different buildings located at some distance which also involves long duration standing for about six hours. In my second counselling after the court order, I was informed about these hardships but there was no alternative for me except to move forward. During my MBBS course, I discharged 30 hours non-stop duty, attended emergencies…everything that fully-abled people did. I tried to set an example that people with disability can also achieve anything if they have the passion and determination," she said.
Roshanara said that her mother was the most constant source of inspiration. "She studied only till 4th standard as women education was not considered important at that time in Azamgarh, UP, her native place. Despite receiving flak from family members and facing numerous hardships, my mom decided to educate her daughters. After a lot of efforts somehow my elder sister completed class 12. It was only then that the family members realized the importance of education but due to the financial condition, she was forced to quit her studies. Currently, she is working as a paramedical staff with Millat hospital. My younger sister is doing Master's in Textiles so our mom is our real inspiration," she said.
BJP MP Kirit Somayya told TwoCircles.net that Roshanara's strong determination and learning spirit was extremely impressive. "After going through her case I immediately swung into action and went to Delhi to amend the Law and get it done within three to four days," Somayya added.
Amin Patel, the Congress MLA who also sponsors Roshanara, said "When I read about Roshanara's train accident in a local Marathi newspaper, I personally went to meet her. During our discussion, I found her to be very confident and a girl with a vision. Despite losing both legs, she didn't lose her hopes. So I decided to provide all assistance to her.
Disclosing her future plans, Roshanara said, 'I will try for civil services examinations to become an IAS officer after completing my MD (Doctor of Medicine). In future, I have plans to work for people with disability through some NGO or through my profession when I will have enough sources," she added.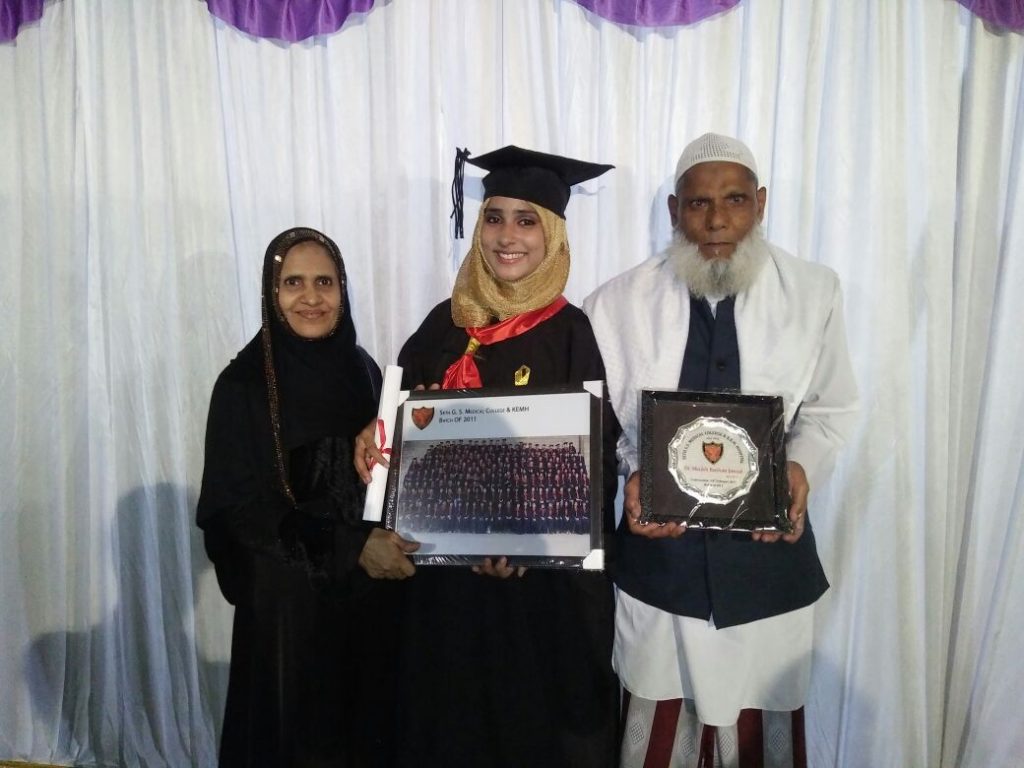 Dr.Roshanara Sheikh with her parents
First Published on Two Circles