Hard working, determined and feisty, these women can give mainstream newspapers a run for their money in rural Andhra.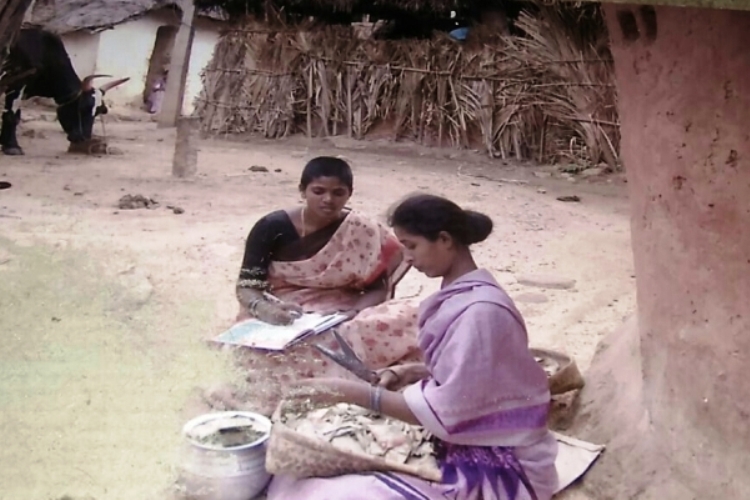 It was 16 years ago that Manjula was asked if she was willing to travel to Tirupati from her village in Andhra's Chittoor District.
"Around 23 local women leaders who were part of a 'Mahila Sangam' (self-help group) were selected from various mandals, and we all headed to Tirupati. Little did I know that it would change my life forever," Manjula says.
In 2001, Manjula began her career as the first ever editor of Navodayam, a monthly magazine that is run mostly by Dalit women, and covers various grassroots issues in the district.
In August 2001, the quarterly magazine printed around 750 copies of its first issue, consisting of eight printed pages. Today, the magazine issues a 20-page edition every month, and has a subscription of 40,000 and a readership of 4 lakh, spread across the district.
It has been a long journey for Manjula, who has watched the magazine take birth and grow.
"Initially, we were absolutely clueless about what journalism and reporting was," Manjula says with a chuckle.
After a three day training program, the women who attended the event at Tirupati were asked to write a small piece on a civic issue in their village and submit it to a vernacular paper.
"We were all semi-literate. English was a long shot, and we weren't that well-versed with the kind of Telugu that you read in newspapers. Our language was crude and simple," Manjula adds.
In fact, even today, the magazine uses comparatively simple Telugu, as spoken by villagers in the district.
The magazine was initially funded as part of the then united Andhra Pradesh's poverty alleviation programme dubbed 'Velugu'.
"We all spread out, and began looking for stories in our own villages and mandals. We would then get all the details, and write the story. Then, we would edit it among ourselves, select a page design (layout), and then print it. Just six of us had to do all this," says Manjula.
The women also had to take care of distributing the magazine to various villages from where they reported.
Manjula says that the women were intimidated at first, but got better at the job as several talks and training sessions were organised for them during the first year of the magazine.
What about photos? At first, there were none.
"We had just learnt how to report. Photography was an even more alien concept. Instead, one of us was really good at drawing and sketching. So, we would just take our stories to her and tell her what kind of image we wanted, and she would draw it for us," Manjula says.
"It was only around three or four years after we started, that we got our first reel camera. Then we used to take photos to the studio and develop them," she adds.
The journalists with Navodayam today are even equipped to operate a full fledged video camera.
Navodayam has four major aims:
1. Give 'voice' to the rural and poor women
2. Place rural women in charge of news coverage
3. Reach information out to touch, influence and inspire the rural poor
4. Adapt journalism so that it becomes a tool to empower rural, poor, oppressed and uneducated girls and women.
However, it was definitely not a smooth journey for the women.
"Around 23 women attended the first training program. At the end of it, only three of us remained. Many villagers would ask us things like why women and girls should roam around for work," says Manjula.
"Many times, we had to travel for stories and stay somewhere else overnight. This was unacceptable by many of the village elders then. People would ask us why we wanted to work, when our husbands and fathers were there. But we didn't listen," Manjula says, as she breaks into another chuckle.
Manjula says that things got serious when they used to receive death threats for writing certain stories, as the men in the villages were troubled by the sudden shift of things.
Today, Navodayam has around 12 permanent members besides other contributors. Each reporter covers around five to six mandals as part of her beat.
The magazine writes extensively on the issues that their readers can directly relate to.
"We write only about things happening in our own villages and our own neighbourhoods, whether it's larger issues like women's empowerment, domestic violence and child marriage or something as small as how to clear a bank loan before you get buried in interest," Manjula says.
The first batch of reporters who worked with the magazine have also gone on to address several large crowds and share the story of their journey.
The magazine, with its writings on issues of gender, has created awareness and empowered several women who are now standing up for their rights.
Navodayam, and the women running it, have also won several awards since its inception.
While mainstream dailies have a short life span and don't get distributed to interior villages, Navodayam manages to overcome both hurdles. The paper gets read in all the meetings of women's self help groups, says Manjula.
Fund crunch
While the magazine continues to be operational, it has been facing a bit of trouble in recent times.
Navodayam no longer gets funding from the state, and advertisements in the magazine are rare.
"We get the occasional advertisement request, but mostly our magazine goes without any ads," says Manjula.
The magazine has convinced one women's self-help group per mandal that they cover, to pool in and pay Rs 70 as the cost of an annual subscription.
"Since printing costs have increased, we have been facing a fund-crunch recently. We may not have money to pay our salaries for one or two months every year, but we manage," Manjula says.
She adds that the magazine gets a little monetary assistance from the Zilla Samakhya, which is a district-level federation consisting of several SHGs.
"Usually, we get our subscription money in January or February, but it gets over by October or November, and then we just scrape through," Manjula adds.
However, this hasn't disheartened her.
"We have inspired a younger generation of women to join the magazine. Several new people have joined over the past five years, and I'm seeing a lot of difference from when we first started this. The next generation is much more empowered and optimistic. I'm sure they will take it much ahead. As for my 16-year-old journey with Navodayam, I have no complaints," she says.
This article was first published on The News Minute