The man killed was a neighbour of a young Muslim man who was reported to have eloped with a Hindu girl in a nearby village.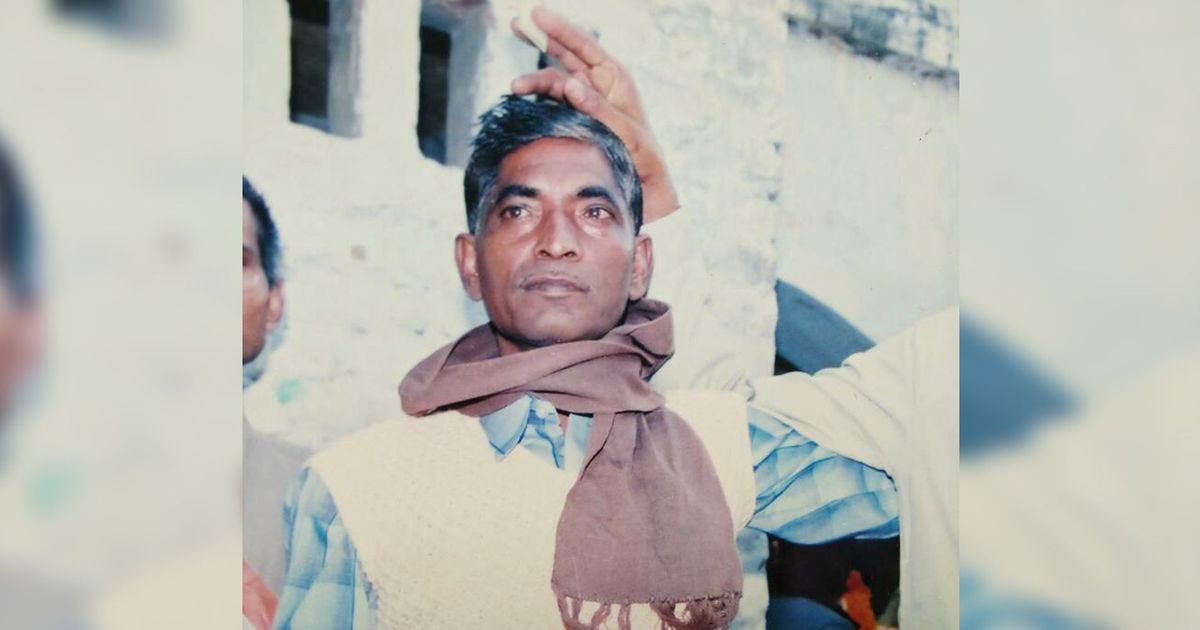 Two elderly men sat on a charpoi outside a mango orchard in the outskirts of Sohi village in Bulandshahr district of Uttar Pradesh on Wednesday, May 3, evening, taking care to maintain a suitable distance from a pair of slippers lying nearby.
The slippers they were so careful about belonged to 59-year-old Ghulam Ahmad, a resident of the village, who was beaten to death the previous day by a group of men who claimed to be members of the Hindu Yuva Vahini, a group set up in 2002 by Adityanath, now the Chief Minister of Uttar Pradesh.
Even after more than 30 hours of the murder having taken place, the villagers believed that the police could come back for Ahmad's slippers. "Who knows when the police arrives again and starts harassing us for touching exhibits related to the murder case," one of the villagers said.
Around 9.15 am on Tuesday, May 2, Ghulam Ahmad was sitting on the same charpoi outside the 14-bigha mango orchard, which he had taken on lease from fellow villager Anil Sharma, when a group of six to seven men approached him. They forced him to sit on a motorbike and took him to a nearby orchard, where they beat him with rods and sticks and then fled, leaving him there, bleeding profusely. Ghulam Ahmad managed to make a phone call to Sharma around 9.30 am informing him about his condition. Around the same time, Ghulam Ahmad's brother Islam Khan, who was working in the neighbouring orchard and saw him being taken away, called up Ghulam Ahmed's son Vakeel Ahmed.
"I brought him here on my motorbike and offered him water while he lay on the charpoi," Sharma said. "He had blood stains on his shirt and complained of pain near his heart, apparently due to internal injuries."
Ghulam Ahmad died on the way to the hospital.

An elopement as a prelude to murder
The Ahmads have lived in Sohi village for generations. Sohi is some 20 kms from the town of Khurja in Uttar Pradesh's Bulandshahr district, separated from it by large tracts of mango orchards and fields of wheat, inhabited by a population of around 2,000 – mostly Hindu, except for four Muslim families, including the Ahmads.
The trouble started a week earlier, on April 27, when 26-year-old Yusuf, son of Ahmads' neighbour Raizuddin Khan, went missing. Later it emerged that he had eloped with a Hindu woman from the neighbouring Fazalpur village.
Yusuf had returned to India from Saudi Arabia on April 11, where his parents had sent him for work after taking loans, and set up a barber shop at the market in Pahasu town, around five kms from Sohi. On April 28, while some of the villagers, including the village chief and few other Hindu families in Sohi, were away looking for the missing couple, a group of men claiming to be from Hindu Yuva Vahini arrived in Sohi.
"It was around 10 of them who had come on motorbikes, with saffron stoles tied on their heads," said Vakeel Ahmad. "There was only one known face in the group – a fellow villager named Govinder. On that day, we heard him saying for the first time that he was a member of the Hindu Yuva Vahini and those accompanying him were members of the group too and had come from neighbouring villages. They threatened that they would remove all Muslim families from the village if the girl was not found in a day or two."
While villagers in Sohi had heard about Hindu Yuva Vahini, till that day they had been unaware of any fellow villager being a member of the group.
Meanwhile, the woman's relative in Fazalpur had registered a case of abduction against Yusuf. The villagers went from town to town, visiting known people and relatives in search of the missing couple, and learnt from them that the couple was on the move, travelling from one town to another, frequently changing their telephone numbers.
The men claiming to be from Hindu Yuva Vahini were, on their part, visiting Sohi on a daily basis all these days. "We cannot recall most of the faces," said Vakeel Ahmad, "as they would arrive at a time when most of us [the men] were away looking for Yusuf and the girl and the women stayed indoors."

The number of men in the group varied from day to day, Vakeel Ahmad said. "At times they came in a small group of five to six men and at times it was 30-35 of them. They used to threaten the women family members and leave," Vakeel Ahmad said. The group had visited the village on Tuesday, May 2, morning too, Vakeel Ahmad said, which is when they attacked Ghulam Ahmad as they spotted him outside the mango orchard on their way back.
Ghulam Ahmad is survived by his wife, a daughter who is married, and four sons – Yaseem, Vakeel, Shakeel and Salman. While Vakeel Ahmad, who is also the official complainant in the case, is a carpenter, the others work as farm labourers.

Links with Hindu Yuva Vahini?
The police have registered a case of rioting and murder in connection with the incident and named one person, Govinder, in the First Information Report. The other suspects were listed as 5-6 unidentified members of the Hindu Yuva Vahini. Till Wednesday, May 3, night, the police had arrested three persons – identified as Pulkit Sharma (18), Lalit Sharma (20) and Hani Raghav (20). While Govinder is absconding and most villagers of Sohi claim that they have never heard the names of the three arrested ones, the police are yet to disclose further details about the accused men, including which villages they belong to.
In the complaint attached with the FIR, the assailants are said to have asked Ahmad to get the missing girl immediately and when he said that the villagers would need time, they took him away.
While the Bulandshahr district head of Hindu Yuva Vahini has denied the group's involvement in the incident, Neetu Sharma, the mother of one of the arrested men, Lalit Sharma, told reporters outside the Pahasu police station, that her son was associated with the organisation but denied his role in the incident. The police have not yet officially stated whether the arrested persons are members of the Hindu Yuva Vahini.
As the police look out for others involved in the incident and have detained a few men for questioning, over 100 police personnel from Pahasu and at least three other police stations now guard Sohi village. Groups of police personnel, entrusted with ensuring law and order, could be seen not only in every corner of the village but also the entire stretch connecting Pahasu to Sohi.
"After all it is a sensitive issue," said a sub-inspector deployed there, as he questioned a few media personnel about what they were noting down about the incident.
Post Script: On Thursday morning, senior police officials said that the couple has been found and shall be produced at a court in Bulandshahr after medical examination. The police, however, did not disclose the location where the couple was finally tracked down.
This article was first published on Scroll.in