Mumbai: India is perceived as having the worst record for sexual violence, harassment from cultural and traditional practices and human trafficking, meaning it is now considered the least safe country in the world for women.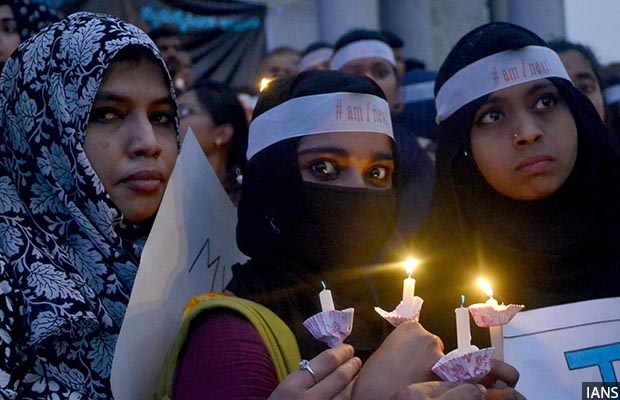 These are the findings of a global perception poll carried out by Thomson Reuters Foundation, a charity, which surveyed 558 experts on women's issues in order to assess nations on overall safety for women.

A failure to improve conditions has led to India becoming the most dangerous country for women; it was fourth in 2011, the last time the poll was conducted.

India is ahead of war-torn Afghanistan (2nd), Syria (3rd) as well as Somalia, a country that ranks significantly lower on human development indices, on overall perception of threats to women's safety.

India is the only country to feature in the top five rankings for each of the six categories looked at by the poll, never registering lower than the fourth place.

"When only 10% of women in India own land compared to 20% globally, femicide rates are the highest in the world, there are 37 million more men than women in the Indian population, and 27% girls are married before the age of 18 – also the highest rate in the world- you begin to understand the reality in India," Monique Villa, chief executive officer, Thomson Reuters Foundation, told IndiaSpend.

"India is still fighting the deep-rooted patriarchal mindset, which sees women as inferior in the world's biggest democracy," Villa added.

Most Dangerous Countries For Women, 2018 & 2011
Rank
2018
2011
1
India
Afghanistan
2
Afghanistan
Democratic Republic of Congo
3
Syria
Pakistan
4
Somalia
India
5
Saudi Arabia
Somalia
Source: 2018 Poll, Thomson Reuters Foundation and 2011 Poll, Thomson Reuters Foundation

Cases of sexual violence against women and minors in India made international headlines in 2018 with the high-profile case of eight-year-old Asifa in Jammu and Kashmir's Kathua district, and the gang rape of anti-trafficking activists in Jharkhand.

The government has responded with harsher penalties for rapists and death penalty for child rapists but this may, in fact, deter reporting of rapes, IndiaSpend reported on May 2018.

A deteriorating situation

"India tops the list with levels of violence against women still running high, more than five years after the rape and murder of a student on a bus in Delhi sparked national outrage and government pledges to tackle the issue," The Thomson Reuters Foundation report, released on June 26, 2018, said.

When the poll was conducted in 2011, India was ranked fourth overall, better only than Afghanistan, Congo and Pakistan. Its ranking was primarily attributed to high instances of female foeticide and infanticide, and human trafficking.

Seven years later, the 2018 poll shows India has been ranked as the most dangerous country for women on three significant issues:

Sexual violence: including domestic rape, lack of access to justice in rape cases, sexual harassment and coercion into sex as a form of corruption;
Cultural & religious practices: including female genital mutilation, child and forced marriage, physical abuse and female infanticide/foeticide; and
Human trafficking: including domestic servitude, forced labour and forced marriage
Countries That Performed The Worst, By Category
Rank
Health
Discrimination
Cultural Traditions
Sexual Violence
Non-Sexual Violence
Human Trafficking
1
Afghanistan
Afghanistan
India
India
Afghanistan
India
2
Syria
Saudi
Afghanistan
Democratic Republic of the Congo
Syria
Libya
3
Somalia
India
Somalia
USA
India
Myanmar
4
India
Pakistan
Pakistan
Syria*
Yemen
Nigeria
5
Yemen*
Somalia
Saudi Arabia
Congo
Pakistan
Russia*
Source: Thomson Reuters Foundation
Note: *Yemen had the fourth worst performance along with India on health, Syria had the third worst performance along with USA on combating sexual violence, and Russia had the fourth worst performance along with Nigeria on combating human trafficking.

As many as 39 crimes against women were reported every hour in 2016, up from 21 in 2007, IndiaSpend reported on December 12, 2017.

The government has failed to address laws discriminating against women, including criminalising marital rape and outlawing khap panchayats that impinge on the right to choose whom one wants to marry, IndiaSpend reported on January 15, 2018.

"The three Es: educating boys on gender equality, empowering girls both economically and socially, and enforcing the laws that exist and are not implemented," Villa said when asked about measures needed to improve women's safety.

(Sanghera, a graduate of King's College London, is an intern with IndiaSpend.)
Courtesy: India Spend