The lynching of an engineer working for Google last week in Bidar, Karnataka, similar to the lynching of a man called Qasim from Hapur, Uttar Pradesh last month has certainly raised a question, yet again, on the lawmakers and the law agencies if there are any steps to prevent ongoing lynching accidents—now an organized crime—throughout the country.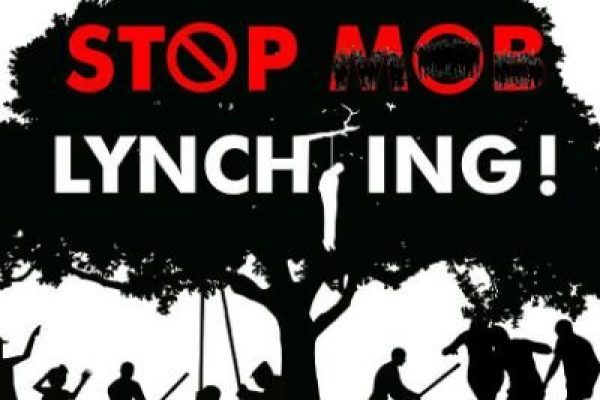 Nearly a year ago, the draft of a proposed law MASUKA-Manav Suraksha Kanoon-came into light when several lawyers, civil rights activists, and politicians came together to demand a unified and a separate law which could bring justice to the lynching victims and also could help in preventing such crimes in future.
A peculiar feature of MASUKA was that it was supposed to be a specialized law—like POSCO and SC/ ST Act—the draft of which was made public on July 7 last year. Opinions and change suggestions were asked from the common public in order to make the law more inclusive.
But even after a year since MASUKA came into existence, the draft is still struggling through its way to becoming a law, and worse, no one is now talking or campaigning about it anymore. In fact, just today, a writ petition filed by the same parties who were campaigning for MASUKA was heard in the Supreme Court, where a bench comprising of Chief Justice of India Dipak Misra, Justice A.M. Khanwilkar and Justice D.Y. Chandrachud asserted that it is the State's duty to ensure efficient functioning of the law and order situation. However, even the name MASUKA was missing in the entire judgement.
There are many reasons why MASUKA slipped into oblivion. Many of the campaigners have either moved away from the cause completely or have started refraining from commenting on the issue completely. The Facebook page National Campaign Against Mob Lynching, which was created to gather public support to stop mob lynching and to amplify the campaign for MASUKA did not become popular with only 14,500 likes. Also, the page has not been updated after November 22, 2017.
The digital campaign to stop mob lynching incidents and to bring MASUKA as a concrete law also failed miserably. The website established for the same "stopmoblynching.com" is now closed, and the domain's registration lapsed on June 10, 2018. At the time of writing this story, the web address denoted "It's your lucky day! This domain is available now", and anyone could buy the domain in just Rs 753.42, intending towards the seriousness of the intention of the campaign.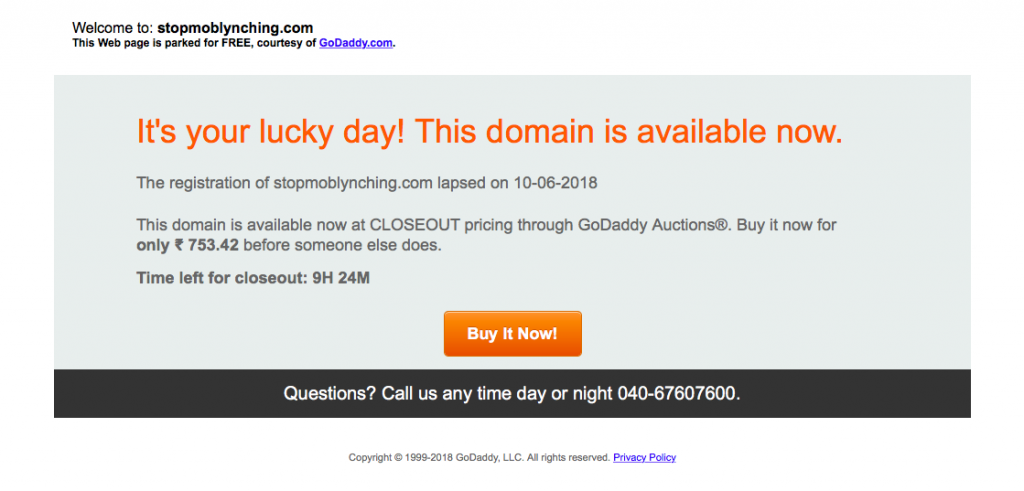 screenshot of the website for MASUKA and stop mob lynching campaign
Civil rights activist and once a Congress leader Shehzad Poonawalla has been a leading figure in the MASUKA campaign. The idle Facebook page to stop mob lynching has featured several videos of Poonawalla, who is a prime figure on the evening news channel debates. However, Poonawalla changed his tone in December 2017, coming hard on the "dynasty politics" being exercised by the Indian National Congress. Poonawalla's stand on the family politics of the Congress—which came at the time when Rahul Gandhi took over as the National President of Congress party—coincided with him moving away from the MASUKA campaign. As Poonawalla came hard on Congress politics, his elder brother Tehseen Poonawalla, who has also been actively involved in MASUKA campaign, broke all relations with him. And for Shehzad Poonawalla, this "souring of relationships between the brothers" has led him to pull out from MASUKA campaign.
When asked about the roadblock in the MASUKA movement, Shehzad Poonawalla told TwoCircles.net, "The movement was Tehseen's brainchild and since the souring of our relations, he has not involved me. So I am unable to give you any further information in this regard specifically."
What Shehzad Poonawalla further told us gives the idea that personal, as well as political reasons, are behind a law draft which could prevent lynching in the country. "I am no longer part of the movement as Tehseen was behind it and he broke off all relations and may not want me involved as he has made it clear," he further said. He also lashed out at the Congress party allegedly blacking him out from appearing on various news channels, thereby denying him a chance to talk more about the project. He said, "If Congress doesn't get me boycotted by blackmailing some channels where such topics are discussed, I will be happy to go and explain the need for such a law or for appropriate changes in current laws."
However, Tehseen Poonawalla, a political activist, is still associated with the MASUKA and accepts that there have been several roadblocks which have come in the way. Tehseen told TwoCircles.net, "There are indeed several personal as well as political reasons due to which the movement suffered a major setback. Sometimes people leave behind a campaign when they see it not giving out the desired result. But I think this is the time when we can stand again for the desired campaign."
"We gave a copy of the law draft to Ravishankar Prasad, the law minister, a few months back and he forwarded it the home minister Rajnath Singh. But I don't think the current central government is ready to come up with the MASUKA as a law," Tehseen Poonawalla further said.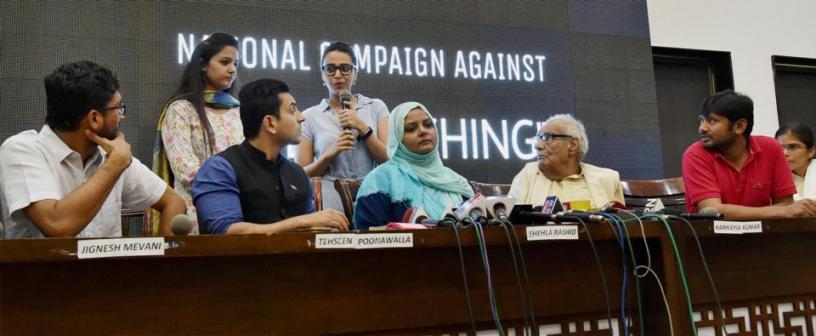 File image from the campaign launch for MASUKA and against mob lynching.
According to Tehseen, the government is mulling to introduce MASUKA as Private Member Bill in the parliament, but there are very fewer hopes that a Private Member Bill could turn into a law.
On July 19 last year, an all-party meet was organised keeping MASUKA on the table in which Shashi Tharoor (INC), Prakash Ambedkar (Bharatiya Republican Party), Pawan Verma (JD (U)), Manoj Jha (RJD), Digvijay Singh (INC), Salman Khurshid (INC), MB Rajesh (CPI-M), Sanjay Singh (AAP), TKS Elangovan (DMK), Devashish Jarariya (BSP) and Pankhuri Pathak (SP) took part. However, none of the aforesaid politicians is talking about it anymore.
When the campaign to enact MASUKA started, several activists and scholars came in who actually came together during 'Not In My Name' protests which were held countrywide where people, mostly Hindus, asserted that the lynchings could not be linked to their religious and social identities. Shehla Rashid, the former vice-president in students union of Jawaharlal Nehru University, was one of them. When we tried to reach her for the story several times, she did not comply to the request.
Another chapter in the MASUKA campaign was an online petition at change.org which was addressed to Narendra Modi to enact MASUKA. Started by Bollywood actress Swara Bhaskar, the petition was signed by several Bollywood celebrities, however, it failed to reach its target 50 thousand signatures. We contacted Swara Bhaskar several times over this story. She did not reply. However, we have sent her questions about the petition and MASUKA in general to her WhatsApp, and the story will be updated if we receive her response on this.
The lawyers who drafted the MASUKA have also seemed to be moved away from it, but the reason is different. Sanjay Hegde, the Senior lawyer at Supreme Court, assisted by Advocate Anas Tanwir submitted few guidelines for recommendations through a writ petition in Supreme Court containing preventive, remedial and punitive guidelines in a case pertaining to lynching by cow vigilantes. When contacted for comment, Anas Tanwir said that he could not comment on MASUKA as they have already submitted guidelines in the Supreme Court. The guidelines submitted before the Supreme Court are intended to potentially address the issues discussed under MASUKA.
Reserving its decision on the aforesaid petition on July 3 this year, Chief Justice of India Dipak Misra said, "The concept of vigilantism is not about any particular incident or motive. It is about mob violence. Members of any concerned group cannot take the law into their hands. Even if there is no law, they are nobody."
He further said, "We intend to pass the judgment on the petitions, keeping the contempt alive. These kinds of instances cannot occur. It is the obligation of the states to prevent the same, hence, an elaborate judgment is needed."
On Tuesday, the Supreme Court in its response to the writ petition directed registration of FIR under Section 153A of the IPC (promoting enmity between different groups on grounds of religion, race, place of birth, residence, language, etc.) and other relevant provisions of law against people "who disseminate irresponsible and explosive messages and videos having content which is likely to incite mob violence and lynching of any kind." While the SC has issued a series of directives on the issue, it is important to note that these are not binding either on the Central government or the state governments.
But in the entire debate, the absence of MASUKA points out how the attempt to introduce a law fell flat on its face because the people who were promoting it fell into political arguments with each other. It also shows how celebrity activists latch on to every burning issue until their own goals are met and then discard those very issues once the 'debate' around it subsides.
Courtesy: Two Circles