Thiruvananthapuram, Pathanamthitta, Alappuzha and Ernakulam (Kerala): Grey dust had settled into the narrow alleyway leading to the home of 70-year-old retiree George Thomas and his wife Mariamma in Mallapuzhassery panchayat of Pathanamthitta district in southeastern Kerala. Other than this and the ruined boundary walls around the house, there was little evidence of the floods that devastated 12 of the state's 14 districts in August 2018.

Nearly 405,000 women volunteers of Kudumbashree helped clean around 200,000 homes and cleared more than 12,000 public roads and offices across 10 flood-affected districts of Kerala
"The water nearly reached the ceiling, and left behind nearly two feet of clayey mud and dirty water," Thomas told IndiaSpend. "But I had help." A team of eight to 10 women volunteers arrived at the couple's home after the flood waters receded and within 48 hours cleaned out the mud and filth so the couple could return home.
The volunteers belonged to Kudumbashree, Kerala's women-centric poverty eradication mission set up in 1998. Its 4.4 million women members are from poor families–their average monthly income in 2015-16 was Rs 3,064, according to a 2017 report. At Kudumbashree, women members run income-generating activities, including micro enterprises, horticulture, animal husbandry, handloom and handicrafts.
They were among the first to join the mission to help flood victims. In Pathanamthitta district, the mission has more than 28,000 women volunteers. Many of these poor Samaritans were themselves flood victims, their homes destroyed and their families in distress.
Nearly 405,000 women volunteers of Kudumbashree helped clean around 200,000 homes and cleared more than 12,000 public roads and offices across 10 flood-affected districts of Kerala, the mission's data showed. Around 40,000 flood victims with psychosocial problems were helped by its counsellors. The women also contributed Rs 9.7 crore–roughly 1% of the funds received by the Chief Minister's Distress Relief Fund (CMDRF)–according to the mission's reports.
IndiaSpend traversed four southern and south-central districts to explore how the people and government of Kerala are now rebuilding the state. We report our findings from Thiruvananthapuram, Pathanamthitta, Alappuzha and Ernakulam district in a three-part series.
In this, the first part, we report on Kudumbashree and its work. In the second part, we look at how Kerala State Electricity Board, which suffered a loss of nearly Rs 850 crore and damaged offices and substations, restored power in the state through Mission Reconnect. In the final part, we investigate how the state's health system and bureaucracy averted a post-flood health crisis.
Record rainfall and the deluge that followed in Kerala caused 493 deaths and a loss of Rs 25,050 crore, the Indian Express reported on September 28, 2018. All 14 districts of the state were on red alert for flooding on August 15, 2018.
'Those who have suffered understand the suffering of others'
The mission has a three-tier federated community structure: Neighbourhood groups with 10 to 20 women, area development societies, which include all the neighbourhood groups in a ward, and community development societies, which include all ward groups in a panchayat.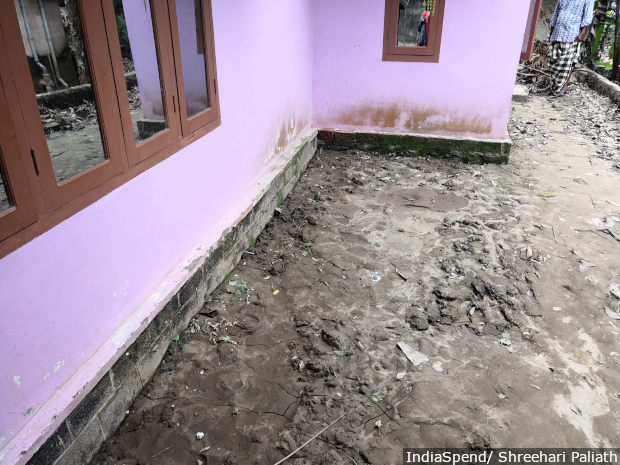 The clayey mud and dirt in the Thomases house in Pathanamthitta was removed by volunteers from Kudumbashree.
"The members are service and community-oriented," said S Harikishore, the executive director of Kudumbashree. "A person who has suffered can understand the suffering of others."
On the morning of August 15, 2018, Sujatha R, chairperson of the community development society in Mulakuzha panchayat of Chengannur taluk in Alappuzha district, received a frantic call for help from the vice-president of the panchayat. Chengannur, where 16 died, was among the worst-affected regions in Kerala.
Waters were rising fast in one of the low-lying wards and volunteers were needed to help those who had moved into a relief camp in a school, the panchayat official told her. "Instead of a couple, we sent 11 members within an hour despite the heavy downpour," said Sujatha.
The team found women, children, and a 40-day old baby at the camp, most of them drenched to the bone and asking for warm water to stave off the chill. "We managed to quickly heat some water and make kanji (rice porridge) by noon using whatever provisions were available," Sujatha recalled.
Some clothes that the team had collected earlier for those affected by floods in Kuttanad came in handy at the camp. But more areas in Chengannur were going under and more people were pouring into the relief camp.
Thanks to Kudumbashree's wide network, Sujatha could ensure that women who were not too badly affected by the floods contributed packets of poddichor (packed curry-rice) to feed those who had sought refuge at the camp. "I requested people to provide usable old clothes and cooked food and made my way through the waters to collect these," said Sujatha whose own home had been spared by the deluge.
By the fourth day, Sujatha had convinced people that food must be cooked in the camp where the numbers had swelled to 600. Kudumbashree staff would pitch in and help.
But the flood waters did not spare the home of community development society head Usha Sasi in Pandanad panchayat, around 10 km away. All 13 of the wards she administered were affected. "Water still seeps through the floor of my house, and the stench still hangs in the air," said Usha.
Wading through neck-deep water, they kept the old and infirm safe
The home of Shippi Sebastian, who headed the Chendamangalam panchayat's community development society, nearly 130 km north of Pandanad, was among the first to be flooded. Her house is in Gothuruth, just 50 metres from the backwaters.
"My son and I managed to put the TV and refrigerator on top of a cot but the water still damaged it," she said. It took five days for the water to recede. "Although many of us were victims of the flood, Kudumbashree members like Rukhiya itah (as the elder sister is addressed in Muslim families) provided great service."
A couple of kilometers from the Kudumbashree office, 57-year-old Rukhiya Siddique gave Sebastian a hug and smile as she adjusted her headscarf. Her spacious double-storied home, laid with marble flooring, sparkled but the sofa cushions and mattresses are all stacked up in the living room. "I'm sorry but the flood has completely damaged the furniture and we're still cleaning up. I wish I could offer you a proper seat," she said as she pulled out a metal chair.
Siddique had volunteered at the government higher secondary school where nearly 250 people were camped on August 15, 2018. As the flood waters rose over 10 feet, she and a few others had to move everyone to higher floors.
"It was painful to see the disabled, especially the elderly, in such discomfort," she said. "We made the best use of the available material to cook. Luckily I had requested some people around in the area to store water from the well."
Over the next five days, Siddique and others worked through the day, wearing the same set of clothes, often drenched, wading through neck-deep water. They were among the last to be evacuated from the school.
Festive season of high sales washed out
In Ernakulam, nearly 95% of community development societies in 96 panchayats of the district were flooded, according to an interim report accessed by IndiaSpend at the district mission office. But members in the unaffected regions of the district, including Ernakulam city, chipped in: In the four days till September 27, 2018, they packed and despatched 27,500 vegetable kits and 8,500 of 5-kg rice kits.
The community development society in Mallapuzhassery even managed to provide more than 1,000 packets of meals with payasam (pudding) on Onam. "We are glad that we managed that at a time of such distress," said Unnikrishnan, district programme manager, Pathanamthitta.
"We distributed 38,000 food packets in the affected regions of the district," said Sabir Hussain, district mission coordinator in Pathanamthitta.
Onam is normally an important period for Kudumbashree when there is a huge demand for its products such as handicrafts, organic food and soaps. This year's rain crisis came as a huge blow to the collective's finances. "Last year, we had sales of nearly Rs 30 crore. We now need to restructure our plan and prioritise livelihoods for members," said Harikishore.
After the deluge, the cleanup
In Pathanamthitta, Ernakulam, and Alappuzha districts, 185,000 volunteers–46% of volunteers–cleaned over 75,000 homes and 7,500 public roads. The collective used whatever resources it could find in this task. The heavy mud that seeped into homes was removed by the male relatives of Kudumbashree members or other male volunteers; the women did the scrubbing and cleaning.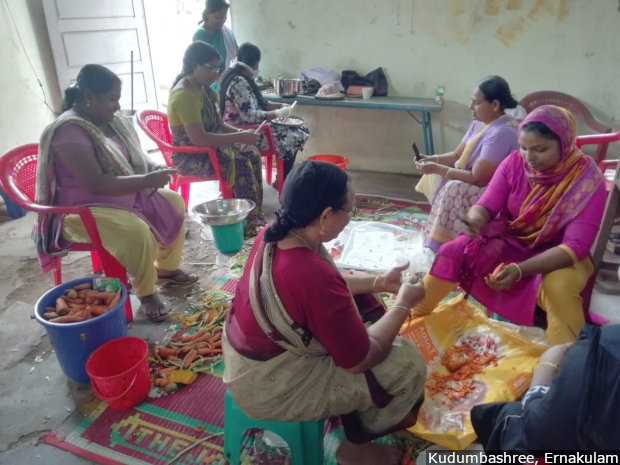 In addition to the cleaning, Kudumbashree members also cooked and packed food for victims of the flood in relief camps.
In Pathanamthitta, 28,000 volunteers from Kudumbashree cleaned nearly 12,000 homes and public roads. The priority was to clean public roads and homes of the poor and the elderly who were living alone, said Hussain.
It was hard work that left many volunteers exhausted and ill, unable to return the next day. "We had to arrange another group to clean the next day," said Sheeja of Mallapuzhassery. "The stench of the water was nauseating and some of us developed allergies." While cleaning a school in Chendamangalam, volunteers had to deal with eight snakes that had crept in.
When small savings became a big help
Neighbourhood household groups of Kudumbashree gave money to the CMDRF from their thrift fund. These are small regular savings of these groups that are normally pooled and given out as internal loans to most deserving members. The amount is decided by the group on the basis of its income.
Five of the 14 districts transferred more than Rs 1 crore to the state mission which was transferred to the CMDRF. Kannur in north Kerala contributed the most–nearly Rs 1.28 crore.
But the distress caused by the devastation affected people as much as material loss. In three districts, community counsellors from Kudumbashree counselled more than one-third of the nearly 40,000 persons.
Rebuilding through counselling
During a routine house visit after the flood, Srija Mahesh, a community counsellor in Mallapuzhassery, found a woman there hostile and angry. When Mahesh sat her down and patiently convinced her to talk, she opened up.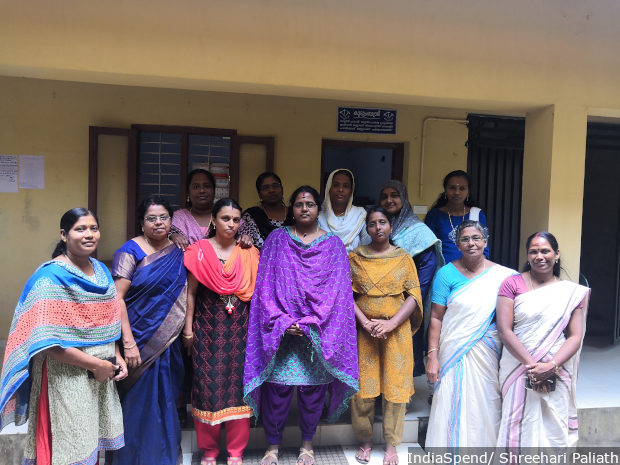 [Counselors in Alappuzha] Nearly 40,000 persons who are battling the psychosocial trauma of the flood have received counselling from Kudumbashree's community counselors.
"All the the money that she had saved to repay a loan slipped from her hand while she was trying to save her son's speaker which he had bought after a long wait," said Mahesh. "The shock of it and not knowing how she was going to repay the loan was unbearable for her."
Kudumbashree community counsellors normally provide counselling services to the parents of elderly, adolescent students, children, women who are survivors of violence. But the floods had brought a different set of problems altogether. Not just the elderly, even children, some of who had been separated from their families during rescue efforts, were traumatised, said Sreelatha I, a counsellor in Pandanad.
Since the floods abated, Kerala's health department has worked with the National Institute of Mental Health and Neurosciences (NIMHANS) to train 16,671 volunteers to provide psychosocial first aid to people afflicted with disaster-related stress, Scroll.in reported on September 30, 2018.
This is the first of a three-part series.
(Paliath is an analyst with IndiaSpend.)