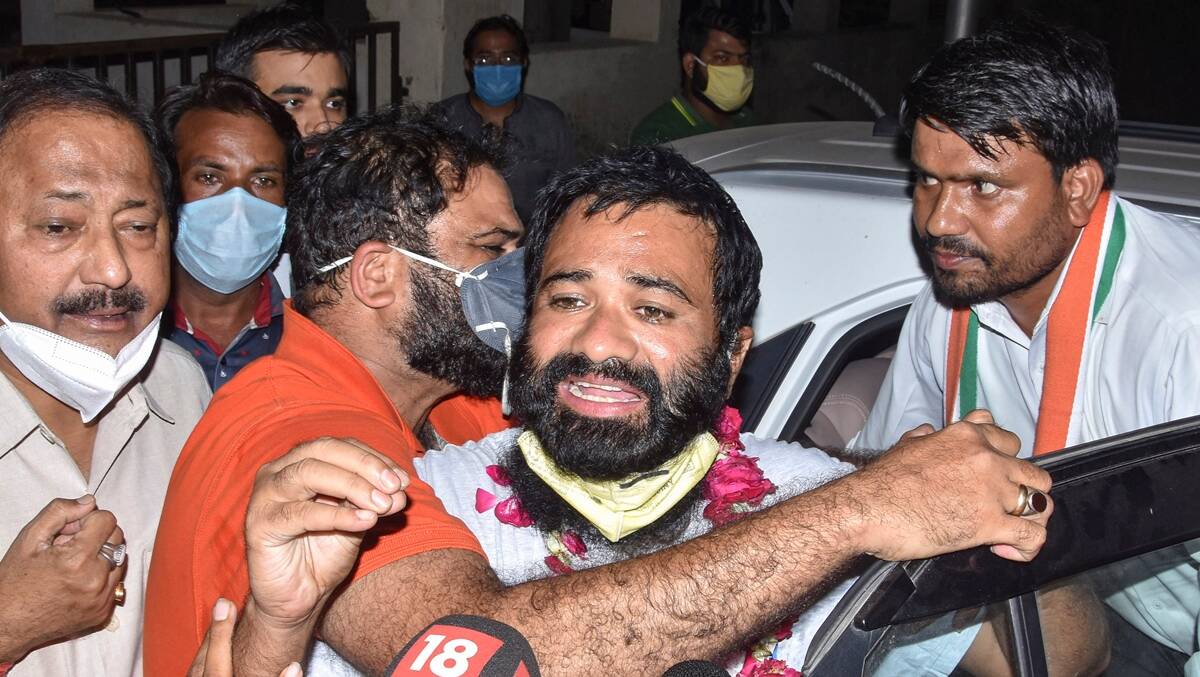 Dr. Kafeel Khan was released from detention around midnight on September 2, 2020, after seven months of detention as the Allahabad High Court set aside his detention order under the National Security Act (NSA). After being released, he feared the possibility of the Uttar Pradesh (UP) government charging him under another law to detain him again.
Here's a look at the history of the UP government repeatedly targeting Dr Khan. It is an unfortunate though common strategy used against human rights defenders and public figures in the past; the state government, when compelled to release a person after the court finds no substance in a particular case, simply invokes its unilateral and arbitrary power and files a second or multiple criminal cases, in succession.
Here we take a look at the laws that could possibly be misused to harass Dr Khan if the government wishes to keep him behind the bars.
The Gorakhpur case
In August 2017, Khan was charged for negligence, corruption and dereliction of duty as more than 60 children died in Gorakhpur's BRD Medical College due to oxygen shortage. A departmental inquiry had absolved him of all charges and after spending seven months in jail, he was granted bail by Allahabad High Court on April 25, 2018. The court observed that there was no material on record to establish medical negligence and neither was he involved in getting on board the supplier of medical oxygen to the hospital. In this case, it was the Supreme Court that ordered his subsistence allowance to be paid to him pending suspension and the inquiry against him to be completed with a specific time. (May 2019)
The anti-CAA speech
Khan delivered a speech at a protest against the Citizenship Amendment Act (CAA) at the Aligarh Muslim University (AMU) on December 12, 2019. An FIR was filed against him the following day but he was arrested only on January 29, 2020 in Mumbai. He was granted bail by the Allahabad High Court on February 10, 2020 and he was to be released on February 13, 2020. Just then, charges under the NSA were slapped against him. He continued to remain under detention, which was extended by the government time and again as is allowed, through executive diktat, under the questionable NSA law.
On September 1, 2020, Allahabad High Court granted his release while setting aside his detention order and observing that his speech was a call for unity and integrity and did not threaten peace and tranquility in the city of Aligarh.
Here are the laws and their various sections invoked against Dr, Khan. For Dr Khan, a doctor by profession, and a human rights defender by the nature of his work, is still under threat. The government enjoys unilateral, unchecked power to invoke certain laws against him if it desires to ensure his continued detention.
After his speech on December 12, an FIR was filed against him but he was only arrested on January 29, 2020. Sections invoked in the FIR:
Indian Penal Code:
Section 153A– Promoting enmity between different groups on ground of religion, race, place of birth, residence, language, etc., and doing acts prejudicial to maintenance of harmony.
The FIR blamed his speech for trying to "disrupt the harmony between the communities", and said it was "also likely to create law and order situation".
Sections 153B – Imputations, assertions prejudicial to national integration.
Section 505(2) – Statements creating or promoting enmity, hatred or ill will between classes.-Whoever makes, publishes or circulates any statement or report containing rumour or alarming news with intent to create or promote, or which is likely to create or promote, on grounds of religion, race, place of birth, residence, language, caste or community or any other ground whatsoever, feelings of enmity, hatred or ill-will between different religious, racial, language or regional groups or castes or communities, shall be punished with imprisonment which may extend to three years, or with fine, or with both.
On February 10, 2020 bail was granted to Dr Khan by the Aligarh Chief Judicial Magistrate. He was not released and was charged under the draconian NSA.
His mother Nuzhat Perween who had challenged the invoking of NSA against him had to run from pillar to post to get the matter heard in the HC where it was delayed several times. Finally, it was the Supreme Court (August 2020) –a bench of Chief Justice SA Bobde and Justices AS Bopanna and V Ramasubramanian — hearing a plea filed by Khan's mother Nuzhat Perween seeking time-bound hearing by the High Court of her petition. Earlier, on March 18, the top court had asked Perween to move the High Court first. She again moved the Supreme Court after the hearing in the High Court was delayed. "We request the HC [High Court] to dispose of the matter peremptorily as early as possible, having regard to the fact that it involves the liberty of the applicant, within a period of fifteen days from the date the parties appear before it," the Supreme Court ruled
THE NATIONAL SECURITY ACT, 1980
Section 3(2) – The Central Government or the State Government may, if satisfied with respect to any person that with a view to preventing him from acting in any manner prejudicial to the security of the State or from acting in any manner prejudicial to the maintenance of Public order or from acting in any manner prejudicial to the maintenance of supplies and services essential to the community it is necessary so to do, make an order directing that such person be detained.
The district police and local intelligence unit stated that there was a "strong and complete likelihood" of Khan re-entering Aligarh and instigating students, "thereby posing a serious threat to the prevailing public order". Also a detention under NSA does not guarantee any of the rights that are guaranteed while under normal criminal acts like producing before the magistrate within 24 hrs of the arrest, immediate explaining the reason for arrest (can take up to 5 days or in extra ordinary circumstances 15 days). Also the arrested person is also not entitled to the aid of any lawyer in any matter connected with the proceedings before an NSA Advisory Board, which is constituted by the government for dealing with cases under the Act.
The law further says that the proceedings of the advisory board and its report shall be confidential, barring the part in which the board has given its opinion on whether there is sufficient cause for the detention. The NSA is supposed to be applied in cases where there is an imminent threat to public safety and security. Though the Supreme Court held in the case of AK Roy v Union of India, "While construing laws of preventive detention like the National Security Act, care must be taken to restrict their application to as few situations as possible specially when terms like public order, threat to security etc are not defined in the act because this can lead to grave consequences of violation to personal liberty, if construed liberally," authoritarian regimes continue to invoke these laws with malice.
Though these above-mentioned laws are the ones that have been so far invoked against Dr Khan, in Uttar Pradesh and Delhi, an increasing number of Anti CAA protestors have been booked under Sections of Unlawful Activities (Prevention) Act (UAPA) and The U.P. Control of Goondas Act, 1970. Also considering that the state government has been alleging that the AMU protest was a consequence of Khan's speech it is possible that charges under these laws may be invoked in future against him.
THE UNLAWFUL ACTIVITIES (PREVENTION) AMENDMENT ACT, 2019
Section 13– Punishment for unlawful activities. (1) Whoever- (a) takes part in or commits, or (b) advocates abets, advises or incites the commission of, any unlawful activity, shall be punishable with imprisonment for a term which may extend to seven years, and shall also be liable to fine. (2) Whoever, in any way, assists any unlawful activity of any association, declared unlawful under section 3, after the notification by which it has been so declared has become effective under sub-section (3) of that section, shall be punishable with imprisonment for a term which may extend to five years, or with fine, or with both.
Section 16 (1)(b)- Punishment for terrorist act. —
(1) Whoever commits a terrorist act shall,—
(b) in any other case(when death of other person is not caused), be punishable with imprisonment for a term which shall not be less than five years but which may extend to imprisonment for life, and shall also be liable to fine.
Section 18– Punishment for conspiracy, etc.—Whoever conspires or attempts to commit, or advocates, abets, advises or incites or knowingly facilitates the commission of, a terrorist act or any act preparatory to the commission of a terrorist act, shall be punishable with imprisonment for a term which shall not be less than five years but which may extend to imprisonment for life, and shall also be liable to fine
Note – Section 16 and 18 are extreme and found their way into a regular criminal law after the repeal of POTA, 2003 through amendments made in 2008 and 2011. Since the expansion of the definition of word "terrorism" through the 2019 amendment in the UAPA, this law has been increasingly misused to curb protests, especially those against the CAA 2019 and NPR.
The U.P. Control of Goondas Act, 1970:
The ground, six students already been booked under this act. Is there any possibility of the same happening in Dr. Khan's case.
Section 2– Goonda' means a person who-
either by himself or as a member or leader of a gang, habitually commits or attempts to commit, or abets the commission of an offence punishable under Section 153 or Section 153-B or Section 294 of the Indian Penal Code or Chapter XV, Chapter XVI, Chapter XVII or Chapter XXII of the said Code.
(iv) is generally reputed to be a person who is desperate and dangerous to the community;
Section 3- 3. Externment, etc. of Goondas. – Where it appears to the District Magistrate. –
(a) that any person is a Goonda; and
(b) (i) that his movements or acts in the district or any part hereof are causing, or are calculated to cause alarm, danger or harm to persons or property; or
[(ii) that there are reasonable grounds for believing that he is engaged or about to engage, in the district or any part thereof, in the commission of an offence referred to in subclauses (i) to (iii) of clause (b) of Section 2, or in the abetment of any such offence; and]
the District Magistrate shall by notice in writing inform him of the general nature of the material allegations against him in respect of clauses (a), (b) and (c) and give him a reasonable opportunity of tendering an explanation regarding them.
Dr Khan's release was a victory for the medical professional and human rights defenders. He has expressed the desire to help flood victims of Assam and Gujarat. The question remains whether the state government will allow him to stay free or continue –using laws that are arbitrary and without checks or balances – to make attempts to curtail his fundamental freedoms.
(The story was a team effort of Sabrangindia in which intern Ruchira Joshi also contributed)
Related:
How NSA is being used against Human Rights Defenders
Dr Kafeel Khan exonerated, now fix media accountability