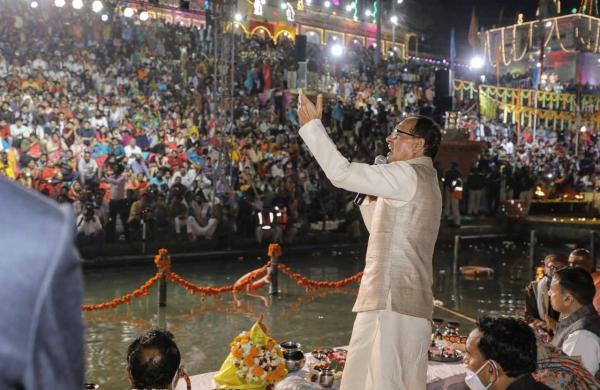 Image: Twitter/@ChouhanShivraj
When in doubt on what to offer as a 'popular' yet political talking point, just rename a city. That at least seems to be a popular formula that has been adopted in the recent past across India. The latest to have a city renamed, is Madhya Pradesh. Hoshangabad city in the state will soon be renamed Narmadapuram. The announcement came from none other than Madhya Pradesh Chief Minister Shivraj Singh Chouhan, who according to a NDTV report, has stated that a proposal for the renaming will soon be sent to the Centre.
According to the news report, the CM made the announcement during the "Narmada Jayanti" celebrations on the banks of the river in Hoshangabad on Friday. The CM, in his speech, asked if Hoshangabad should be renamed. He asked the people, "What should be the new name?" According to the news report, the people replied, "Narmadapuram!" The CM then announced that the state government will send a proposal to the Centre to rename Hoshangabad as Narmadapuram. It is not evident how a mere name change will help in developing infrastructure in the city. It is however, evident that changing its "Muslim" derived name, will help appease the right-wing voter.
नर्मदा मैया की कृपा सर्वदा हम सब पर ऐसे ही बनी रहे।

मां रेवा के चरणों में करबद्ध प्रार्थना करते हुए आज मैं घोषणा करता हूं कि होशंगाबाद को अब नर्मदापुरम् के नाम से जाना जायेगा। #NarmadaJayanti pic.twitter.com/lTBjMo2AU3

— Shivraj Singh Chouhan (@ChouhanShivraj) February 19, 2021
According to the state government's own website (https://hoshangabad.nic.in/en/history/), Hoshangabad derived its name from Sultan Hoshang Shah Ghori; the second king to Malwa of the Ghori line who conquered it." The website added that "Narmadapur was its erstwhile name" however with a caveat that "there is no proper account of ancient history of Hoshangabad district. Its name appeared first in the historical records during the reign of Sultan Hoshangshah Ghori in 1405 A.D who built a small fort at Hoshangabad along with two others at Handia and Joga. In his expeditions against the Gond king of Kherla near Betul, he always took the route through Harda and Hoshangabad." So if it were to revert to its "older" name, it would still have to be called Narmadapur, however calling it "Narmadapuram" seems to be a Sanskritised phonetic touch, perhaps?
Meanwhile, BJP workers, led by Pro-tem Assembly Speaker Rameshwar Sharma, expressed happiness over this renaming announcement and "burst firecrackers" in celebration on Saturday morning, stated news reports. According to the NDTV, it was Rameshwar Sharma who had earlier made the demand to change the name of Hoshangabad, he stated, "This is a historic moment. Narmada is the lifeline of Madhya Pradesh. Hoshangabad was so far named after an attacker Hoshang Shah, but will be known after the lifeline Maa Narmada, which is a matter of happiness. I thank the Chief Minister for making this announcement by respecting the public sentiments."
However, the Opposition was quick to catch on and Congress spokesman Bhupendra Gupta said this was the BJP's "ploy to divert the attention of people from important issues like inflation and rising prices of fuel." He accused the BJP of only changing "names related to the Mughals, but not of those linked to the British rulers, asking "Why the name of Minto Hall (old Vidhan Sabha building) has not been changed? This is just to divert the attention. Instead, it should focus on development and give relief to people."
As reported in SabrangIndia in july 2020, it was under the Shiv Sena, that Bombay was renamed Mumbai in 1996. Mumbai was the original name of the city some 1,000 years ago, before it became a trading hub. The article highlighted how " in recent years, this renaming trend has moved past British rule. The ruling Bharatiya Janta Party (BJP), has renamed sites and cities built by the Mughals, a Muslim dynasty that ruled India between the 16th and 18th centuries"
It cited how Delhi's Aurangzeb Road, was renamed Dr APJ Abdul Kalam Marg, "after a Muslim President of India, since Aurangzeb is considered anti-Hindu, while Dr Kalam is considered what some on the right call a "good Muslim"." Allahabad was renamed Prayagraj, its original Sanskrit name, five-hundred years later. A local BJP politician had then remarked that the renaming of Allahabad was a way to "rectify the mistake made by Akbar," arguing that the "Mughal ruler eroded the city's ancient traditions, while ignoring the contributions Akbar made to the country."
Renaming a 'bad' into a 'pur", "puram", "prastha", "nagar" etc is often a quick fix with the "justification" that "Mughals were invaders who destroyed the glory of Hindu civilisation, while disregarding the centuries-long influence the dynasty had in shaping Indian culture." Many other renaming are to appeal to the local sentiments attached to traditional pronunciations and spellings, and therefore a way to please the local population, also known as the voter. Thus like Bombay was renamed Mumbai, Pondicherry was renamed Puducherry, Gurgaon was renamed Gurugram, Cochin was renamed Kochi, Madras was renamed Chennai, Bangalore was renamed Bengaluru, Calcutta was renamed Kolkata, Trivandrum was renamed Thiruvananthapuram, Benaras was renamed Varanasi, Baroda was renamed Vadodara etc.
Meanwhile, just a day after MP's CM Shivraj Singh Chouhan made the Hoshangabad renaming announcement, veteran Congress leader Digvijaya Singh had questioned the move asking whether renaming cities will end unemployment, curb inflation and make the country prosper? However, the comment upset the BJP leader Rameshwar Sharma who in return said, a name was a symbol of "culture-nationalism-religion,"and that Digvijaya Singh should change his name to 'Yunis'.
"When names are changed, it reflects power and civilization. Who was Hoshang Shah? Will you teach the history of a robber or of Narmada? … Even you (Digvijaya Singh) were enacting a drama of Narmada Parikrama. And now you have a problem with Narmada's name. Change your name to Yunis, rename 'Pappu Bhaiya' to Ismail. It'll tell you what happens when you rename".
नाम आपके संस्कार- राष्ट्रीयता-धर्म की पहचान है ?@aajtak @anjanaomkashyap @PMuralidharRao @SuhasBhagatBJP @HitanandSharma @AmanChopra_ @LokendraParasar https://t.co/CyzE0dCxNX

— Rameshwar Sharma (@rameshwar4111) February 20, 2021
Related:
Why does Karachi Bakery always give the right wing goons heartburn?
Hindutva goons continue threatening Muslim fire-cracker shop owners in MP!
Indian Names: Pride and Prejudice