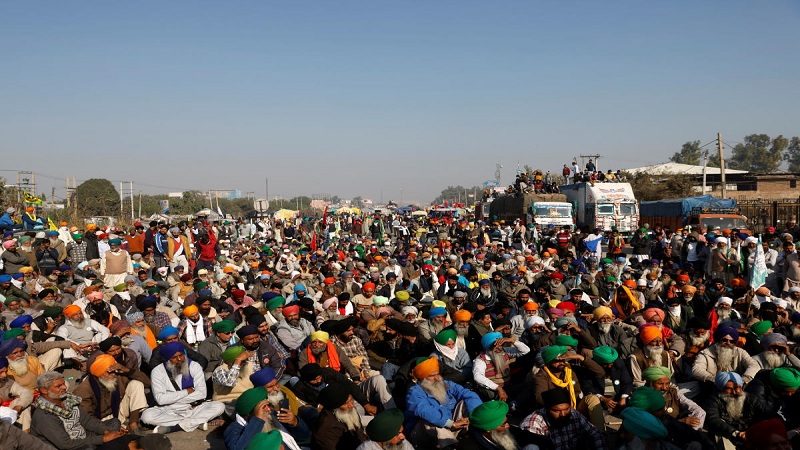 Image Courtesy:deccanherald.com
Thousands of farmers assembled at GIC ground in Muzaffarnagar district of Uttar Pradesh on January 29, 2021 to decide the next move of the Bharatiya Kisan Union (BKU) in the struggle against the three farm laws forcibly passed by the central government.
According to Navbharat Times, farmers resolved to continue their fight against the Centre's laws under the leadership of the BKU. However, no major decision came to light during the mahapanchayat called by BKU leader Naresh Tikait.
The meeting was called after videos of other BKU leader Rakesh Tikait breaking down in protest of the farmers' movement began circulating on social media. Emergency panchayats were called in preparation of the Friday event. Accordingly, local police deployed heavy security around the Bijnor area in preparation of any incident that may take place.
Rashtriya Lok Dal (RLD) Chief Ajit Singh and his son, party leader Jayant Chaudhary participated in the mahapanchayat and announced support for the BKU, said The Tribune. The duo also called upon people to support the farmers movement. While Naresh Tikait asked the assembled group to return to their homes instead of towards Delhi, he also asked farmers to "be careful of the BJP."
Earlier, the BKU was protesting against the three laws at Ghazipur for over two months. However, Naresh Tikait called for a huge meeting after his brother said he would "hang from the stage but I will not leave the stage."
His emotional speech and decision to wait for drinking water to be brought to him has inspired many people to support the BKU and move towards Ghazipur to oppose the laws – the Farmers (Empowerment and Protection) Agreement on Price Assurance & Farm Services Act, the Farmer's Produce Trade and Commerce (Promotion and Facilitation) Act and the Essential Commodities (Amendment) Act.
Related:
The anti-CAA and the ongoing farmers' protests in India: Similar protests, different outcomes
Armed forces retract as protests soar at Ghazipur; Delhi police mulls UAPA
Kisan Ganatantra Parade: A picture of peace
Farmers protest sites remain on high alert on Delhi borders
All eyes on Ghazipur farmers protest site
Opposition parties to boycott President's address to Parliament on Friday