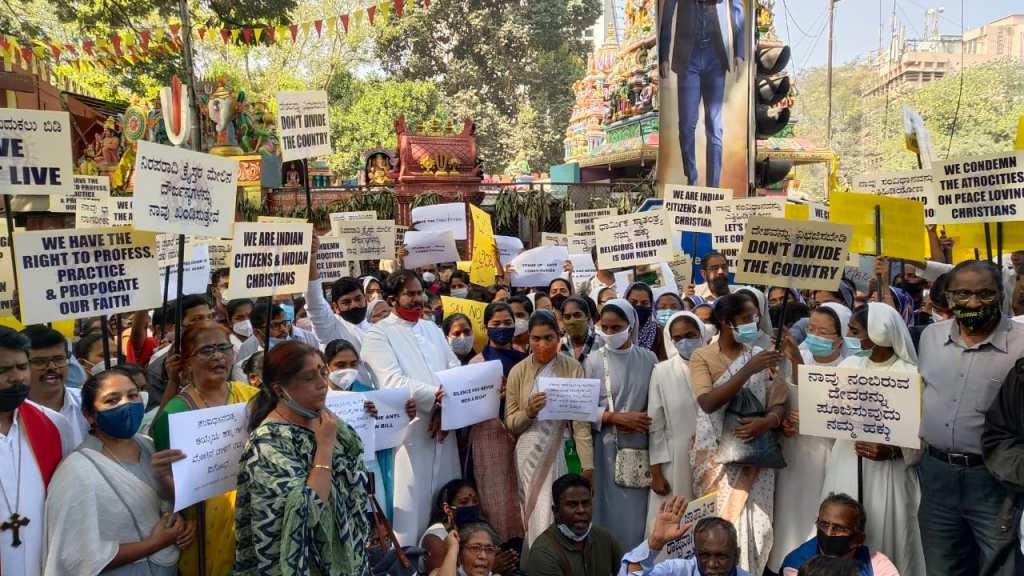 Hundreds of citizens, joined activists from around 40 socio-political organisations and marched to protest against the Karnataka Right to Freedom of Religion Bill, 2021, commonly known as the anti-conversion Bill. The march commenced from Mysore Bank Circle and ended at Freedom Park, to make the public mood known to the
Karnataka government which is all set to pass an anti-conversion law in line with other Bharatiya Janata Party (BJP) ruled states which already have such a law in place. The Karnataka Protection of Right to Freedom of Religion Bill, 2021 was tabled on December 21 by Karnataka home minister Araga Jnanendra, and soon after it was torn to pieces by Karnataka Congress president DK Shivakumar on the floor of the house! The bill was approved by the state Cabinet a day prior to its introduction in the State Assembly.
The protest rally on the streets of Bangalore began from Mysore Bank Circle and culminated at Freedom Park, demanding that the "Bill be withdrawn as the Government of Karnataka is trampling upon the constitutionally guaranteed rights to freedom of religion, privacy and dignity." Speaking at the protest, advocate and constitutional law expert Arvind Narrain said that the Supreme Court has recognised that individuals have the freedom to dress the way they want, eat what they want and practise the faith they want. The bill by seeking to target conversions interferes with both the human right to dignity and the freedom to practise the faith of their choice.
The organisers also shared a joint statement with the media quoting activists such as Gowramma of Janwadi Mahila Sanghatan who said "these are dark days in Karnataka and the bill is not just an attack on religion but an attack on all women. The bill presumes that women and individuals from Dalit and SC communities do not have the agency to decide the religion they want to belong to"
Archbishop of Bengaluru Peter Machado also urged the state to "reconsider the bill and withdraw it". He said, "Now that the contents of the Bill have been read by all, it has been found that it is not only affecting the Christians. It is affecting the larger society. It is a question of privacy, the question of marriage, the question of women, Dalits and Muslims." He added that according to the provisions of the Bill, "Any help or concession provided by any of our Christian institutions working in the fields of education, health, senior citizen care and orphanages, to any member not from the Christian community, can be construed as an inducement for conversion." He said the bill is harmful to not only Christians but also many others, and reminded all that many laws exist already to prevent forced conversions, "the Christian community has always served the country and its poor and forced conversions are a mortal sin for us," he added. Yousuf Kunhi, Jamaat-e-Islami, Karnataka chapter, addressed the Lingayat MLAs in Karnataka's assembly, telling them that" by supporting the bill, they would be going against Basavanna's teachings" he asked "supporters of the bill in the Assembly to resign because they won the elections on the basis of the constitution and promised development, progress and communal harmony" as "they cannot deliver on these promises, they have no right to continue in office."
The group quoted C.S. Dwarkanath, former chairperson of the State Backward Classes Commission, who asked why was the law being formulated without any discussions with experts and lawyers. According to Clifton D'Rozario from All India Lawyers Association for Justice "this is a fascist attack on minorities, women and the oppressed in our society" adding that the Chief Minister, BS Bommai while "attending an event organised by the Vishwa Hindu Parishad and Bajrang Dal in the middle of the assembly session," had called conversion "a big disease" and that "the government was tackling it through such laws but the VHP and Bajrang Dal should start a state-wide campaign about this."
"The bill is anti-Christian, anti-Muslim, anti-Buddhist," said Ruth Manorama of Women's Voice as she highlighted her own Dalit Christian identity and said that as an activist with 40 years of experience working with slum residents, Dalits and women and the capacity to mobilise lakhs of people, she had not converted even one individual.
"We reject this hate politics and want a Karnataka of Basavanna's dream!"
The protest against the bill was grounded in the understanding of the freedoms guaranteed by the Constitution, whose maker is none other than Babasaheb Ambedkar, stated the organisers. They said that this bill assumed "that there is some sinister motive behind a person converting" and it "legitimises this open assault on the right to freely practice religion under Article 25 of the Constitution". "This bill is being brought in by creating a myth of 'forced conversions' and 'forced mass conversion' when there are none. The census statistics actually shows that the proportion of Christian population in India and in Karnataka is on a steady decline. Despite this, the bill is being rammed through to legitimise hate crimes against minorities" they added.
The detailed statement may be read here
This Bill, if passed, the concerned citizens said, "will undermine our precious constitutional rights to faith, autonomy and choice, marriage as well as the underlying constitutional value of dignity. For these reasons we oppose the passing of the Bill and demand that it be withdrawn".
Organisations that participated in the protest included: All Karnataka United Christian Forum for Human Rights, All India Catholic University Federation (AICUF), All India Democratic Women's Association (AIDWA), All India Progressive Women's Association (AIPWA), All India Lawyers association for justice (AILAJ), All India People's Forum (AIPF), All India Students Association (AISA), Ashirvad Centre for Social Concern, Association for Protection of Civil Rights, Campaign Against Hate Speech, Bahutva Karnataka, Dalit Christian Liberation Movement, Dalit Minority Sena, Dalitha Samara Sene, DSS (Bheemvada), Ecumenical Council for Drought Action and Management, Forum for Democracy and Communal Amity Karnataka Chapter (FDCA -K), Forward Trust, Gamana Mahila Samuha, !ಾರ$ೕಯ ಜನಕ*ಾ ಸ,$ (Indian People's Theatre Association), Indian Citizens Forum, Indian Social Institute – Bangalore, Karnataka Christa Sanghatane, Karnataka Janashakti, Karnataka Muslim Muttahida Mahaz, Karnataka Rajya Raitha Sangha, Karnataka Vidyarthi Sanghatane, Karnataka Yuva Dhwani, Liberation Through Cultural Action, Movement for Justice, Naaveddu Nilladiddare Karnataka, NAPM –Karnataka, National Solidarity Forum, OIKOTREE Global Forum, Ondede, Orissa Development Action Forum, PUCL – Karnataka, Reachlaw, Samvidhanada Haadiyalli, Study Circle Group, Students Christian Movement India (SCMI), Swaraj Abhiyan, United Christian Forum India, Women's voice.
Related
Karnataka becomes fifth BJP-ruled state to introduce Anti-Conversion Bill
Will Karnataka soon enact a tough "anti-conversion law"?
CJP moves SC to include MP, HP in its 'Love Jihad' petition
"Love Jihad" laws curb individual and collective freedoms