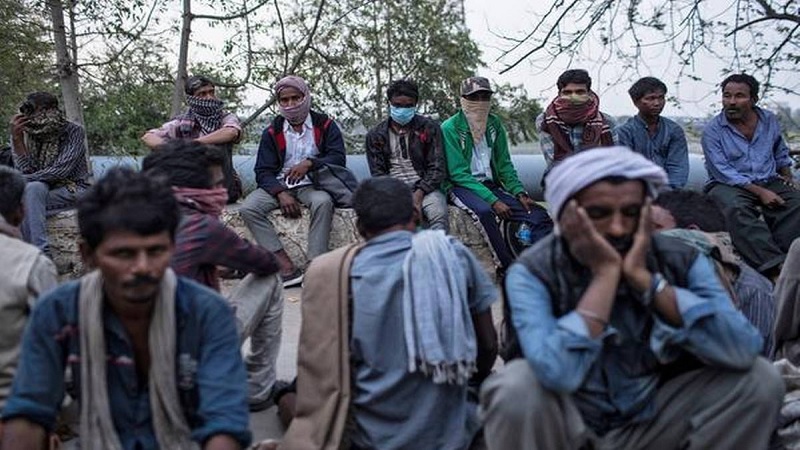 Image Courtesy: thehindu.com
To deal with the coronavirus outbreak, the Central government issued a 21-day nationwide lockdown starting 12 AM on the intervening night between March 24 and 25, 2020. The announcement for the nationwide lockdown came even as over 75 districts across different states had already announced lockdowns till March 31. However, due to some confusion about availability of essential services and lack of clarity about measures for migrant labourers, coupled with rumours being circulated on Whatsapp, led many people to start panicking.
The result was panic buying essentials by those who could afford it and a mass exodus of migrants who became jobless overnight and feared that they would be evicted from their homes if they failed to pay rent. However, with no transport, many of them had to journey on foot back to their villages where they were they were at least assured of sustenance and the comfort of being with their families.
Hundreds and thousands of these people who were walking back home were also allegedly assaulted by the police for breaking the strict lockdown. Some met with accidents and died.
Two days after the announcement of the lockdown, on March 27, the Ministry of Home Affairs (MHA) issued an advisory to all States and Union Territories asking them to take adequate steps to provide support including food and shelter to migrant agricultural labourers, industrial workers and other unorganized sector workers. The Centre also directed the states and UTs to make these vulnerable groups aware of the measures taken by the government for the provision of free food and other essentials through the Public Distribution System (PDS). It also asked that hotels, rented accommodations, hostels, etc. continue to remain working so that the students and women there could continue living in the existing facilities while exercising precautions. It also asked the police to punish all those who violated the lockdown, a decision that was enforced faithfully by the police.
However, the announcement of these measures appeared to come in too late. The media had reported that more than 25 migrant labourers, including five children had allegedly lost their lives on their journey back home.
The gravity of the situation was highlighted in a Twitter thread started by @_kanikas_, a postgraduate student at Emory University in Georgia, who collated the reports of these deaths as they kept coming in, thus putting a spotlight on the horror these people had to undergo as they marched back home.
Wednesday, March 25, The Hindu: Four people died in a forest fire in Theni district's Rasingapuram, a village in Bodnayakanur taluk. The four were a part of 10 estate workers who were returning from Pethotty in Kerala's Idukki district. They were walking through a dry canals when a forest fire engulfed them. A district forest official said, "This path was frequented around 15 years ago. After motorised transport came in, most of the workers took jeeps sent by the estate into Kerala, thus rendering the path unused. Ever since the borders between Tamil Nadu and Kerala have closed due to COVID-19, there has been a spike in the number of illegal paths used."
Saturday, March 28, The Indian Express: Eight persons, including an 18-month-old who were part of a group of migrant labourers going back home to Raichur in Karnataka, were killed in a road accident on the outskirts of Hyderabad late Friday night. 31 construction workers were travelling back in a truck when a loaded truck hit them from the rear. While the eight died on the spot, four men and two men sustained severe injuries and were shifted to Osmania General Hospital. The others were shifted to a function hall in Shamshabad.
Saturday, March 28, The Indian Express: Four migrants who were turned back from Bhillad on the Maharashtra-Gujarat border were killed after being run over by a truck at Virar on the Mumbai-Gujarat highway around 3 AM. The migrants who died worked at tea stalls and canteens in Mumbai and were on their way back to their hometown in Rajasthan. But after being stopped from crossing the river, they started walking back to Vasai where they worked and lived, early in the morning. This was when a truck rammed into them from behind. The four deceased were identified as Ramesh Bhatt (55), Nikhil Pandey (32), Naresh Kalusuva (18) and Lauram Bhagora (18), all from Baswada in Rajasthan, the report added.
Saturday, March 28, The Times of India: A 39-year-old man, Ranveer Singh, who worked as a delivery boy for a private restaurant, died in Agra after walking for about 200 kms while he was on his way home to Morena district of Madhya Pradesh. Singh's autopsy revealed that he died of a heart attack. Police officers investigating Singh's death said that the chest pain could have been triggered by the long and exhausting walk he undertook. Singh is survived by three children. His family is involved in farming and now do not know how they would survive without his earnings.
Saturday, March 28, The Indian Express: A 62-year-old, Gangaram Yelenge, man died in Surat, Gujarat, after he walked home from a hospital because he couldn't find any means of transport. His son, Naresh Yelenge, who was with him on his way back home told the publication, "If somebody would have helped us or given us lift, then my father would have survived."
Saturday, March 28, Asiaville Hindi: 11-year-old Rahul Musahar died of hunger after people from the Dalit Musahar community were left devoid of ration and money due to the lockdown. Rahul's father, a daily wager did not have any money post businesses being shut due to the Covid-19. Rahul was ill. He had a fever and diarrhea. However, his parents couldn't afford his treatment. They didn't get medicines at the hospital Rahul was at and they had no money to buy medicines from outside. They were eating only one meal a day. "My son died due to hunger and no money to buy medicines," he said.
Saturday, March 28, Amar Ujala: An ill labourer, Shanu Kushwaha (35), a resident of Gwalior, died in Madhya Pradesh's Datia district after he was left untreated by a doctor who was a part of an ambulance service. According to an eye witness, Kushwaha was left on the Bhaguvapura bus stand as his health continued to deteriorate and called the ambulance. However, though the doctor came, he did not take Kushwaha to the hospital, after which Kushwaha died on the spot.
Sunday, March 29, ANI and India TV: Four people were killed and four others were injured after being run over by a vehicle on the Kundli-Manesar-Palewal Expressway in Nuh, Haryana. A fast moving canter had hit these eight persons belonging to migrant labour families as they were on the Expressway, walking back home.
Sunday, March 29, The New Indian Express: Fathima, (70), a native of Bantwal in Dakshina Kannada district of Kannada died in the early hours of Sunday. She was visiting her granddaughter in Udayvara, 1.5 km from the border at Manjeshwar at Kasargod in Kerala. She started facing breathing difficulties and was in an ambulance on her way to the hospital at Deralakatte in Mangaluru when due a stringent blockade, the ambulance was stopped from crossing over the border. Her family used inroads and private roads too, but they were all blocked by the police.
Monday, March 30, The Indian Express: A 26-year-old shoe factory employee, Nitin Kumar, walking from Sonepat in Haryana to his native place, Rampur in Uttar Pradesh, was killed by a private bus while walking back to his home town. His brother Pankaj, said, "We walked day and night and reached Moradabad Saturday. We were near an intersection when a bus hit my brother from behind. He died on the spot."
Monday, March 30, Amar Ujala: A youth was returning home to Jaipur from Ahmedabad where he worked as a labourer died after he started vomiting blood when he reached Udaipur.
March 31, 2020, Prajavani: Two people lost their lives by the side of the road due to thirst and hunger in Hospet, Karnataka. Their bodies were transported in a municipal garbage vehicle. There are around seven to eight thousand underprivileged in the area. In Jambunathahalli, 200 nomads have begged for help.
March 31, 2020, India Today: A resident of Madhaul village in Runnisaidpur block, Bihar, Bablu was allegedly killed by a group of people after he informed health officials about the arrival of people from other states in the area. Initial inputs revealed that two migrant workers based in Maharashtra returned to their native home in Madhaul village earlier this week. This led to a team of health department officials knocking on the doors of the two migrant workers in order to collect their samples for Covid-19 testing. The arrival of medical experts angered the two migrants who after giving their samples to the officials, rushed to Bablu's home along with five others. The group of seven then thrashed Bablu to death for informing health officials about their arrival from Maharashtra.
April 2, Kashmir Media Service: Three migrants lost their lives after they took a dangerous detour to reach their homes in Banihal post being denied passage through the Jawahar Tunnel. Zubair Ahmed (18), Riyaz Ahmed (19), Ghulam Mohi-ud-Din (30) and Parvaiz Ahmed got stuck at Nagimandu, nearly 5 km from Duligam. While two teens were employed at a fast food joint in the Valley, Mohi-ud-Din was a labourer. They had walked nearly 25 kms to reach the Jawahar Tunnel only to be denied passage. Instead of retruning to Srinagar, they went towards Veerinag's Kapran village and stayed at a madrassa for the night. On Tuesday morning, they decided to take an alternate and shorter route through a Pir-Panjal range over Jawahar Tunnel. Illyas Banihali, the head of NGO Crisis Management, who, along with his volunteers, was among the first to reach the victims said that the three appeared to have died of extreme cold.
Yes, the Centre acted and announced relief measures for the underprivileged, but that didn't stop these deaths from ocurring. Perhaps the deaths listed above could have been avoided had the Central government offered some kind of assurance to the underprivileged migrants along with the lockdown announcement itself. Most state governments had issued state-wide lockdowns before the nationwide shut down, but few had announced relief packages for migrant workers at the time of the lockdown announcements. Moreover, district and state lockdowns were for shorter periods.
Death by Covid-19 seemed to be the last of the concerns for these migrant. The marginalized have constantly been saying that hunger would kill them first. And it did.
Related:
COVID – a space for workers?
EXCLUSIVE: 820 Tamil fishermen trapped in Iran, send SOS videos begging GOI to rescue them