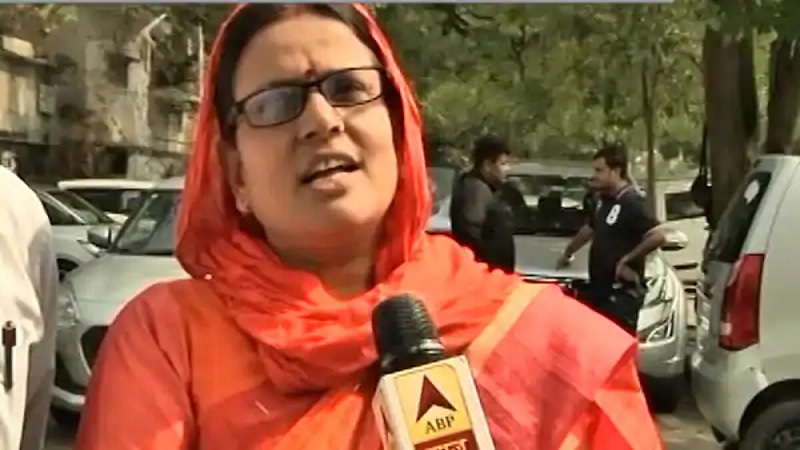 Image Courtesy:news.abplive.com
After her inciteful and hateful speeches during the anti CAA protests that led to the brute violence in Delhi in February 2020, Ragini Tiwari is at it again. This time she has targeted India's farmers who have been peacefully protesting outside the nation's capital for 19 days, in an attempt to delegitimise their strength.
In a 2-minute-long video that has now gone viral on social media platforms, Ragini Tiwari is appealing to the masses to prepare themselves for December 17 to recreate Jafrabad (read Delhi riots) if the farmers don't stop protesting and leave Delhi.
She has openly issued a fresh warning to the Central and Delhi Government that if the protests are not put an end to by December 16, she will take to the streets and get all roads cleared and history will repeat itself. By history, she means the Delhi Pogrom where she brazenly called for the slaughter of Muslims.
"Hum toh nipat hi lenge kisan andalon se" (We will deal with the farmers protests), she openly says! Clad in a saffron shawl that reads Jai Shri Ram, she is working very hard to quell the strapping voices of the farmers lamenting over the them being allowed to protest during a pandemic but barring Chhath Puja in some parts of the country.
She also unsuccessfully links the protests with Dr. Umar Khalid and Sharjeel Imam insinuating that the Kisan Andolan Army is conspiring to release them. Tiwari says that she is not Gandhi's monkey to close her eyes and be oblivious to reality.
The #Farmers are shivering to this ultimatum of #RaginiTiwari. She is proudly telling what she did in #Jaffrabad in #DelhiPogrom will be repeated in #FarmersProstests.
As far as in understand this is 'Acceptance speech for #Rioting & role in #DelhiRiots.#Law & #Order anyone? pic.twitter.com/VNQd0YUALS

— Anand Mangnale (@FightAnand) December 12, 2020
During the communal clash in 2020, she was seen mobilising people to come and fight against the minority communities through her provocative and incendiary videos. Citizens for Justice and Peace had also filed a detailed complaint with Facebook regarding her communal activities in March 2020 where she also used derogatory language for the Delhi Police for their alleged inaction against the Non-Hindus.
https://cjp.org.in/ragni-tiwari-incites-violencecjp-files-complaint-against-hate/
On a Facebook Live video, the self-styled Hindutva leader Ragini Tiwari alias Janki Behen, was documented saying, "Bahut hua sanathan par vaar, ab nahi sahenge vaar. Sanathaniyo baahar aao. Maro ya maar daalo. Baad mein dekhi jayegi. Bahut hua. Ab jiska khoon na khaula, khoon nahi wo paani hai" (Enough attacks on Hinduism. We won't tolerate such attacks anymore. Hindus come out. Die or kill. Rest shall be seen later. If your blood has not boiled even now, it's not blood, it's water).
Here is the video of Ragini Tiwari pic.twitter.com/0CZKQfN7xI https://t.co/tWbkhm4IQE

— Mohammed Zubair (@zoo_bear) July 18, 2020
Her new hateful adventure targets the farmers alluding to cleanse them off the streets. This cyber-Hindutva calling for a coordinated campaign is objectively offensive, causing humiliation and alienation of the agricultural community. Her hate speech lays at the heart of causing public disorder and demeans the dignity of the targeted community, promoting divisiveness.
Related:
Ragni Tiwari incites violence: CJP files complaint against hate
Delhi riots carefully orchestrated using social media?