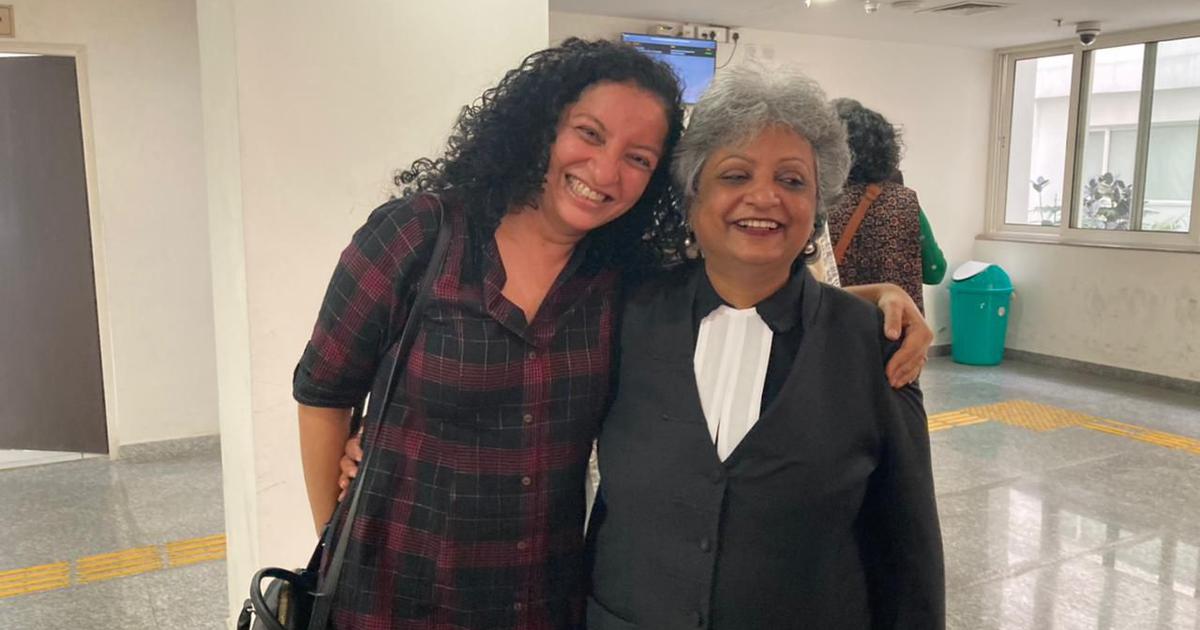 Image courtesy: Scroll.in/Vijayta Lalwani
Justice Ravindra Kumar Pandey at the Rouse Avenue court has acquitted journalist Priya Ramani in the defamation case filed by former Union Minister MJ Akbar. Ramani had accused Akbar of sexual harassment, and Akbar had in-turn draggd her to court allegeging defamation.
Senior Advocates Rebecca M. John represented Ramani and Geetha Luthra appeared for MJ Akbar. The verdict was to be pronounced on February 10 but it was deferred till February 17.
The court read out the submissions made by both parties and recorded that Priya Ramani's disclosure was in the interest of anti-sexual harassment at workplace. According to Bar and Bench, the court also rejected MJ Akbar's submission and noted that he is not a man of stellar reputation and took cognisance of the systematic abuse at the workplace. It observed that even a man of social status can be a sexual harasser.
According to Bar & Bench, Justice Pandey also noted the absence of Vishakha guidelines at the relevant time and the social stigma attached with the allegations. He said that the society must understand the impact of sexual abuse and harassment on the survivors as it directly impacts one's self confidence and dignity. Bar & Bench quoted Justice Pandey saying, "Right of reputation can't be protected at the cost of right to dignity". It also importantly held that women have the right to put forth their grievance even after decades.
The court also referred to various acts and schemes for the protection of women and India. Finally, the court observed that the case of the complainant (MJ Akbar) is not made out and clarified that the aggrieved party has the right to file an appeal.
Speaking to media persons after her acquittal, Priya Ramani said, "It feels amazing, truly does. I feel vindicated on behalf of all the women who have ever spoken out against sexual harassment. Sexual harassment has got the attention it deserves." She added, "My victory will definitely encourage more women to speak up and it will also make powerful men think twice before they take victims to court. I was an accused in this case, I was accused of speaking up."
In an interview to Bar & Bench, she also thanked the witnesses and the legal team for her victory and said, "It is a fact that it was me, the victim who had to stand up in court as the accused. I thank everyone who stood by me, especially my two witnesses Ghazala Wahab and Niloufer Venkatraman who came to court and testified on my behalf. I thank this court for this verdict, I thank my lawyers, Rebecca John and her amazing team who believed in me and the wider cause".
Related:
MJ Akbar vs Priya Ramani: Pronouncement of judgment deferred till Feb 17
MJ Akbar vs Priya Ramani: Court asks if there is a possibility of a settlement