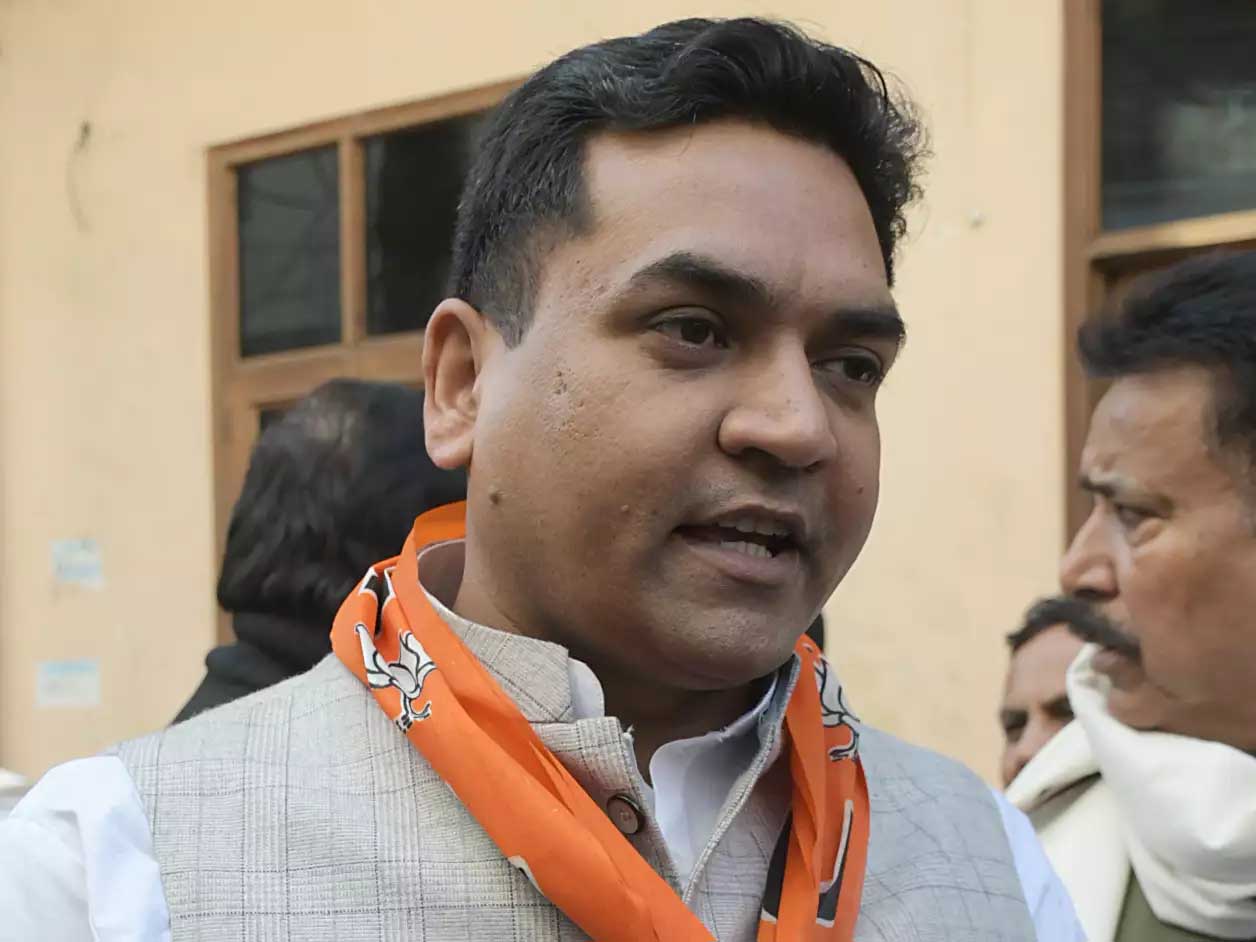 Bharatiya Janata Party (BJP) politician Kapil Mishra seemed to have marked the one year anniversary of his volatile speech of February 23, 2020, by making another one. He has reportedly said that if he had to, he would "redo" what he did on February 23, 2020. According to Indian Express, Mishra who was speaking at an event around the controversial book Delhi Riots: The Untold Story which is said to aim at telling the 'story' as understood by the right wing, said, "Aaj ek saal ho gaya hai, isliye yeh baat dobara bolna chahata hoon… February 23 pichle saal jo kiya, agar zaroorat pade toh dobara kar lunga (If the need arises to redo what I did on February 23, I would do it all over again). According to Mishra, he has "no regrets, besides the fact that we could not save Intelligence Bureau officer Ankit Sharma and constable Ratan Lal."
Mishra was among the many BJP politicians who have been called out for their similar statements, some of which are alleged to have fired communal tensions in the National Capital, especially in 2020. He himself had shared his speech on February 23, 2020, where he stood DCP (North East) Ved Prakash Surya and issued his "ultimatum" and soon enough the riots broke out.
Now, a year later he says, "It's been a year since Jihadi forces engineered the riots in Delhi. Exactly the same pattern is being seen even now, like what happened on Republic Day. The so-called fringe elements are trying to sabotage peace in the Capital, aided and funded by anti-India forces, both within and outside the country. And the 'pradarshan se danga tak (from protests to riots)' model is very much evident," the Indian Express reported.
According to the report Mishra laughed and said, "This book has a lot on the conspirators of the riots. So you will not find much in the book about me." The book "Delhi Riots 2020: The Untold Story," claims to be an 'expose' on Delhi's February 2020 communal riots, just six months after the communal violence, even though the matter is subjudice. It was 'launched' online by the authors themselves because the original publishers Bloomsbury India refused to be associated with the event. Bloomsbury accused the authors of using their brand logo at the launch without permission, and later after scores of activists, authors, journalists, and readers raised concerns about the one-sided book, they withdrew publication. A publishing house, named Garuda Prakashan then published the title. Garuda introduces itself as an "international publishing venture focusing on Indic narratives." It has been co-authored by senior Supreme Court lawyer Monika Arora, Miranda House Assistant Professor Sonali Chitalkar, and Author and Faculty at Ram Lal Anand College, Delhi University, Prerna Malhotra. Later the authors of the book had met Delhi Police Commissioner in September 2020, and handed over a complaint against the book's former publisher Bloomsbury allegeding cheating, breach of trust and invoked multiple sections of the Indian Penal Code. The authors, led by Advocate Monica Arora, met the commissioner in his office at the Police Headquarters and handed over their letter of complaint where they have also named activists, writers and journalists, seeking that they too be investigated under the IPC sections.
Mishra has been one of the "celebrities" associated with events around the book since then. At this most recent event on Monday, he was invited to discuss the book and said: "We have individually helped Hindu victims of the riots. And then we are questioned for why we do not help the other side. I say that the Waqf board is standing behind them, the entire Delhi government is standing behind them, the media, NGOs are all with them."

The rise and rise of Kapil Mishra
Kapil Mishra faced flak from civil society and liberal circles for allegedly being the trigger behind the violence in North East Delhi. He had held a rally in support of the Citizenship Amendment Act (CAA), not far from an anti-CAA protest site near the Jafrabad metro station is accused of inciting violence and using hateful words against protesters. Mishra who had previously been suspended from the Aam Aadmi Party (AAP) for his hate speech and later joined the BJP, is not new to controversy. On April 4, 2019, Kapil Sharma, MLA from the Karawal Nagar constituency in the Sixth Legislative Assembly of Delhi, tweeted a violence-inducing post, addressed to Congress president Rahul Gandhi. Misrepresenting the Islamic flag (moon and stars on a green background) with that which represents the state of Pakistan, Kapil Mishra tweeted, "Those who broke down the temples at Ayodhya, Kashi, Mathura and Somnath carried this flag. Those who killed the Sikh Gurus also carried this flag. All terrorists, anywhere, swear by this flag."
In February, 2019, following the Pulwama terror attack that left 40 CRPF jawans dead, Mishra also posted a series of hate-filled tweets, one of which called for the destruction of the "wombs that give birth to terrorists". When incidents of violence against Kashmiri students began being reported from across the country, Mishra insisted that the stories were made up and dismissed them as fake news, even though videographic evidence became available. Mishra won the elections by a margin of 44,431 votes. He took his oath in Sanskrit. He was removed from the position of Water Resource Minister in the Aam Aadmi Party government.
It is now 2021, and Kapil Mishra has been busy, speaking in various states, including Hyderabad which he calls Bhagyanagar. He also visited West Bengal. He has been active in Mongolpuri in Delhi where a young BJP/VHP volunteer's murder is now being communalised. Most recently he has been calling for the demolition of a building he alleged was used to store illegal weapons.
आदरणीय @LtGovDelhi

आज से एक साल पहले ताहिर हुसैन की अवैध गैर कानूनी बिल्डिंग का इस्तेमाल हथियार की तरह किया गया

इसी अवैध बिल्डिंग से बम, एसिड, गुलेल सब बरामद हुआ

इसी बिल्डिंग में वीर IB अफसर अंकित शर्मा जी की हत्या हुई

कृपया ताहिर हुसैन की अवैध बिल्डिंग गिराई जाए pic.twitter.com/FQkBjA07Fy

— Kapil Mishra (@KapilMishra_IND) February 22, 2021
Earlier this month, a trial court directed the Delhi Police to file a report on Mishra's alleged inflammatory, incendiary, and provocative speeches delivered during the February 2020 Delhi riots. According to a report in the Muslim Mirror, the trial court has directed the Delhi Police to file a report on the speeches made by Mishra and others which had allegedly triggered the communal riots in North East Delhi, in February 2020. The riots had snuffed out 54 lives, hundreds were injured, and thousands were displaced during, and after the area was engulfed during the communal riots.
CJP was the first to call out Kapil Mishra
Last year, CJP had started a petition to hold Kapil Mihra accountable for his actions. Our petition on Change.org had asked that if "Indian criminal law has provisions for prosecution of those who incite violence using hate speech. Why then is there no action against this BJP leader?" Our petition, that illustrated how his hate speech, and an ultimatum delivered while standing next to a police officer, legitimised violence. We also highlighted Kapil Mishra's history of spewing venom against minorities. Our petition was addressed to the Chief Justice of India, and also marked to the Commissioner of Delhi Police and the Chairman of the National Human Rights Commission.
You too, can read and even sign the petition here.
Related:
Delhi court asks Police to respond to plea seeking FIR against Kapil Mishra
Rinku Sharma's murder is 'jihad': Kapil Mishra
Are low numbers of Communal Riots in 2020 a mere deception?
Brinda Karat moves Delhi HC, challenges order refusing hate speech FIR against Anurag Thakur, Pravesh Verma