One struggling mother with another struggling mother seeking Justice: Justice for Rohith Vemula and Justice for Jisha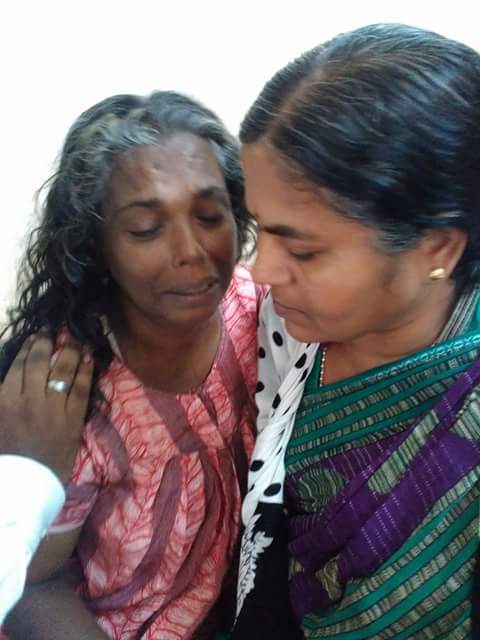 Today, May 9, Radhika Vemula, who has become a national icon struggling for Justice for Rohith travlleled south to Kerala and met with Rajeshwari, distraught and inconsolable mother of Jisha, a Dalit woman who was brutally attacked, raped and killed on April 28 at Perumbavoor in Kerala. Invited by an independent forum in Calicut she travelled down to the hospital to meet the grieving mother of Jisha. There Radhika Vemula also bet with about four to five students who were beaten up by the Kerala police while protesting and demanding Justice for Jisha yesterday, May 8. Ironically, yesterday was seen and celebrated as "Mother's Day' and it was just the day after that these two strong survivors and mothers, united in tragedy, met.
Silence of the 'national media' around the death of Kerala student, Jisha, who was beaten savagely, sexually assaulted, similar to the Delhi bus gang rape, as revealed by the post-mortem has raised serious questions about media priorities and ethics. Sabrangindia had raised the issue of selective prioritization of such crimes even related to the mysterious death (after alleged rape) of Delta Meghwal a 17-year old Dalit student in Rajasthan
The post-mortem report on the death of Jisha, the 29-year-old student who was found dead at her house near Perumbavoor in Kerala on April 28, reveals that she was brutally and sexually assaulted before she died, similar to the infamous 2012 Delhi gang-rape.
According to a report by Malayalam newspaper, Mathrubhumi, Jisha was beaten savagely by a stranger/s using a sharp weapon that pulled out her intestines. More than 30 injuries were found on her body. As per the autopsy report, two sides of her chest were pierced to almost two inches deep using a sharp knife. She was also struck in the genitals with an iron rod. A severe injury on her head is cited as the main reason of her death.
See also
1. PM to Meet Jisha's Mother: Sorry there are no Elections in Rajasthan
2. Dalit Woman Brutalised Before Being Killed
3. Do Not Rest in Peace, Jisha: Shehla Rashid
4. SFI Protests Poor Investigation in Jisha Murder Case
5. Jisha's Death Sparks Countrywide Protests