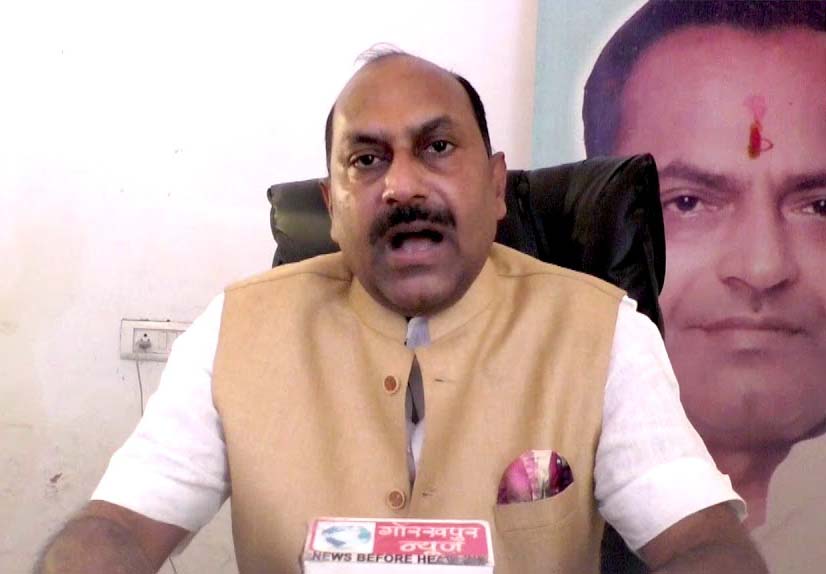 Hate speech, communal threats have taken on many tones in the Uttar Pradesh elections, and Fateh Bahadur Singh, the Bharatiya Janata (BJP) Party MLA seeking re-election from Caimpiyarganj in Gorakhpur district, has his own style. He speaks slowly and deliberately, not raising his voice a bit, thus making his open threat to his voters, warning them of 'dire consequences' if they do not vote for him, sound like just another election speech.
That hate speech, communal threats and open intimidation has been normalised in Uttar Pradesh elections, has been well established now. Fateh Bahadur Singh, son of former UP Chief Minister Vir Bahadur Singh, is a six-time MLA, and a former forest minister in UP government. He was pro-tem speaker in UP's 17th Vidhan Sabha.
A video clip of Singh, addressing a meeting in what appears to be in a compact Muslim locality, is now circulating on various Whatsapp groups. Here Singh is heard and seen 'reminding' the gathering, "You are Khans, Pathans," telling them that a "true Muslim can never be a traitor." However it is not a speech of solidarity and brotherhood as it becomes clearer in seconds. Singh seems to have taken inspiration from of CM Adityanath's '80-20' speech, and goes on to tell the Muslims gathered that they have "too less a number [of votes] to make a difference" or dent into his electoral prospects. However, he says he seeks their 'cooperation' saying, "I have done so much for you, and now when I am in need, will you go looking for a brother of the same caste [religion]?" he asks. A few men are heard replying "no no".
Perhaps this was all the encouragement Singh needed who till now was reminding the crowd how he had helped them solve land disputes over the years. He tells the crowd that even if he "does not get their 200 votes it will not make a difference" to him, but the Muslims will get 'branded'. Here he perhaps means to say Muslims who do not vote for him will get branded 'traitors', as 'traitor' was the slur he began his speech with.
While tone remains low, his threats get more open. "These roads will never get repaired again… I have given you electricity, water. Now listen up, there are very few Muslims in my vidhan sabha constituency. They are not a decisive [vote bank] but Muslims look up to me, because they are less in number So do not do anything that will start a Hindu-Muslim conflict in the future. I am saying this clearly, later if there is trouble, there is a tandav (the mythical dance of destruction by hindy god Shiva). Then don't blame me," he says before going on to blame Samajwadi Party leaders of the area for land disputes. He ending with, "If i am fighting your fight, you [muslims] should not get into any controversy."
Related:
UP: Insufficient nutrition packages cause rift between anganwadis and community
UP elections: ECI data indicates enthusiastic voter turnout in the farming community