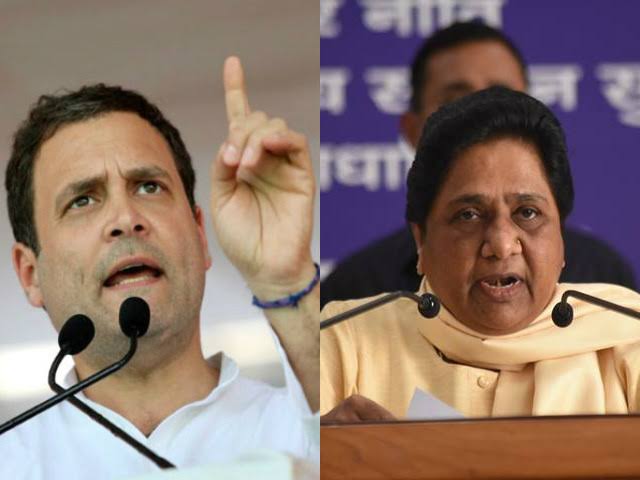 The if only's make for tired reading in politics. But in an India, groaning under the double-edged sword of a supremacist RSS-BJP government –brute majoritarianism and utter non-performance socio-economically–it may be wise, now, to plod this much beaten path. And count the figures, add up the differences so as to learn lessons for 2019.
In a nail biting finish that went on past midnight on counting day, it appeared more than certain that the Indian National Congress would form the government in this politically critical Hindi heartland state. But what if the Congress had swept back, adding say about 25-28 more to its already winning tally of 114 and clocking up more seats making this a whopping, or at least clearer, 139 plus seat win? What if BSP had then won three more and the Samajwadi Party (SP) two more taking the tally to 149? This would have been possible, the figures show, if there had been a sensible seat sharing arrangement (alliance) of the three. Without this, the tension mounted and the grand old party was not sure until the very end whether it would make a comeback in Bhopal.
Election Commission of India (ECI) figures show that while NOTA accounted for a not insignificant 1.4 % of the votes polled in MP, BSP returned an impressive 5.8% of the vote share. The SP has today, 1.3% of the votes and the AAP 0.7% (the total vote share of these three formations is around 8 %). Clearly an alliance would have helped all around. There are some seats however where it is a Brahmin or Thakur candidate (of both dominant parties) in first two positions; here the BSP and SP may have had to transfer votes to who they see as politically hostile castes.
Let's start with Agar, the administrative head quarters for the Agar Malwa district. Situated on the Indore Kota highway and known since Mughal times for the historically rich town of Mandu, a much visited tourist spot, Vipin Wankhede of the INC could have won if such an alliance was in place. He polled 79,656 votes as opposed to the winner from the BJP, Manohar Untwal who won 82,146 votes.
Why? The fact that two spoilers, Govind Suryavanshi (BSP) and Babulal Malviya (AAP) won 1978 and 2039 votes respectively. The difference between the first two candidates is just 2,490 votes.
Amarpatnam in Satna district tells a similar story. An old Garhi town with the Jagannath Swami temple, it connects Rewa to Maihar. Check out the final figures there. The winner from the BJP, Ramkhelawan Patel won 59,836 votes and the runner up from the INC, Dr Rajendra Kumar Singh (Dada Bhai) 56,089. The third place is held by Chhangelal Kol who polled an impressive 37,918 votes. Imagine if number two and three had fought together ? There is more. The CPI candidate, Comrade Rajdhani Singh won 1427 votes and the Samajwadi party's Amit Kumar Tiwari won 1495 votes.
Then let's move to Ashta in Sehore district ruled by Mirza Alam Baig in Britsh times and the story is similar. Gopal Singh Engineer of the INC clocked an impressive 86,248 votes at number 2 while the number three was Kamal Singh Chauhan of the Prajatantrik Samadhan party with 17,577 votes and Shailesh Vaidya of the BSP got 4487 votes. The winner Raghunath Singh Malviya of the BJP got 92,292 votes.
Turn to Ater, where the winner Arvind Singh Bhadoria from the BJP has got 58928 votes and Hemant Satyadev Katare from the INC 53950 votes. If the votes of Sanjeev Baghel from the BSP could have been counted in alliance (he got 16585 votes) the victory would have been theirs.
Voting figures from Balaghat tell a similar story. The INC candidate, Vishveshwar Bhagat at number three got 28,701 votes and the Samajwadi Party's runner up, Anubha Munjare got 45822 numbers that put together cold have defeated the BJP whose candidate, Gaurishanker Chaturbhuj Bisen got 73,476 votes if in the alliance SP could have been given the ticket.
Bandhavgarh tells a similar decisive story with three players, the Indian National Congress (Dhyan Singh got 55255 votes), the Gondwana Gantantra Party's Ram Milan Baiga (9854 votes) and the BSP's Shivprasad Kol 6936 votes totalling more than the BJP's Shivnarayan Singh's 59,158 votes.
In Bina, the difference between number one and two is as low as 632 votes. Imagine an alliance where the INC's Shahshi Kathoria (57196 votes) and BSP's Ahirwar Surendra Kumar (6889 votes) could be totalled: Mahesh Rai of BJP who won just 57828 votes would surely have lost.
Chandla in MP is one more such constituency: Rajesh Kumar Prajapati of the BJP who squeaked through with 41227 votes would have had to sit in the opposition benches if the INC and BSP had fought together. The INC's runner up, Anuragi Hariprasad (Gopi Master) got 40050 votes and the BSP's Ahirwar Pushpendra Kumar got an impressive 25739 votes.
Then again Churhat where the BJP's Sharadendu Tiwari won with 71909 votes and Ajay Arjun Singh got 65507 votes, Vivek Kol of the BSP got 2997 votes and Anand Pandey of the CPI who got 1961 votes where the fight was really close.
In Deotalab, an alliance where the BSP's seat share is more would have seen it getting one more seat if number three, INC who's candidate, Adv Vidya Wati Patel's score of 30,383 could have added to the score card. The BSP's Seema Jaiveer Singh Sengar is the runner up with 43963 seats and Girish Gautam of the BJP the winner with 45043 votes.
Come to Devsar where again the BSP at number four polled 14464 votes (Shiv Shankar Prasad with 14464 votes), Gondvana Gantantra Party at number three (Surendra Prajapati with 18320 votes). If this tally could have been added to the runner up from the INC, Baanshmani Prasad Verma who got 52617 votes, BJP's Subhash Ram Cahiritra who got 63295 votes would have been defeated.
Dhouhani tells a similar story with the GGP coming third with a significant 19457 (Rupnarayan Singh Poya) votes and BSP (Awadh Pratap Singh) at number four with 9062 votes ate into the opposition kitty: INC's Kamlesh Singh got 54202 and the winner, Kunwar Singh Tekam of the BJP got 57995.
Garoth is another seat where there is a narrow margin of victory, INC's Subhash Kumar Sojatia clocked up 73838 votes, the BSP's Jagdish Rangothia 1696 votes when the winner from the BJP, Devilal Dhakad got 75946 votes. Come to Gwalio Rural with its own stunning tale. It is BSP's Sahab Singh Gurjar who is less than two thousand votes behind the BJP's winning candidate, Bharat Singh Khushwaha who got 51033 votes and INC's Madanlal Kushwah at number three also pulls a not insignificant 38199 votes.
Indore-5 where the BJP's Mahendra Hardia narrowly won with 1,17,836 votes saw a tough fight put up by INC's Satyanarayan Patel who got 1,16,703. BSP's Dongar Singh Goyal got 1422 votes and AAP's Shailendra Kumari Ranawat got 878. Not a clear-cut win but close.
Jabera leaves no such doubts. The winner who is BJP's Dharmendra Bhav Singh Lodhi could notch up 48,901 votes and the UNC's Pratap Singh 45,416 votes. But look at what both the GGP and BSP pulled in here: Arvind Pratap Singh Judev of the GGP got 10,490 votes and Delan Singh Dhurve of the BSP got 10,355 votes.
Jaitpur tells a similarly decisive tale. BSP's candidate is at number four, Mohadal Singh Pav who got 6,141 votes and GGP's Bharat Singh Oladi at number three with 11,498 votes. The difference between the winner, Manisha Singh (BJP) votes at 74,279 and the INC's Uma Dhurvey (70,063)–both women — is far far less than of the post poll allies had fought the elections together.
Jaora again saw BJP's Rajendra Pandey (64,503) beating KK Singh Kalukheda(63,992) of the INC by just 511 votes. Add AAP's 1241 votes to the tally (Jakir Hussein) and BSP's (Bhanwar Singh Jhala) 880 votes and there would be another story.
Let's go to Khargapur where Rahul Singh Lodhi of the BJP won with 63,066 votes and the runner up from the INC, Chanda Surendra Singh Gour got 51,401 votes. The BSP's Ajay Yadav, got 15,366 vote at number three. Similarly, Birendra Raghuvanshi of the BJP had a narrow win with 72,450 votes when the INC's Mahendra Ramsingh Yadav got 71,730 votes and the BSP's Ashok Sharma got 16,483 votes–a scenario which would have Congress another seat if the pre poll alliance had been in place.
GGP's Manish Patel is number three in Maihar assembly seat with an impressive 33,397 votes and BSP's Nagendra Singh got 18418 votes neither an insignificant tally. Now look at the INC, runner up at number two with Shrikant Chaturvedi getting 51,893 vots and the winner Narayan Tripathi of the BJP getting 54887 votes. The story is clear.
Nagod tells a similar tale: BSP's Advocate Rambhihari has won 22,428 votes and GGP's Ramsajeevan Kol 1,934 votes (third and fourth place). BJP has won with its candidate, Nagendra Singh getting 54,647 votes, about twelve hundred more than the INC's Yadvendra Singh who got 53,403 votes.
It s the Samajwadi Party (SP) that would have benefitted from a collective battle in Niwari: Meera Deepak Yadav at number two got 40,901 votes, BSP's Ganesh Prasad Kushwaha 21,444 votes and the INC's Ahir Captain Surendra Singh 12,221 votes. The winner, BJP's Anil Jain got 49,738 votes.
In Panna, the SP is at number 5 with its candidate a small spoiler grabbing 3,291 votes and the BSP the bigger one with Anupama Charam Singh Yadav getting 22,818 votes. The INC lost here with Shivjeet Singh getting 47,651 votes and the winner Brihendra Pratap Singh getting 68,359 votes.
The figures of Paraswada are similarly telling and impressive for the opposition candidates. Both INC at number three with its Madhu Bhagat getting 47,476 votes and the SP at number two (Kankar Munjare getting 47,787 votes) have done well. BJP's winning candidate, Ram Kishore got 57,395 votes and the BSP was at number four with its candidate, Mukesh Bouddh getting 3886 votes.
In Pawai too its these four players who got the highest four votes: BJP;s Prahlad Lodhi (79,647 votes), INC's Pandit Mukesh Nayak (55,967 votes), SP;s Bhuwan Vikram Singh (22,384 votes) and BSP's Sita Ram Patel Advocate (14,381 votes). At number five is the GGP's Mahipal Singh with 9913 votes.
Jugul Kishore Bagri of the BJP from Raigaon won with a decisive 65,910 votes but the INC's Kalpana Verma with 48,489 votes and BSP's Usha Chaudhary with 16,677 votes and AAP with 1578 votes could have put up a significant fight. The CPI-M's KK Shukla polled a poor 1,948 votes at number four in Rampur Baghelan while the INC's Ramshankar Payasi at number three ( 42,501 votes) and Ramlakhan Singh Patel of the BSP (53,129 votes) were decisive. Vikram Singh of the BJP got a mere 68,816 votes. The BSP could have got this seat with INC's help.
Semariya in MP, similarly sees the BSP's Pankaj Singh clock a strong 38,477 at number three. The INC with Triyugi Narayan Shukla gets 40,113 votes while the winner, BJP's KP Tripathi gets 47,889 votes. Sihoria again has INC at number two with Khiladi Singh wining 66,489 votes. However add to this the BSP's 6,028 votes (Smt Babita Gautiya) and GGP's Maahu Singh Paraste (5937 votes) and the picture changes, again.
If there is one sear where the AAP can be proud it is in Singarouli where at number three it gets as many as 32,167 votes. Again however INC is number two with Renu Shah getting 32,980 votes but the real story us when you add the BSP's to the tally (Suresh Shahwal getting 15,044 votes) and the SP (Shikha Singh) getting 4680 votes and the CPI's Ashok Kumar Dubey getting 1892 votes.
It is the SP's Pradeep Singh Patna who is at number four in Sirmour with 11,144 votes and BSP's Ramgarib Banwasi at number three with 18,466 votes. Dr Aruna Vivek Twari of the INC got 36,042 votes while the BJP's Divyaraj Singh won with 49,443 votes.
In Teonthar assembly constituency again the BSP gets an impressive 17,396 votes with its candidate, Geeta Rajmani Majhi and the INC's Ramashankar Singh getting 47,386 votes. The BJP's Shyam Lal Dwivedi won with 52,729 votes.
Again in Tikamgarh, it is BSP and SP who are at number three and four winning 9,793 (Dr Vinod Kumar Rai) and 2,046 votes (Kushwaha Chhakkey Lal) while Yogendra Singh of the INC at number two got 62,783 votes; the winner Rakesh Giri got 66,958 votes.
In Vijaypur it is Seetaram of the BJP who makes the tally with 63,331 votes while the INC's Ramniwas Rawat with 60,491 votes and BSP's Babulal Mebra with 35,628 votes is at number three.
Lessons to be learned when the Opposition returns to the drawing board to set in a strategy for the 2019 Lok sabha election.