Delhi chief minister Arvind Kejriwal and his West Bengal counterpart, Mamata Banerjee, on Thursday demanded the Centre's Narendra Modi government to withdraw demonetisation move within three days.
Both the chief ministers threatened to launch a mass movement if the decision to scrap Rs 500 and Rs 1,000 were not withdrawn within the next three days.
Addressing a rally in Delhi's Azadpur market, Banerjee said, "If you have courage, send us to jail or shoot us…But we will continue fighting."
According to Indian Express, Banerjee accused the government of trying to sell the country adding that the prevailing situation was worse than the 1975 emergency.
"They want to sell this country. They are trying to break the constitution. We cannot allow that," the TMC chief said at the rally.
Both leaders then visited the RBI office in Delhi for an update on the existing situation with regards to printing of new notes.
Kejriwal tweeted, "How much currency needed? How much printed? What is capacity? How many more days will it take? Myself n Mamtadi at RBI to get this info."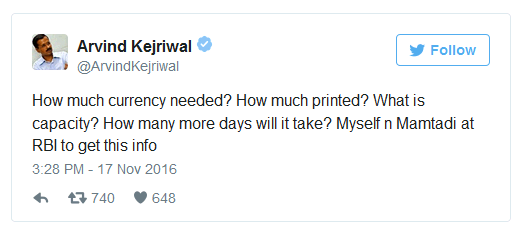 Courtesy: Janta Ka Reporter