An arbitrary notice by IIT BHU warning of disciplinary action against people who shout slogans, hold protests, meetings or demonstrations has disappointed students.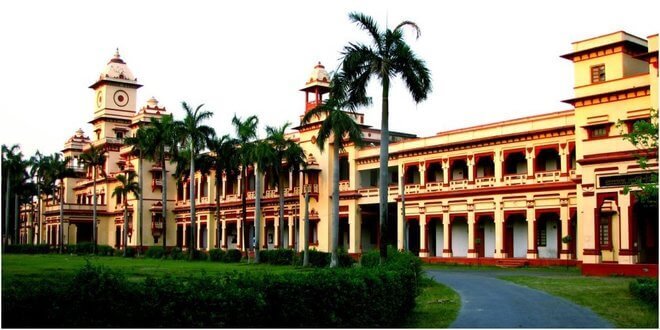 Varanasi: IIT-BHU (Indian Institute of Technology- Banaras Hindu University) had released a circular on Oct 10 informing students, faculty and employees of the university that strict disciplinary action will be taken against people who hold protests or meets that disrupt college life and education.
On October 10, a circular signed by the registrar was circulated to all departments. The circular asked students and employees to take prior permission from requisite authority to hold any procession or meeting in the campus. It also said that any default or disobedience will be punished. It arbitrarily outlawed the use of derogatory slogans, abuses and propaganda without detailing what it constituted.
Students of IIT BHU have expressed disappointment with the letter and have filed a petition against the circular on Oct 12. Writing to the registrar to roll back the notice, they quoted Article 19 (Right to Freedom) and said that freedom of speech, freedom to assemble peacefully and forms associations and groups were their rights given to them by the constitution of India.
They said that they found the notice undemocratic and unconstitutional and they were doing their duty as students. They also wrote that questioning, analyzing, criticizing, expressing opinions and dissenting were the cornerstones of a good education and a healthy learning environment. They added that such a notice gives undue powers to the admin.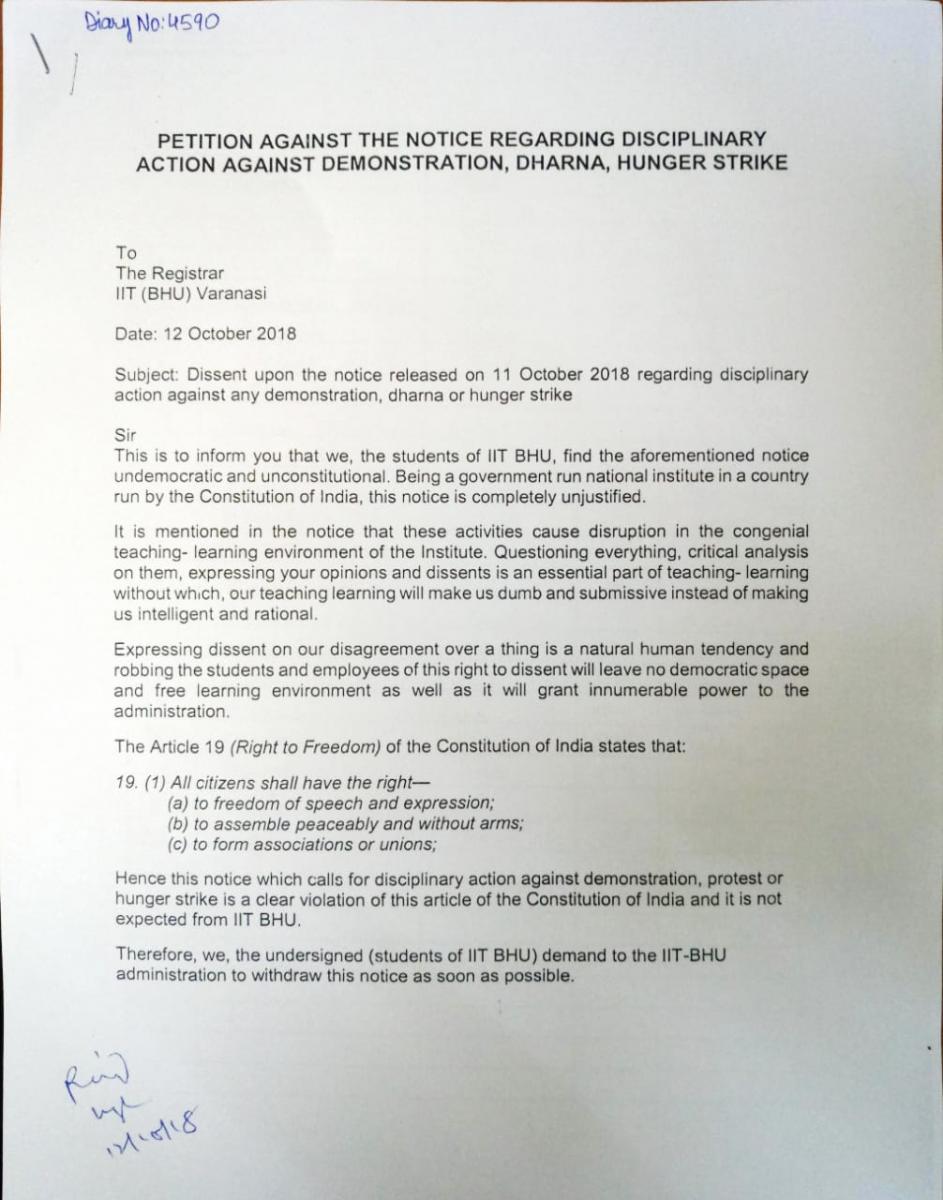 The Students For Change group in the IIT campus also released a statement against the registrar's circular.
"In the pretext of disruption of studies, examination and research work, the administration is trying to stop any dissenting voices. The purpose of learning and teaching Science must be to make the students think, question everything and critically analyze and challenge; but the same teaching-learning is being disrupted according to the administration if students raise their concerns and issues and register their dissent. This is a fascist step by the administration who wants the students and employees of our college to obey everything and become blind, deaf and dumb to anything happening in the society. Recently, SFC had organised a demonstration condemning the brutal attack by the State on the farmers who were protesting peacefully for their demands but our administration tried to stop the demonstration by every means even stating that the institute follows its own regulations and not that of the Constitution!" they said.
"Holding peaceful demonstration and protests is a right of the citizens of our country being given by the Constitution. Such fundamental rights are guaranteed under Article 19(1)(a) right to freedom of speech and Article 19(1)(b) right to assemble peacefully. Due to all this, our education is merely becoming an act of depositing, in which students are depositories and professors are depositors and both are being completely isolated from the society. SFC strongly condemns this notice by the IIT(BHU) administration and demand immediate rollback of this undemocratic and unconstitutional order. We appeal to all students, intellectuals and other democratic citizens to come together and oppose this fascist step by the IIT administration," they added.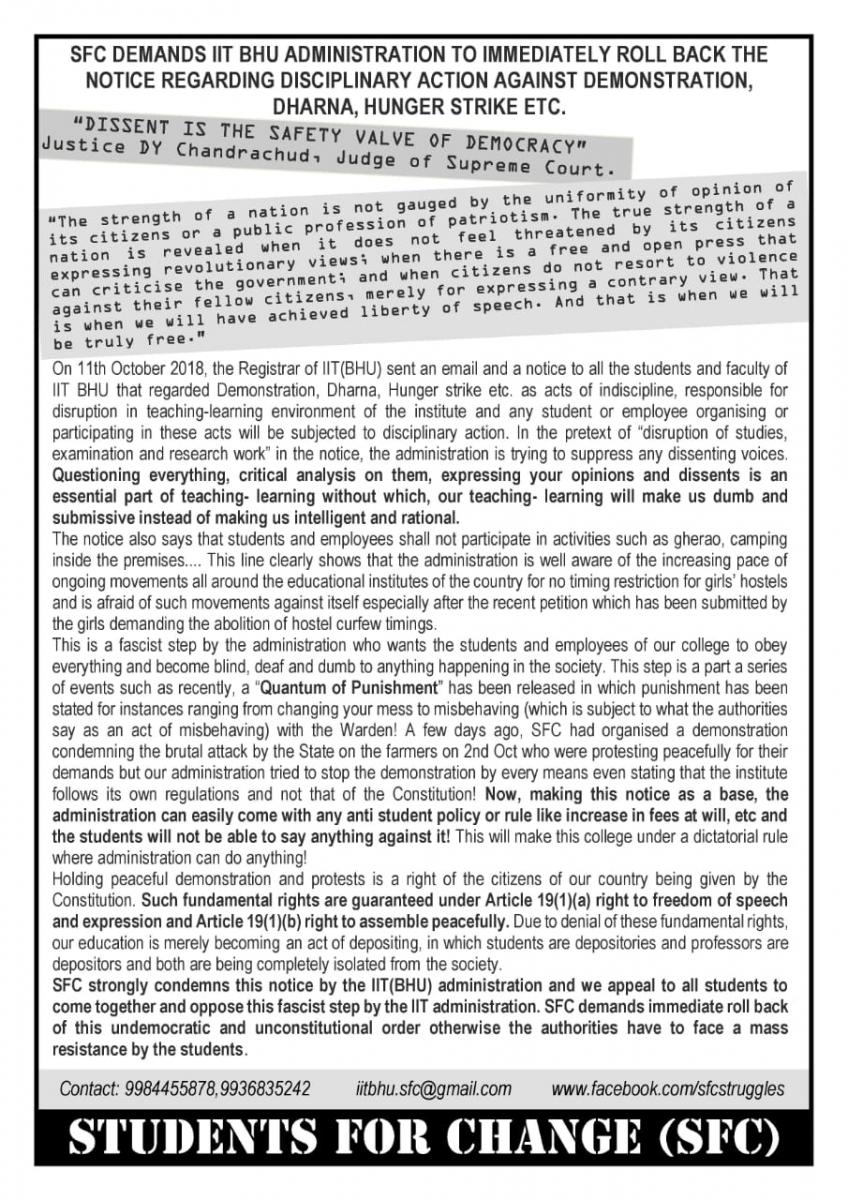 Speaking to Sabrang India, Ipshita, a 4th-year student of IIT BHU and member of SFC said that the notice was reactionary to the many demonstrations that have been carried out in the past. "During a recent peaceful demonstration, we faced violence at the hands of ABVP goons. Instead of taking action against them and investigating them, we were told to not demonstrate or protest. Peaceful demonstrations are our basic rights. Due to the holidays, we are not able to act against this notice. When we are back in college we will demand an answer. If they don't respond to us or our petition, we will take this to higher authorities."
BHU has been embroiled in a number of incidents that questioned its authority over making the campus safe for women and managing violence perpetrated by political goons.
Members of the RSS affiliated Akhil Bhartiya Vidyarthi Parishad (ABVP) attacked students of Banaras Hindu University celebrating the anniversary of gender rights protest that had taken the university by storm last year. They attacked the students on Sunday, the one-year anniversary of the 23 September women's protest against the victim shaming of a sexual harassment survivor and discriminatory hostel rules.
Full text of SFC's statement:
DISSENT IS THE SAFETY VALVE OF DEMOCRACY—Justice DY Chandrachud, Judge of Supreme Court

On 11th October 2018, the Registrar of IIT(BHU) sent an email and a notice to all the students and faculty of IIT BHU that regarded Demonstration, Dharna, Hunger strike etc. as acts of indiscipline, responsible for the disruption in teaching-learning environment of the institute and any student or employee organising or participating in these acts will be subjected to disciplinary action.

In the pretext of disruption of studies, examination and research work, the administration is trying to stop any dissenting voices. The purpose of learning and teaching Science must be to make the students think, question everything and critically analyze and challenge; but the same teaching-learning is being disrupted according to the administration if students raise their concerns and issues and register their dissent. This is a fascist step by the administration who wants the students and employees of our college to obey everything and become blind, deaf and dumb to anything happening in the society. Recently, SFC had organised a demonstration condemning the brutal attack by the State on the farmers who were protesting peacefully for their demands but our administration tried to stop the demonstration by every means even stating that the institute follows its own regulations and not that of the Constitution!

Holding peaceful demonstration and protests is a right of the citizens of our country being given by the Constitution. Such fundamental rights are guaranteed under Article 19(1)(a) right to freedom of speech and Article 19(1)(b) right to assemble peacefully. Due to all this, our education is merely becoming an act of depositing, in which students are depositories and professors are depositors and both are being completely isolated from the society. SFC strongly condemns this notice by the IIT(BHU) administration and demand immediate rollback of this undemocratic and unconstitutional order. We appeal to all students, intellectuals and other democratic citizens to come together and oppose this fascist step by the IIT administration.

#down_with_fascism
#shame_IITBHUadministration
#we_shall_fight #we_shall_win

Read Also:
https://www.sabrangindia.in/article/year-after-protests-bhus-female-students-recount-how-their-lives-changed-better-or-worse
https://www.sabrangindia.in/article/abvp-members-assault-bhu-students-hosting-gender-equality-event
https://www.sabrangindia.in/article/student-groups-iits-bhu-condemn-state-targeting-one-their-own-maoists