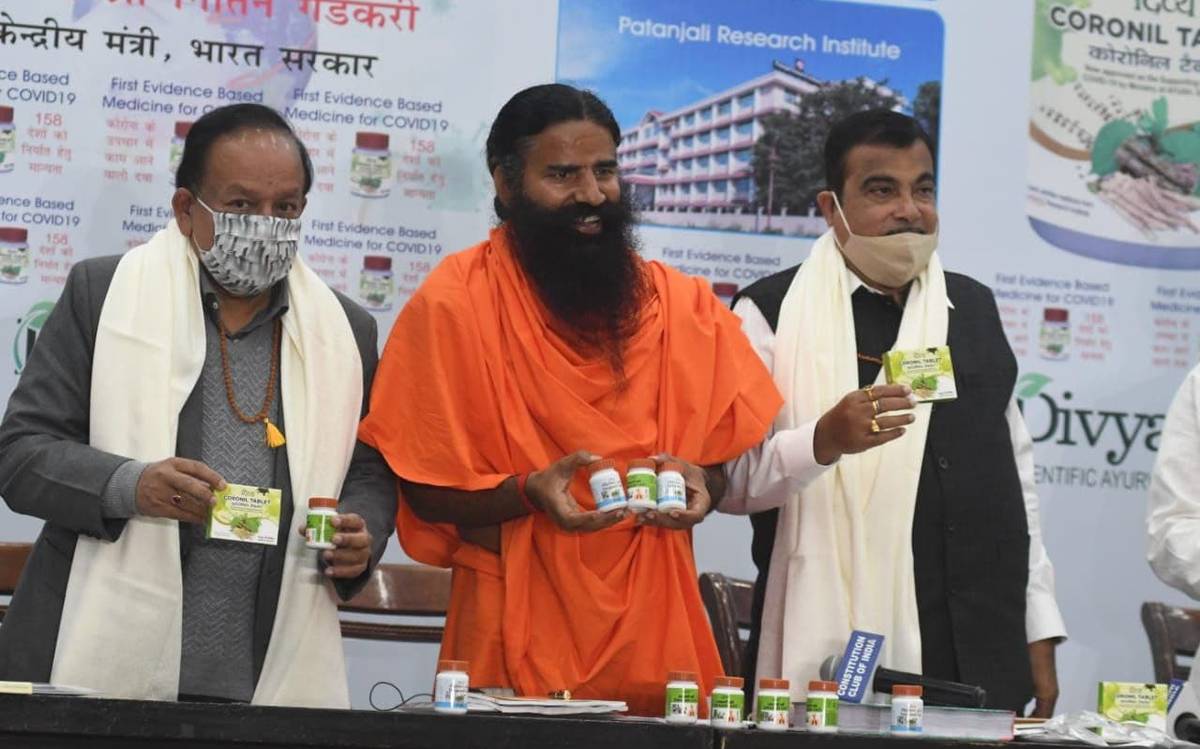 The Indian Medical Association (IMA) has issued a strongly worded press Release expressing its utter disbelief that a blatant lie was peddled by Patanjali about 'Coronil' being certified medicine, in the presence of Union Health Minister Dr. Harsh Vardhan.
Baba Ramdev, founder of Patanjali launched 'Coronil' which he claims is the first evidence-based medicine for Covid-19 and that it can be used for prevention, treatment of Covid-19 and in the post-phase treatment as well. As per IMA, he also claimed at the press conference in the presence of Union Health Minister Dr. Harsh Vardhan that 'Coronil' has gotten approval from Drugs Controller General of India (DCGI) as well as been certified by the World Health organization (WHO).
The WHO on the other hand clarified that it has not reviewed or certified "any traditional medicine" for treatment of Covid-19.
.@WHO has not reviewed or certified the effectiveness of any traditional medicine for the treatment #COVID19.

— WHO South-East Asia (@WHOSEARO) February 19, 2021
"The said false and fabricated projection of an unscientific medicine by the Health Minister to the entire country and being rejected by WHO is a slap and insult to the people of the country. This is a blatant deceiving of the people of the country," the statement reads.
The statement released by Patanjali reads, "Coronil has received the certificate of pharmaceutical product (COPP) from the AYUSH section of Central Drugs Standard Control Organization as per the WHO certification scheme". The launch event was also attended by Union Transport Minister Nitin Gadkari along side Health Minister Dr Harsh Vardhan.
The statement cites the code of conduct under Medical Council of India Act which states that no doctor can promote any drug with his name, photograph or any manner of advertising. The IMA states that it is surprised that the Minister himself who is a modern medicine doctor by qualification is promoting a drug.
The IMA questions if Coronil is effective for prevention then why is the government spending 35,000 crores for vaccination? The IMA has questioned the false projections, release of falsely fabricated and unscientific product and promotion of the same in an unethical manner by the Health Minister. It also asks about details of the clinical trials conducted to determine the efficacy of this medicine.
The country needs an explanation from the Hon'ble Minister, IMA said. It said that it respects Ayurveda and it should not be adulterated on pretext of market gain for some monopoly corporate.
Last year in July, Patanjali had claimed that Coronil could provide strong protection against COVID-19 but the AYUSH Ministry had issued a clarification that it can only be used as an immunity booster.
The statement may be read here:
IMA HQs Press Release on Health Minister – February 22, 2021 pic.twitter.com/72DWWs90KG

— Indian Medical Association (@IMAIndiaOrg) February 22, 2021
Related:
Bihar Covid data fudged: Opposition demands inquiry
Professor G N Saibaba tests Covid-19 positive in Nagpur jail