Shortages continue, livelihoods have been hit, but the state government is yet to engage in talks with the Naga blockaders.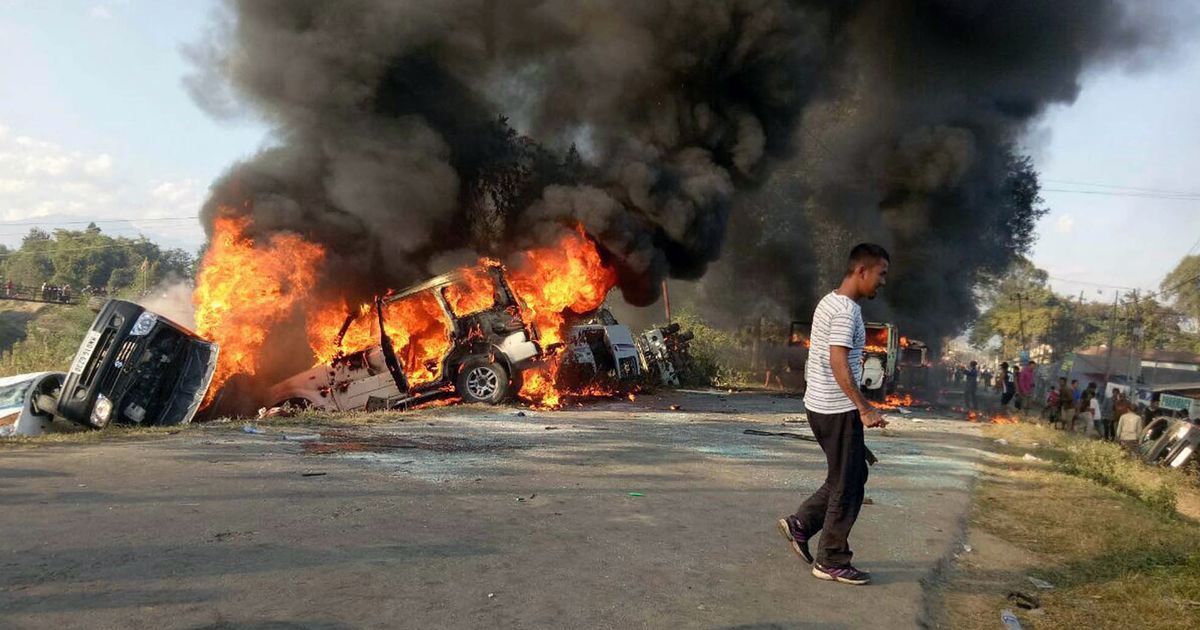 Image credit: AFP
On Friday, Manipur quietly slipped into the 74th day of an economic blockade that has paralysed the state. And there seems no end in sight. The ethnic Naga groups blocking two major highways demand tripartite talks with the Centre and the state government. But the Congress government led by Chief Minister Okram Ibobi Singh seems to be in no mood to negotiate.
The economic blockade was launched on November 1 by the United Naga Council, a conglomeration of Naga groups. They were protesting against the Manipur government's decision to carve out seven new districts in the hill areas, splitting up older districts dominated by members of the Thangkul Naga group. As the supply of fuel and other essential commodities was cut off, prices shot up and economic activity was hit badly. The pains of the blockade were made worse by demonetisation, which dried up flows of cash.
In retaliation, residents of the Valley belonging to the Meitei ethnic group launched a counter-blockade, blocking the road between Imphal and Ukhrul, one of the Naga-dominated hill districts. Matters came to a head on December 18, when Meitei mobs torched vehicles headed to Ukhrul, a day after members of the same community had stormed a church in Imphal.
"They have misinterpreted us," said Seth Shatsang, president of the All Naga Students Association of Manipur, recently detained for his role in the blockade. "Instead of asking why an economic blockade has been imposed, they are asking why Nagas are trying to kill Manipuris through starvation. The government of Manipur will have to why [it created the seven districts], some acceptable settlement must be reached. Only then then will we lift the blockade."
The new districts, he said, struck at the integrity of Naga areas. "The target of the blockade is that Naga ancestral land should not be sliced up," said Shatsang. "Land is sacrosanct to us. Let the world brand Naga people as inhuman, we cannot let it go."

Manipur districts. Credit: Wikimedia Commons
In Imphal valley
All parts of the state have been affected by either the blockade or the counter-blockade, some have been affected by both. The Imphal valley, ringed by hills, has been choked by the highway blockades.
National Highway 2, passing through Kohima in Nagaland, and National Highway 37, through Jiribam on the border with Assam, the two roads connecting the valley with the outside world, ferry essential goods into the state.
Trucks loaded with supplies have started entering the valley through the Jiribam route under heavy security cover. But problems remain. "The roads are not good," said Rajiv Hijam, editor of the Sangai Express, a newspaper based in Imphal. "There are two bridges on the way that can't carry the load."
Even though supplies have started trickling in, prices are high – gas cylinders are now selling for Rs 1,500, up from Rs 700. "We have stopped using cooking gas," said Renu Takhelambam, who lives in Imphal. "We use charcoal or electric cookers instead." Vegetables remain expensive. Potatotes that sold for Rs 20 can now be bought for Rs 40-Rs 45.
Fuel shortages have hit everyday life in various ways. "You can still see long queues at night outside petrol pumps," said Hijam of the Sangai Express. "They are waiting for fuel that will be delivered the next day." Long-distance buses from Imphal to Guwahati, Dimapur and other major cities of the North East were stalled for weeks after the clashes of December 18, as were direct buses to Senapati in the hills. Local transport costs have also soared. Rs 20 auto rides now cost Rs 30.
The Imphal-Ukhrul blockade has had an impact on many things. Takhelambam, who works with the Extra Judicial Execution Victim Families Association and is fighting for judicial redress for human rights violations by the state, claimed that legal proceedings were held up. "Families from Ukhrul and Tamenglong districts [both in the hills and dominated by the Thangkul Nagas] have not been able to come to Imphal," she said.

In the hills
The hill areas are now largely cut off from Imphal. The Meitei blockade is said to have eased after December 18, partly because of the intercession of civil society groups and partly because of heavy security on the route, local residents claimed.
"The counter blockade is not so well organised," said Hijam. "In different pockets of the valley, local people may come out [to block roads]." But according to John Pamei, originally from Tamnglong and a member of the Zeliang-rong Students Union, there were still sporadic incidents of vehicle burning on the route.
Ashim Pearl, who lives in Ukhrul town, said people were too scared to travel, venturing out only in case of emergencies. "The incident of December 18 is still ingrained in the minds of people," she said.
While private transport is running on the route, public transport cannot go directly from Imphal to Ukhrul. "You have to come up to a point in Meitei vehicles," said Pearl. "After a point, when you reach Thangkul territory, you have to change."
Prices have gone up here as well – LPG cylinders can sell for as much as Rs 2,000 and petrol that was once Rs 60 per litre can now be bought for Rs 90 in black. "But they are not hiked up as much as in the valley," said Pearl. "Civil society organisations and student bodies are trying to control it."

In Churachandpur
Churachandpur is at the edge of the valley, just before the hills begin. This town was the epicentre of protests against three bills passed by the Manipur government in 2015, which led to fresh rancour between the people of the hills and those in the valley. This time, it is relatively quiet but has been affected by both blockades.
Mary Beth Sanate, a women's rights activist based in the town, says many essential supplies have been brought in from Mizoram, which is nearby. Some goods have also come in from the Jiribam route. Prices have still shot up. Gas cylinders have gone up from Rs 680 to Rs 3,000, petroleum to Rs 120 from Rs 66, diesel to Rs 90 from Rs 63, onions from Rs 30 to Rs 60, Sanate said.
With shortages in goods coming from Imphal, residents of Churachandpur fell back on local products. "We have rice, pork, dal and chilli," said Ninglun Hanghal, a freelance journalist in the town.
Livelihoods have been hit. Construction work had stopped because of high fuel costs, said Sanate, putting daily labourers out of a job. Small shopkeepers are also struggling. Supplies are scarce because of the blockade. Even if they do come in, demonetisation has meant nobody has money to buy them, especially at such high prices.
The normal rhythms of life have been affected. Students studying in various parts of the country could not go home for the holidays because of the transport disruptions and the festive season was muted. "There was no Christmas this year, no festivities" said Hanghal. "I saw only a few shoppers on the 24th. Usually the streets are crowded."
But for the people of Manipur, such hardships have become familiar. Only in 2011, the state saw 123 days of blockades and counter-blockades by Naga and Kuki groups, though Pamei claims those were restricted to the highways and did not hit inter-district traffic. "Blockades are nothing new in Manipur," said Takhelambam. "We face this every time. This time we have not completed 100 days yet."
Courtesy: Scroll.in