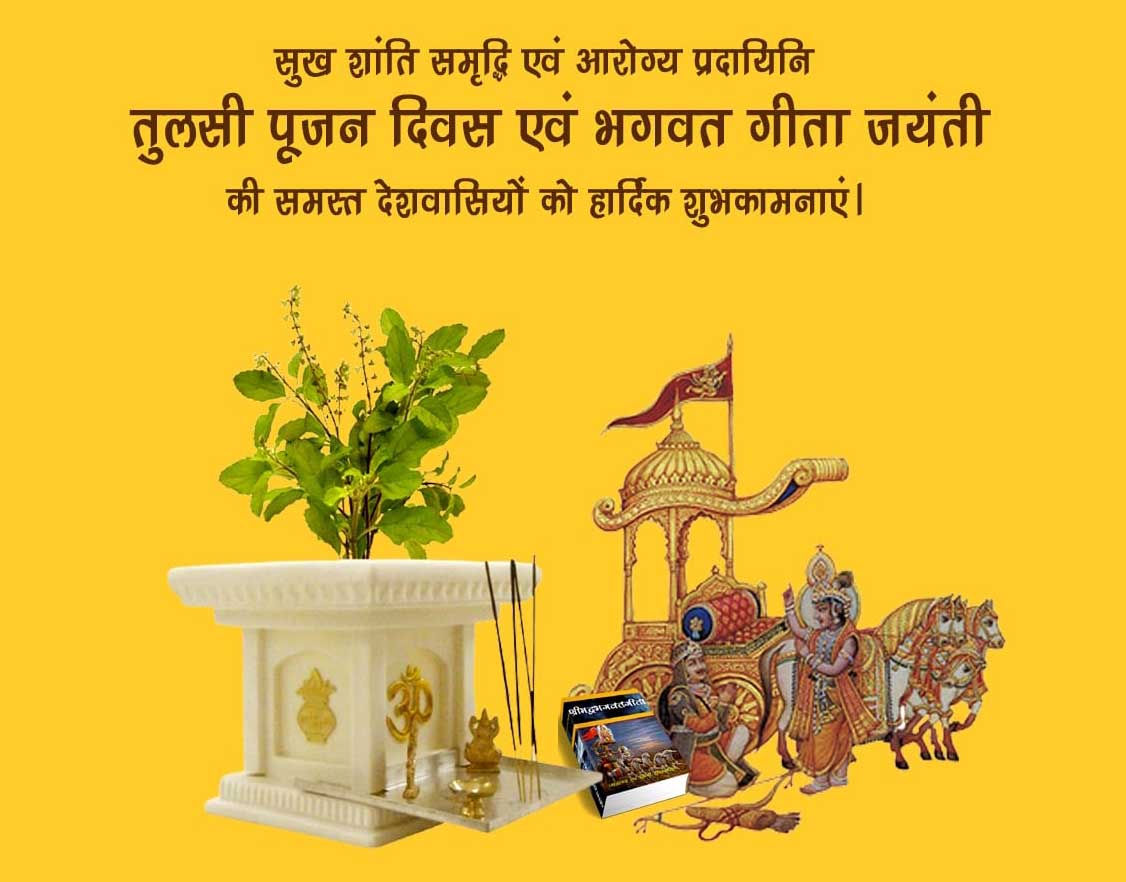 It began in 2014-15 with the government trying to impose December 25 as "Good Governance Day" and cancel the public holiday for Christmas. The uproar and criticism pushed back this attempt that was begun ostensibly to mark the birth date of former Prime Minister of India and RSS member, Atal Behari Vajpayee (December 25, 1924).
Incidentally, Mohammad Ali Jinnah also shares this birth date (December 25, 1876). The founder of the Rashtriya Swayamsevak Sangh (RSS), K. B. Hedgewar was born on April 1, 1889. The date is also celebrated world over as All Fool's Day. So far, however no attempts have been made to transform that date.
This year, 2020, there have been renewed attempts at this super-imposition with extra emphasis given on December 25 as 'Tulsi & Geeta day'.There is absolutely no problem if people celebrate their varied beliefs. But when activists sworn to the supremacist Hindutva ideology that see India as a militarised and theocratic nation, start going to Mosques and Churches and gifting copies of the Bhagvat Geeta and Tulsi plants, there certainly is a problem. Minorities in India, who are already under threat of violence and constant intimidation under the present regime do not have the free choice to refuse such 'gifts', which are not given in friendship but as a systemic policy of imposing Hindutva over Christianity. Also, imagine if the Tulsi plant does not survive in the church or in the mosques, the minorities will be blamed for not respecting Tulsi.The plant is not seen as a medicinal plant, but as a Devi (Goddess Tulsi), so not caring for the 'Goddess' might invite an attack on minorities. Holy Tulsi is all set to become the next Holy Cow.
This trend to try and super-impose 'Good Governance' or 'Tulsi Diwas' on Christmas –even the concept of celebrating Parents' Worship Day, known as Matru Pitru Poojan Diwas (मातृ–पितृ पूजन दिवस) on Valentine's day was led by none less than Asaram Bapu who is today in jail on allegations of rape against a minor disciple.
Check out this year's tweets and Facebook posts on Tulsi Pujan Divas and Bhagvad Geeta Jayanti. There are many anti-Christian hate comments also posted using the same hashtags.
These are very easy to search look for the following hashtags:
#TulsiPujanDiwas
#GitaJayanti2020
#GitaJayanti
#तुलसी_पूजन_दिवस
#भगवत_गीता
#भगवत_गीता_जयंती
#CelebrateVedicFestivals
And here are some links showcasing the Saffron agenda on Facebook:
जिले केमंदिर , मस्जिद , चर्च एवं उच्च अधिकारियों को तुलसी पौधे एवं श्रीमद्भागवत गीता भेंट कर मनाया गया तुलसी पूजन दिवस एवं गीता जयंती पर्व – छिन्दवाड़ा
#TulsiPujanDiwas #GitaJayanti #25december #TulsiPujan #SantShriAsharamjiBapu
History of Tulsi Pujan Divas
In 2014,Asaram Bapu asked his followers to celebrate Tulsi Pujan on 25th December. https://zeenews.india.com/hindi/india/tulsi-pujan-day-2020-tulsi-day-trending-on-christmas/814610
The Headline of English article on Zee news says "Tulsi Pujan Diwas 2020: Why it is celebrated on December 25?" But it doesn't give any reason for selecting the specific date of 25 December.
https://zeenews.india.com/culture/tulsi-pujan-diwas-2020-why-it-is-celebrated-on-december-25-2332816.html
The official appeal of Asaram Bapu's Ashram is available on Youtube, which clearly says that on December 25, the people celebrate western festival, dance and party. We should instead celebrate Tulsi Divas.
These were clearly all concerted attempts to undermine the Christian festival. Thousands of posters condemning Christmas and promoting Tulsi can be seen on social media, these are posted by the BJP IT cell members.Now BJP appears to be officially promoting it and involving officials from the government administration.
The union minister of State for Tribal Affairs, Renuka Singh, has praised the work by the Asaram's organisation (Lok Kalyan Setu) and issued a letter on her letterhead, praising the effort of celebrating Matru-Pitru-Pujan-Divas on Valentine's Day:
Facebook post by Kapil Mishra (BJP member and the accused of Delhi Communal Violence) explaining the importance of Tulsi Pujan Divas on December 25:
BJP's Lok Sabha Member Ram Kripal Yadav has posted with BJP's logo on his verified FB account
तुलसी पूजन से बुद्धि बल, मनोबल, चारित्र्य बल व आरोग्य बल बढ़ता है।तुलसी पूजन दिवस के पावन अवसर पर आपसबों को हार्दिक बधाई एवं शुभकामनाएं।
Industrialist Vadant Birla became a hero on social media after he posted a celebration of Tulsi Pujan and Bhagvat Geeta Day.
"I am the source of all sources. There is absolute nothing in which i don't exist. I am the ultimate truth.''
~Shri #Krishna

#GitaJayanti2020 #TulsiPujanDiwas

This year's Gita Mahotsav event coincided with Christmas, so the social media included Gita Jayanti along with Tulsi Pujan Day. It is interesting to note that the Gita Jayanti was not celebrated with so much passion as it is flooded on the social media, just because there it was Christmas. There are efforts by religiously and politically bigoted leaders and governments to erase the cultural history of Minorities. Declaring Christmas as "Good Governance Day" is the BJP government's attempt to spoil Christmas festivities.
Archbishop Anil Joseph Thomas Couto, Archbishop of the Roman Catholic Archdiocese of Delhi has talked about how the government is undermining the importance of Christmas by making it a working day as Good Governance day, in this TV debate.
Syncretic Traditions, beyond religious boundaries
The festivities around Durga Puja, Navratri, Ganapati Festival, Christmas, Eid and Navrozetc. are beyond religious boundaries, these are cultural heritage that unites people and for the unity in diversity we must respect and preserve these invaluable bonding that are the identity of our Indian subcontinent.
What did Swami Vivekananda say about Christmas? How Ramakrishna Mission celebrates Christmas
Once, after meditating for a long time, Swami Vivekananda opened his eyes and spoke about the extraordinary life of sacrifice of Jesus Christ and exhorted his brother monks to take up the vows of renunciation and service keeping fire as witness. The next morning, they realised that the previous evening was the sacred Christmas Eve. Read more here:
https://www.thestatesman.com/cities/how-ramakrishna-mission-celebrates-christmas-1502719004.html

Which is why one violent wing of the supremacists, Bajrang Dal, in Assam attacked the Ramkrishna Mission for celebrating Christmas. Ramakrishna Mission has a long tradition of celebrating Christmas and worshipping Jesus Christ. Portraits of Jesus Christ and Mother Mary are placed next to the idol of Sri Ramakrishna and Mother Sarada and cakes are decorated the same way every year to mark the birth of Jesus.No religious/ non-religious organisation has ever questioned this belief but this year seems to serve as an exception. In a first, the doors of every church in the city of Silchar, Assam were closed on Christmas eve with Police and CRPF deployed inside in anticipation of violence by Bajrang Dal, as reported by the media.
According to reports, the Shillong Ramakrishna Mission Vivekananda Cultural Centre was also locked down by Khasi Student Union Members in Meghalaya. Once this news spread, the Bajrang Dal intimidated a Hindu family saying that if their children went to the church for Christmas celebrations, stern action would be taken. The Bajrang Dal had started threatening Hindu's from visiting the church to celebrate Christmas in early December itself. In addition to this nuisance, this right-wing outfit went a step ahead and protested Christian prayers in Hailakandi Ramakrishna Mission in Assam.
Meanwhile, the world is realising the importance of shared cultural history and preserving these in the interests of peace and harmony on the planet. In 2010, the "International Day of Nowruz" was proclaimed by the United Nations General Assembly in its resolution A/RES/64/253. This Resolution welcomes the efforts of Member States where Nowruz is celebrated to preserve and develop the culture and traditions related to Nowruz, and encourages Member States to make efforts to raise awareness about Nowruz and to organise annual events in commemoration of this festivity.
Why must the festivities and culture be respected and preserved?
It is well explained by the Director General of UNESCO while talking about Navroz, this value and logic applies to every culture and tradition (that does not violate rights).
"The festival of Nowruz unites the individuals and peoples of the 12 countries that together nominated the festival for inscription on the Representative List of the Intangible Cultural Heritage of Humanity to celebrate values of sharing and harmony."Audrey Azoulay, Director-General of UNESCO, on the occasion of the International Day of Nowruz
Following Saudi Arabia's path
A similar supremacist ideology of 'erasing' minority festivals and history has destroyed the cultural heritage of Arab world. Saudi Arabia did exactly the same thing with Muharram, by inventing and imposing new festivals on Muharram & Ashura to undermine the Shiite tradition commemoration, they have also banned their traditional Navroz celebrations because it has Zoroastrian origins.
Other examples of erasing cultural history in the Arab World
Achaemenid Empire in the time of Darius and Xerxes
At its height, the Achaemenid Empire ruled over 44 percent of the world's population, the highest figure for any empire in history. Therefore, traces of Achaemenid culture are still visible in Asia, Central Asia, Middle East, Africa and in Europe.
Navroz is one such festival that still exists and UNESCO has recognised this as an important festival that unites several nationalities.After the fall of Ottoman Empire and the creation of Saudi Arabia, the first thing the religious fanatics did was to ban and stop all festivals that did not suit their political agenda. And the Navroz celebration stopped by looking down upon as "those who celebrate Navroz are children of Magi" (I see this as the hateful rhetoric against the Muslims in India "the children of Babur")The term 'Magi' implies Zoroastrianism — natively known as Mazdayasna, which is one of the world's ancient religions prevailing in Iran and other Persian lands in the pre-Islamic era.
Similarly the Saudi Arabian Government started many festivals that were never heard of earlier, exactly on the day of Ashura (10th day of Muharram month in Islamic calendar) Ashura has been a day of commemoration of the martyrdom of Imam Hussain and his companions in Karbala. This day was observed as an important day by most of the Muslims and specially by the Shiite minorities in Saudi Arabia.
One can find very active propaganda by the Saudi media on social media against the Mourning and remembrance of Karbala during Muharram. Read more here:
https://saudigazette.com.sa/article/518237
The idea behind such campaigns is to undermine the existence of Minorities and their culture. Now the present Day Saudi Arabia which has the most diverse and rich cultural history, has become a country of one Kingdom, one religion and of one specific sect.
Such erasing of culture is a loss to human civilization and its cultural history.
New festivals started by the BJP
In 2016, the Haryana Government started the first-ever International Gita Mahotsav, celebrating Bhagvad Gita. Gita Mahotsav is an event centred around the Bhagvad Gita, celebrated on the Shukla Ekadashi, the 11th day of the waxing moon of the Margashirsha (Agrahayan) month of the Hindu calendar. It is believed the Bhagvad Gita was revealed to Arjuna by Krishna on the battlefield of Kurukshetra (in present-day Haryana). Read more here:
https://www.business-standard.com/article/news-ians/first-ever-international-gita-mahotsav-in-haryana-116112600590_1.html
Why this kind of appropriation not be done to a Muslim festival?
Muslim festivals follow Lunar calendar and every year the date changes, therefore, fixing a festival on Eid, Baqridor Muharram is not possible. Christmas and Valentine's Day fall on a particular date, therefore it is easy to target them by imposing another festival or birthday on someone.