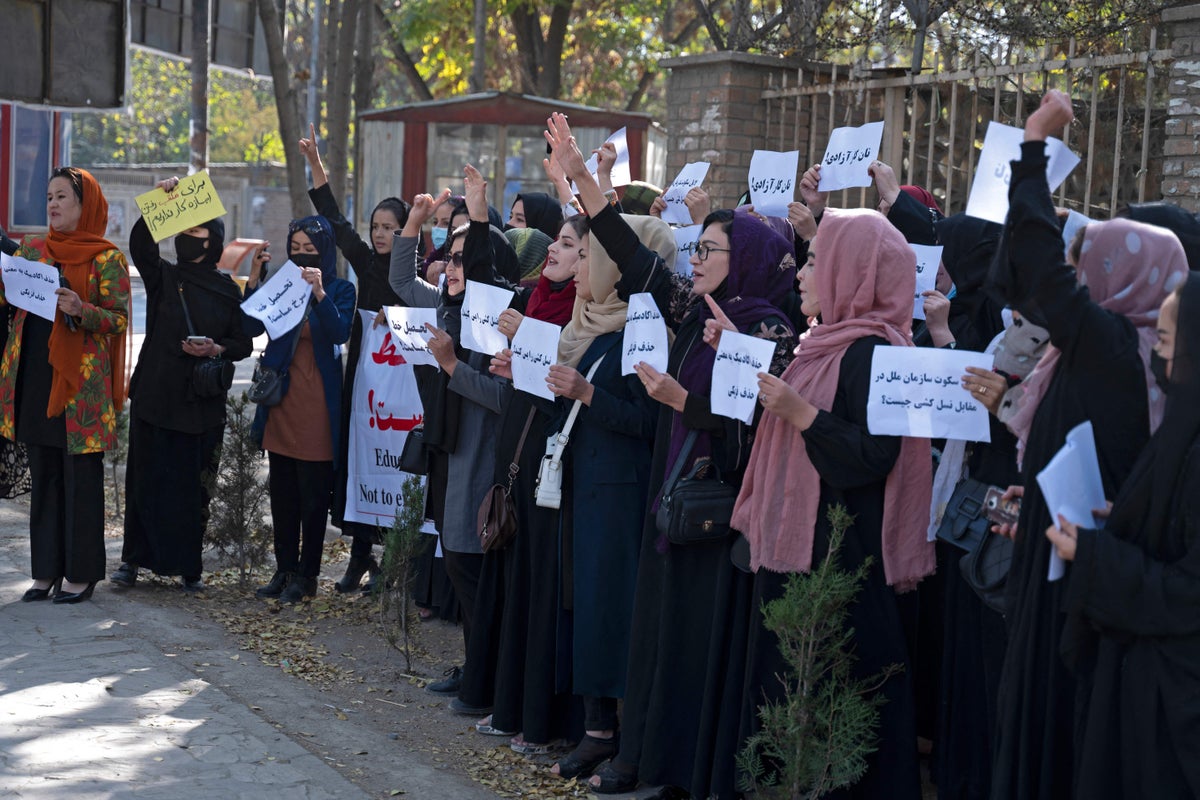 IMSD unequivocally condemns the blatantly misogynist decree of Taliban that for all practical purposes has effectively banned women's education in Afghanistan. Since the Taliban have taken over in 2021, girls haven't been able to access schools. Although they promised to open girls' school from March 23rd; the same day they revoked the order. This December on the 20th, there is another edict which debars women from universities. As always, no reasons were cited; neither did they indicate whether this is just a temporary measure. Going by what they have done with schools, the ban appears to be a permanent one.
The IMSD would like to remind the international community that the Taliban, during the negotiations in Doha, had promised not to rollback whatever little gains Afghan women had made in terms of education. Those who were spinning the narrative that the Taliban 2.0 was different from its earlier version now need to explain their continued support to this fanatic group. Those in the Indian Muslim community who were celebrating the Taliban takeover need to ask themselves whether this is the future they envision for half the Ummah. This is the time when the Muslim world should sit up and take notice as to what happens when we empower religious orthodoxies.
We would also like to point out that such anti-women diktats should not be seen as exceptions. The now increasingly marginalized idea that Muslim women should not be educated, has a long genealogy in the Muslim world. The (in)famous Deobandi, Ashraf Ali Thanwi, never wanted women to have even an iota of modern education. Deoband is the spiritual fountainhead of the Taliban; hence it shouldn't surprise us that its ideological descendants are excluding women from all public spaces including schools and universities. IMSD believes that a fight against the depravities of the Taliban will be incomplete without questioning the very foundational ideas which inform such antediluvian practices.
IMSD stands in solidarity with all the struggling women and men in Afghanistan who are resisting such evil decrees of the regressive Ulama. We welcome the fact that the governments of Qatar, Saudi Arabia and Turkey have condemned the Taliban's regressive step and appeal to the international community to urgently intervene and demand that this grossly violative decision be taken back immediately. We also appeal to all Indian Muslim organizations to outrightly condemn this misogynist action of the Taliban regime.
A. J. Jawad, IMSD Co-convenor, Advocate, Chennai

(Dr) Amar Jesani, Medico Friends Circle, Mumbai

Amir Rizvi, IMSD, Designer, Mumbai

Anand Patwardhan, IMSD, Documentary Filmmaker, Mumbai

Anjum Rajabali, IMSD, Film writer, Mumbai

Arshad Alam, IMSD, Commentator, Delhi

Askari Zaidi, IMSD, Senior Journalist, Delhi

Ashhar Khan, Jaunpur

Bilal Khan, IMSD, Housing rights activist, Mumbai

Dipak Malik

Feroz Abbas Khan, IMSD, Director, Producer, Mumbai

Feroze Mithiborwala, IMSD Co-convenoir, Bharat Bachao Andolan, Mumbai

Gauhar Raza, Anhad, Delhi

Ghulam Rasool Dehlv, Islamic scholari

Hasan Ibrahim Pasha, IMSD, Writer, Allahabad

(Dr) Indira Munshi, retired professor, Mumbai

Javed Akhtar, IMSD, Poet, lyricist, Padma Bhushan, former MP, Mumbai

Javed Anand, IMSD Convenor, Human Rights Defender, Mumbai

Khadeeja Faroqui, Social Activist, Delhi

Lara Jasani, Lawyer, Social Activist, Mumbai

Mallika Sarabhai, Activist, Classical Dancer,Ahmedabad

(Dr) Manisha Gupte, Social activist

Mansoor Sardar, IMSD, Social Activist, Bhiwandi

Mohammed Imran, Delhi, New York

Muniza Khan, IMSD, CJP,Varanasi

Naseeruddin Shah, Actor, Mumbai

Nasim Khan, Varanasi

Nasreen Fazelbhoy, IMSD, retired professor, Mumbai

Neelima Sharma, Theatre, Delhi

(Prof) Qamar Jahan, Lucknow

Qaisar Pasha, IMSD, Homemaker, Allahabad

Qutub Jahan, IMSD, Social Activist, Mumbai

Rahman Abbas, Author, Novelist, Mira Road, Thane

(Dr) Ram Puniyani, IMSD, Author, Commentator, Mumbai

Rashida Tapadar, Civil service coach, freelance writer, Nagaland

Rooprekha Verma, former Vice-chancellor, Lucknow

Sabah Khan, IMSD, Parcham, Mumbai

Saif Mahmood, IMSD, Supreme Court lawyer,Delhi

Sandhya Gokhale, Feminist activist, FAOW, Mumbai

Shabana Mashraki, Mumbai

Shabnam Hashmi, Anhad, Delhi

Shalini Dhawan, Designer, Mumbai

Shama Bano, Social activist, Varanasi

Shama Zaidi, IMSD, Film Maker, Mumbai

Shamim Abbasi, Mau

Shamsul Islam, Author, Delhi

Sheeba Aslam Fehmi, Writer, Commentator, Delhi

Sultan Shahin, Editor-in-chief, New Age Islam, Delhi

Teesta Setalvad, IMSD, CJP Secretary, Mumbai

Vasanthi Raman, retired professor, Delhi

(Dr) Vibhti Patel, retired professor, Mumbai

Zakia Soman, Co-convenor, Bhartiya Muslim Mahila Andolan, Delhi

(Dr) Zeenat Shaukatali, IMSD, Islamic Scholar, Author