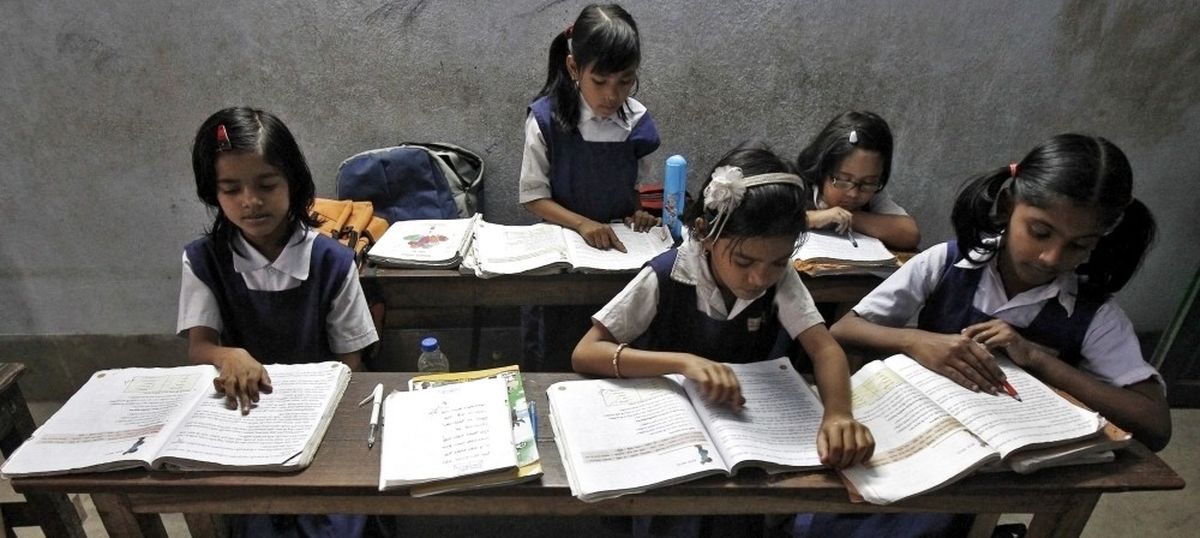 Representation Image | Reuters/Rupak De Chowdhuri
Data on higher government school enrolment in 2021 may be a temporary spike, said Uttar Pradesh Primary Teachers Association (UPPTA) member Rajeshdhar Dubey on November 29, 2021.
The data referred here is the Annual School Education Report (ASER) for rural India published by non-profit organisation ASER Centre on November 17. It stated that more children enrolled for government education this year, following the Covid-19 pandemic.
The state's government-school enrolment for 6-14 year-old children was 56.3 percent in 2021 – an increase of 13 percent compared to the pre-pandemic 2018 enrolment. Girls' enrolment was reported at 58.1 percent while boys' enrolment was 54.8 percent. In 2020 when the pandemic started, the enrollment was 49.7 percent overall, with 47.8 percent boys and 51.9 percent girls. While at the surface this hints towards improvement in education, Dubey suspects that the high enrolment is a one-time occurrence owing to the sudden economic crisis brought in by the pandemic.
"When the lockdown ended, schools were opened within minutes. Still, guardians did not pay fees immediately because private school payments had become unaffordable. They sent their children to government schools because of the low fees. These kids are not going to stay. They will go away next year," he said.
Giving the example of his own school P. S. Bagdo Primary School in Gorakhpur, Dubey said many schools in the region do not have sufficient furniture or facilities for children. He estimated that barely 10 percent of schools in the district have well-equipped schools. As physical education recommenced, Dubey arranged for new desks and chairs for students suspecting a greater influx of students. However, when students increased to 200-300 children, the new furniture too proved insufficient.
"Some students have to sit on the floor if they come late. This is going to create problems. Because of such issues, nobody wants to learn in government schools," said Dubey.
In 2018, the ASER reported that over 60 percent of state government primary school children were sitting in multi-grade classrooms, either due to a lack of space or teachers. At the time, only 12 percent of children in Class 3 could read at Class 2 level and only 11 percent could carry out Class 2-level subtraction problems.
"When children come back to school after one and a half years of no formal instruction, these learning deficits are going to be much deeper and teachers will be dealing with more children than they were when schools shut down," said the 2021 report. Like Dubey, it questioned how teachers were going to be equipped to deal with the huge learning crisis and student influx. It warned that the stand-by method of "follow the curriculum" to educate children will worsen the problem and result in more children being held back.
Meanwhile, UP Mahila Shikshak Sangh (UPMSS) President Sulochana Maurya argued that while more students are welcome in government schools, teachers still do not have more time to teach them.
"Already rural school teachers look after 30 students per class. Even if this number goes up to 60 students it makes no difference to us. But we need more time to prepare and teach our children then," said Maurya.
Around May 16, teachers across the state reported at least 1,621 deaths of teachers, who were forced to carry out election duty for panchayat elections. Many people contracted Covid-19 or other serious ailments between April and May but did not receive any medical assistance from the administration.
Teacher unions in every district demanded accountability and compensation from the state government for this substantial loss. However, even as they fight this battle for justice, they are still expected to carry on with their teaching in a post-pandemic environment.
This year's ASER said that 19.1 percent more children were taking tuitions in the rural area as compared to 2018. In 2021, 38.7 percent children were going for tuitions while 19.6 percent children unable to access a smartphone were going for tuitions in 2018. Similarly, this year 58.9 percent enrolled children had a smartphone available at home of which 18.7 percent children were always able to access the phone, 47 percent children sometimes got the phone and 34.3 percent children had no access to smartphones.
Both Maurya and Dubey voiced doubts about such data having lived the reality where children struggled to attend zoom classes. Dubey expressed complete dissatisfaction with his students' performances this year since most children had no privacy or proper access to phones. He doubted rural children were satisfied with their education during the pandemic. Similarly, Maurya recalled difficulties with zoom calls and teaching in the early months although her school administration helped ease the process.
Both teachers doubted rural children actually have access to tuitions. However, as per the report, the proportion of children taking tuition has definitely increased from 2018 to 2021, regardless of grade, school type, or gender.
"Currently, almost 40 percent of children take paid private tuition classes. The largest increases in this are seen among children from the most disadvantaged households," said the 2021 report.
In earlier interviews, Dubey mentioned that around 30 percent of children mentioned to be learning are from upper classes/castes.
Tuition classes are more common among children whose schools were still closed at the time of the survey. This difference in availing tuition is larger in higher grade classes than in lower ones. This year 71 percent of government school kids used traditional educational material, 15.5 percent kids used broadcast educational material and 11.1 percent kids accessed online study material. For comparison, 74 percent of private school children used traditional material, 19.3 percent of children used broadcast media, and 18.3 had access to online material.
"Taking parental education as a proxy for economic status, between 2018 and 2021, the proportion of children with parents in the 'low' education category who are taking tuition increased by 12.6 percentage points, as opposed to a 7.2 percentage point increase among children with parents in the 'high' education category," said the report.
As many as 67.9 percent government children receive help from family members while studying at home. This is still lower than private school children, 70 percent of whom said they receive help from family members. Overall, more than half (51.7 percent) enrolled children's parents have medium-level of education, and only 23 percent enrolled children's parents have high education. In government schools as many as 70.7 percent of children's parents reported low education.
Thus, the upward trends in the ASER 2021 do indicate potential for the growth of government schools, albeit due to a population that could not afford private education for their children. As UP teachers have repeatedly stated this year, these enrolments stress the need to pay more attention to the quality of education in government schools.
Related:
Families of deceased UP teachers still waiting for ex-gratia payment
UP: Mahila Shikshak Sangh demands monthly 3-day period leave
UP: 1,621 people on polling duty dead, but gov't recognises only 3!