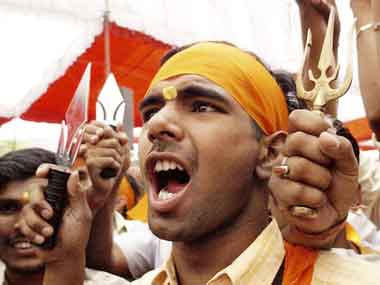 Courtesy: AFP



Incidences of Communal Violence in 2014 were far more spread out, bringing in its fold areas which were hitherto not communally sensitive as compared to previous years. The theatre of communal violence included some new small towns like Hapur and Loni (both in UP) and Gurgaon in Haryana; and mobilized Sikh community too into the communal conflict with Muslims in Saharanpur and Hyderabad.
The most heinous targeted violence of the year 2014 was on 23rd December the Songbijit faction of National Democratic Front of Bodoland (NDFB) killed 76 adivasis (also referred to as tea tribes) which include women and children in 5 different places in Kokrajhar and Sonitpur Districts of Assam and houses burnt. Seven thousand villagers have been displaced. Three Bodos were also killed in retaliatory attack by adivasis.
 
In 2014, there were 561 incidents of communal violence compared to 823in the year 2013.  90 people were killed and 1,688 people were injured in 2014 whereas in the previous year 133 people were killed and 2,269 were injured. Minister of State for Home Affairs attributed the trigger of communal violence to "religious factors, gender related disputes, alleged blasphemous portrayal of religion/religious symbols on social media/mobile applications, disputes over land belonging to religious sites and other issues.
 
Compare 201 dead if we include Assam ethnic violence and 90 if we exclude with 18 deaths and 19 injured in terrorist attacks reported in the year 2014. The 14 deaths include 3 policemen and 4 suspected militants. The terrorist attacks in J & K, resulted in 27 deaths, (including 15 security personnel, 4 civilians and 8 militants) and 5 injured, including 1 sarpanch and and 4 BSF personnel). Yet, while addressing the 49th Annual Conference of DGPs and IGs from all states in Guwahati on 29th Nov 2014, the Union Home Minister Rajnath Singh said that terrorism posed a serious challenge to the security of the country and that the government would not allow any terrorist organization in the world to get foothold in India. He feared that certain misguided youth in the country get attracted to organizations like ISIS but the government is committed to check it. (Online News India, 2014). Communal Violence has killed far more people – more than 14 times the people killed in terrorism. However, there was no mention of communal violence in his inaugural address.
 
Unless we include Assam where 111 people were targeted by NDFB in ethnic violence unleashed by the Songbijit faction of NDFB on Bengali Muslims in May and adivasis in December, UP would top of the list of number of people killed in communal violence with 129 communal incidences and most deaths (25) and 364 injured in the year 2014 according to the data presented in the Lok Sabha. After UP, Maharashtra recorded 82 incidents of communal violence in which 12 people died and 165 were injured in 2014; whereas in 2013, there were 88 incidents, in which 12 people died and 352 people were injured. Next in the list was Karnataka with 68 incidents, in which 6 people died and 151 were injured. In 2013, Karnataka had recorded 73 incidents in which 11 people died and 235 people were injured. In Rajasthan there were 61 incidents in which 13 people died and 116 were injured. Gujarat recorded 59 incidents in which 8 persons died and 172 were injured in 2014 as compared to 68 incidents in which 10 people had died and 184 people were injured in 2013. Bihar was the fifth highest state with 51 incidents in which 4 people were killed and 267 persons injured as compared to 63 incidents in which 7 persons were killed and 283 injured (Times News Network, 2014)[1].
 
The institutionalized riot system (IRS) that is capable of producing communal riots whenever need arises and political conditions are favourable, could be seen to be growing from strength to strength, particularly feeling emboldened with election of BJP led NDA government. However, communal incidents and casualties in violence are lesser compared to previous year as there