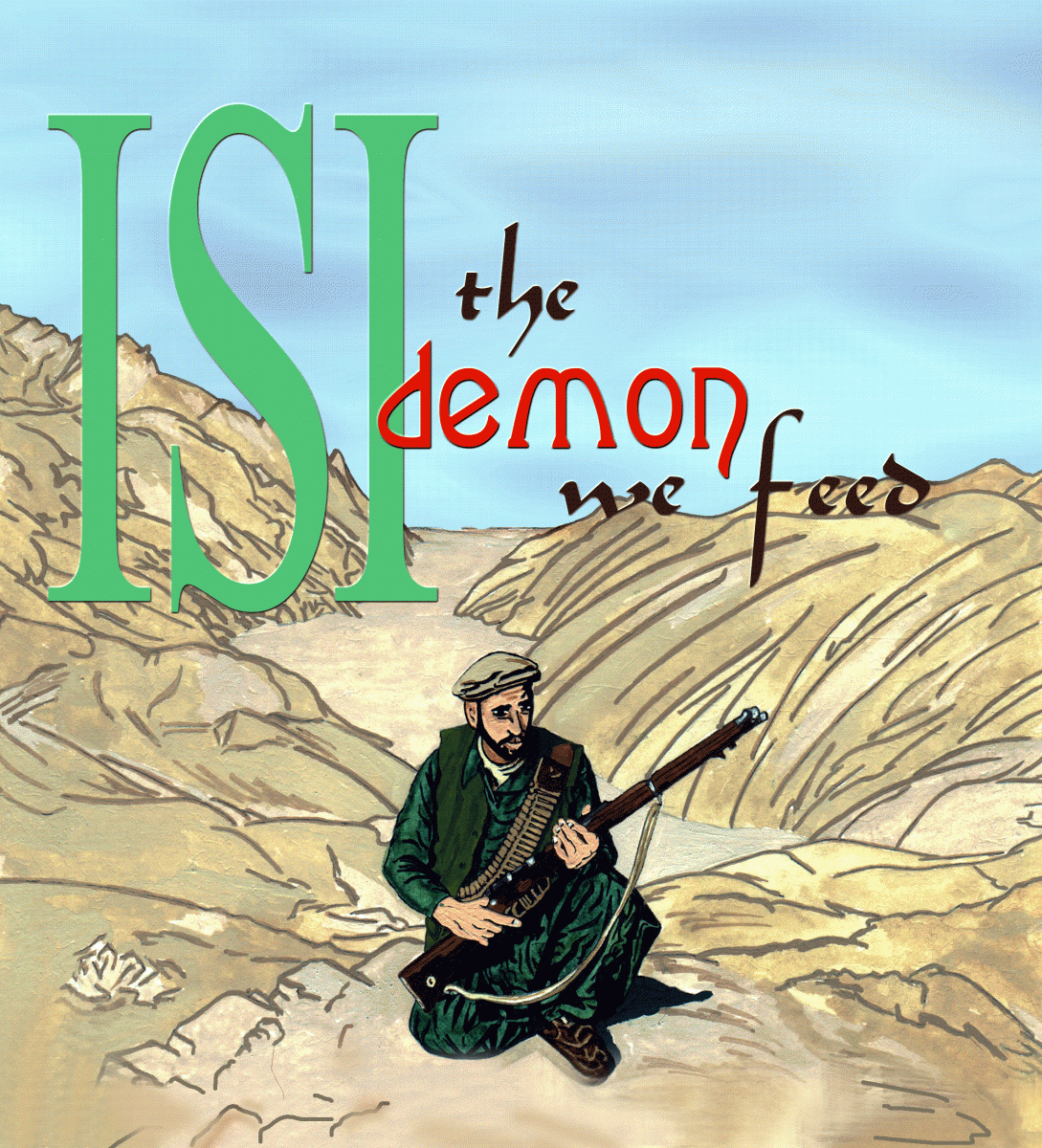 Illustration: Amili Setalvad
The picture, as those incharge of keeping a watch on our borders see it, is  truly grim. The intention of our neighbours, in their assessment, has never been nastier. "The ISI is a frightening reality today," says Vibhuti Narain Singh, IG, intelligence, Border Security Force.
The merciless manner in which Pakistan–backed insurgents recently butchered close to a hundred innocent Hindus in J & K — simply to throttle what looked like the first hopeful steps towards a solution of the Kashmir problem by the Hizbul Mujahideen — is an indicator of what the bloody—minded in our neighbourhood think of peace.  
But keeping Kashmir on the boil until the "unfinished business of Partition" is completed and the "humiliation of Bangladesh" avenged is only one part of the "strategy of internal encirclement" and the "doctrine of a 'thousand cuts' dividing India like the Balkans" that the ISI/Pakistan is assiduously working on. That is the assessment of intelligence reports, copies of which have been made available to Communalism Combat.
The elements of the ISI's nefarious and multi–pronged game–plan are:
Madrassas for jehad
The way madrassas — traditional educational institutions, similar to pathshalas — have been redefined in Pakistan in recent years to act as breeding ground for producing mujihids willing to kill and die in the name of Islam is by now well-known. The ISI, according to the intelligence reports, now has a similar plan in mind for India.
Since 1992, madrassas and mosques have mushroomed in large numbers all along India's borders – from Gujarat and Rajasthan in the west, to UP in the North, Bihar and West Bengal in the East and Assam in the Northeast. Funded with money suspected to have come from Saudi Arabia and even the ISI directly, these madrassas and mosques have been built and are being run by Muslim organisations with a worldview that is "pan–Islamic", not "Indo–Islamic".
Muslim organisations influenced by the highly orthodox Wahabi philosophy — the Tablighi Jamaat, the Jamaat–e–Islami, the Jamaat–e–Ulema, Ahle Hadees — have all been named in the intelligence reports as being in the forefront of this resurgence.
In the assessment of intelligence personnel, at best, these madrassas will breed a whole generation of Muslim youth armed, with a fundamentalist mindset but ill—equipped with this–worldly education or any skill to help them find a job. In the worst case scenario, such youth with no means of livelihood will tomorrow prove to being fertile recruiting ground for the ISI.
The perceived security threats:
"Organise(d) minority community through a chain of madrassas".
"The muftis/moulvis/imams may be replaced by highly fanatic agents of ISI in near future".
"In future these affected madrassas may provide shelter to hard core militants as was the case in Golden Temple, Amritsar, during the militancy in Punjab".
"Madrassas may be used to spread propaganda and subvert the minds of masses".
"Considering the change in the demographical pattern of West Bengal and some NE states (see below), a day might come when some fundamentalists may make a demand for a separate country, e.g., Punjab and J & K".
"Intelligence agencies already claim that there are many pupils from Kashmir having links with pro–Pakistan outfits".
"These madrassas and mosques may soon become an efficient launching pad for ISI agents/operations".
"Youth could be subverted so much that a day might come when they think of religion first and country later".
Fishing in troubled waters  
"ISI has been fishing in troubled waters of Northeast in the recent past by exploiting these dissatisfied and already well–armed insurgent groups. The motive behind ISI's involvement in Northeast needs a comprehensive study and analysis. Is it the more obvious motive of fomenting disruptive activities in already troubled Northeast region or the greater agenda of converting the Northeast region into an Islamic pocket making Assam their stronghold?"
Enrolling India's Muslims
"ISI is trying to establish its bases in Hyderabad, western Uttar Pradesh, north Kerala, Himachal Pradesh, parts of Tamil Nadu, besides Mumbai suburbs". The arrest of many members of the Deendar Anjuman for their alleged involvement in the recent bomb blasts in AP, Karnataka and Goa with the intent of spreading 'nifaque' (hostility) between