Alliance for Peace and Justice and All India Secular Forum decided to investigate the incidence of communal violence that occurred on 25
th
 November 2014 in Patan-Somnath town in Gujarat between Hindus and Muslims and was reported in the press.  
A team of Adv. Irfan Engineer, All India Secular Forum and Rafi Malek, Alliance for Peace and Justice (APJ) and Jagdish Bamaniya (APJ) was constituted. The team visited Somnath-Patan on 7thand 8th December 2014. They met Assistant Sub-Inspector of Shiv Police Chowki, Shri Babariya, Yusuf Hussain Kachara, President, Patan Ghanchi Samaj, Dadabhai, Secretary of Patan Ghanchi Samaj, Mohammed Haji Yakub, Treasurer of Patan Ghanchi Samaj, Suleman Kapadia, victim whose shop was attacked, Sarman Solanki, Presidant, Veraval Taluka President of BJP and Nusrat Panja. The team also tried to meet Hindu Victims and their representatives but they were not prepared to talk to the team officially. We also tried to meet Kanabhai, leader of the Koli community but he refused to meet us and even scolded the member of the team contacting him stating that he was under pressure and could not talk to the team.
Background:
Patan is a small town in Southern Saurashtra. Patan and Veraval are under a joint municipal body called Patan-Veraval Sanyukta Nagar Palika. Somnath temple in Patan is well known for two reasons – 1) it is one of the Jyotirling of Lord Shiva and therefore auspicious for Hindus, and 2) in 1992 L. K. Advani, the then president of BJP commenced his campaign against Babri Masjid on a rath yatra from this temple town which ultimately led to the demolition of the Masjid in Ayodhya. The Hindu nationalists use Somnath temple as a symbol of "aggression of Muslims" over Hindus as Mohammad Gazni, a Muslim warlord attacked the temple several times for looting its wealth. The Hindu nationalists represent the aggression as Muslim rulers desire to attack Hindu faith and idol worship.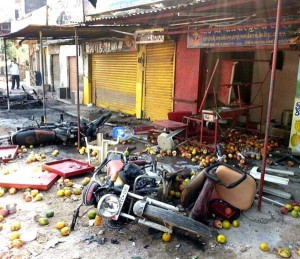 Total population of Patan is around 60,000 with Muslim communities constituting roughly about 25-30% of the population. The two major communities that inhabit Patan are the Ghanchi (Muslims) – about 1,000 to 1,200 houses and Koli (Hindu) – about 1,500 to 2,000 houses. Besides the Ghanchis, there are other communities as well. The other Muslim communities are Patnis, Syeds, Pathans, Sheikhs, Memons etc. There are about 14 Muslim Jamats (communities). The Ghanchi and Koli communities are backward educationally and socially. Literacy rates are lower than the national average and dropout rates high. Roughly on 5% of them complete schooling. There aren't three professionals – lawyers, doctors or engineers in both the communities. The other dominant communities in the Gir-Somnath and Junagadh are Kharwas, Karadia, Ahir and Patel.
Large number of people inhabiting Patan town are daily wage earners employed in Patan GIDC, in the fishing industry, port, ice factories etc. Every morning, labourers largely belonging to the Ghanchi and Koli communities travel in shared auto rickshaws hailed from Shiv Police Chowki junction to work. Ghanchis and Kolis live in wadis (residential neighbourhoods). The wadis belonging to both the communities are peculiarly interspersed and to reach any destination, they have to pass through each other's wadis. The wadis are linked through common roads that are poorly illuminated and extremely narrow. We were told that one of the reasons why there were no communal riots in Patan is that any access to the town is passage through each other's wadis. The only communal incidence that occurred was in 1983 which began in Veraval between the Sindhis and Muslims and Patan was also affected. Hussain Kasam Kachra, the then Vice-President of Municipal Council had sustained 7 fractures. Other than the 1983 incident, there is no history of communal violence in Patan. People of Patan live peacefully in wadi area and share common culture and identity, exchange of food and participate in each other's functions and festivals. The Hindu Muslim fabric was strong in this town but in last couple of years the bonds seem to have weakened.
The Ghanchi community leaders told us that the community did not take political stance either way. Both parties – Congress as well as BJP had opened their electoral offices with the help of members of the community to campaign within the community.